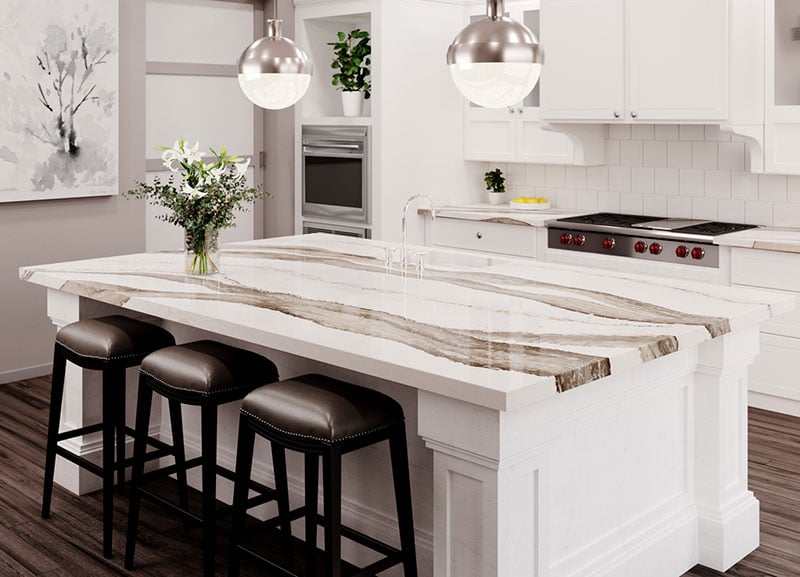 Cambria quartz shown in Skara Brae™
Quartz is naturally harder than granite or marble, making it one of the most durable countertop materials on the market and available to homeowners today. Cambria® countertop surfaces are made from 93% quartz stone, plus quartz is naturally stain resistant and maintenance-free — never requiring any polishing or sealing. The unique design of Cambria ensures that only the highest quality raw quartz materials are used for each countertop, which is also why it is such a highly coveted and sought after countertop brand.
Why Choose Cambria® Quartz for your Countertop?
The craftsmen at Cambria take their work seriously and each and every countertop goes through a thorough multi-point inspection process to ensure the highest quality products. Their countertops are certified by NSF International, which means Cambria quartz surfaces are as hygienic as stainless steel and safe to use for food preparation. Cambria is also certified by GREENGUARD™ as a low-emitting product for indoor air quality, and independent studies have proven that it has no harmful emissions whatsoever.
Now that you know Cambria produces quartz countertops with the highest standards in both hygiene and durability, you may be wondering — what about kitchen design and style? If you're impressed with this product's credentials so far, just wait until you see all of their design options! And, because each piece of natural quartz is unique, the same can be said for each countertop created by Cambria. With a Cambria quartz countertop, you can be sure that your kitchen is truly one-of-a-kind.
Cambria is the only American-Made and Family-Owned Producer of Natural Quartz Surfaces
Made right here in the the USA, Cambria is committed to providing an environmentally sustainable product available with a Lifetime Limited Warranty. With unmatched strength, durability and natural germ-resistance, quartz is a great countertop material choice for busy homeowners and kitchens alike.
Since Cambria is a premier countertop manufacturer with the highest standards for its materials, Cambria countertops are not available in big box stores or at home shows. Only the best kitchen remodeling companies are authorized to offer Cambria to homeowners, ensuring that you get the best quality every time. Below are some of our most popular Cambria quartz countertop colors and designs installed for homeowners just like you!
Weybourne™
Weybourne by Cambria makes a great addition to almost any kitchen design. The hint of gray veining among the soft marble tones allows this classic and versatile countertop design to satisfy almost any personal design preference.
Swanbridge™
Similar to Weybourne, Swanbridge has a lighter marbled design that is grounded with grays and spots of charcoal. Swanbridge intentionally resurrects images of the stony beach along Sully Island where pirates walked within sight of the Welsh hamlet of Swanbridge in the Vale of Glamorgan, according to Cambria.
Berwyn™
If you're looking for a pattern with a little more punch, Cambria's Berwyn expertly combines swirls of white and cream with veins of gray, gold and silver. This makes Berwyn easy to match with and complement other colors in your kitchen's design.
Ironsbridge™
The veining and movement of Ironsbridge resembles antique marble. Creamy gray and white blend together, mimicking the fissures of natural stone that occur over time (but, of course quartz material has no cracks!). The presence of both warm and cool tones means you can coordinate this countertop with nearly any cabinet color.
Praa Sands™
The subtle, yet striking veining, in Praa Sands by Cambria mimics the rocky outcroppings along the pristine stretch of Praa Sands beach on England's southernmost coast. Plus, this countertop pairs well with both light and dark cabinet colors.
Brittanicca™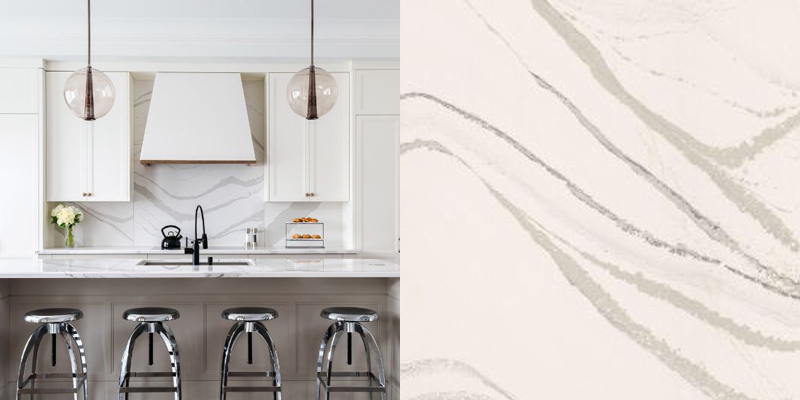 Brittanicca is often considered one of Cambria's flagship products and it's easy to understand why! Brittanicca offers lots of movement with ash-colored veining and charcoal specks that jump off the creamy neutral white marbled background.
Windermere™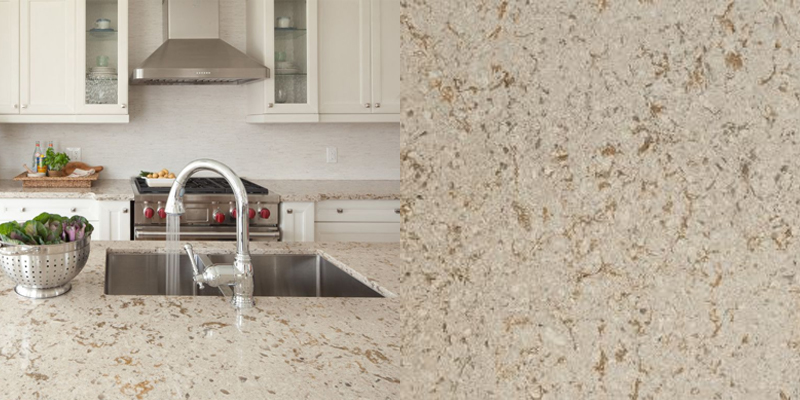 Just like its namesake lakeside town in northwest England, Windemere by Cambria may look simple, but the design is actually quite eclectic. This countertop incorporates shades of gray, cream, and even flecks of golden copper — lighter and natural tone kitchen designs.
Buckingham™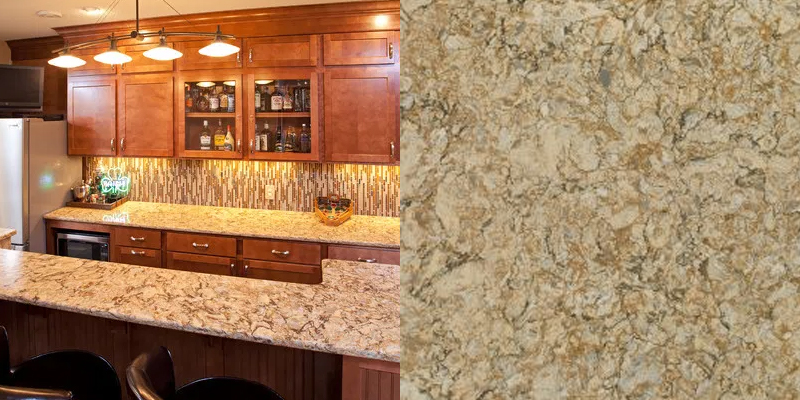 Cambria's Buckingham is named after the famous palace in London, and aptly so. It has a rich look and feel that complements wood-tone, light and dark cabinets. Plus, the veins of brown, gold, gray help make this countertop delightfully adaptable to nearly any color palette.
At Kitchen Magic, our design consultants are ready to assist homeowners, just like you, through every step of the kitchen design process — from cabinetry to countertops, backsplashes, tile, flooring, hardware and more! Schedule your free design consultation, including a personalized quote for your project, today!