Is your kitchen downright scary in terms of outdated features or a garish design scheme? Forgo the tricks and celebrate the treats this season with a new kitchen remodel. Even a modest remodel works wonders in creating a personalized kitchen space that warms the Telltale Heart.
8 Shocking Kitchen Remodel Before & Afters
Here are examples of Scary "Befores" transformed into Welcoming "Afters" with a little help from Kitchen Magic.
When We Said "Scary," We Meant It
It's hard to say anything kind about this kitchen's "Before" picture; it's one of the scariest kitchens we've ever seen (kitchen or Frankenstein's laboratory? We're not sure...). Cabinet refacing wasn't an option since this kitchen has decades-old cabinetry that needed to be replaced, so we installed brand-new custom laminate cabinets in a maple finish.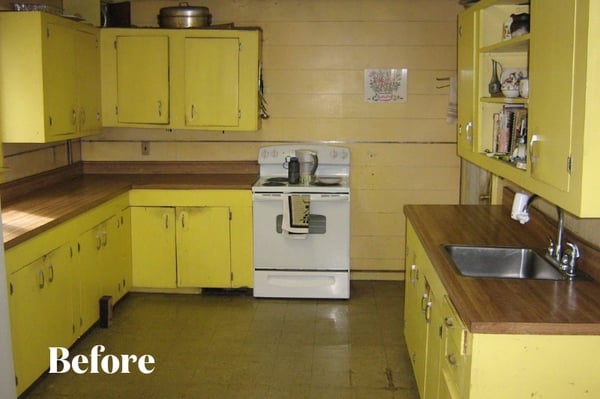 Prestige square doors add a regal touch, and the new countertops are actually a laminate product from Wilsonart, providing an upscale slab look with an ultra-affordable price tag. New drywall, painted in a light color, and durable and low-maintenance ceramic floor tiles created a kitchen Frankenstein's bride would be proud to call home.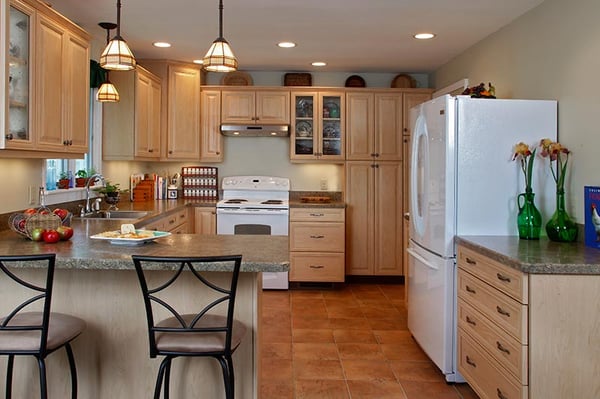 Close, But No Cigar
If you look at any one element in this "Before" kitchen, it's not so bad, but the more you pull back, the more disjointed things become. A mishmash of browns wound up being drab, and the black appliances simply didn't work. It was close - but no cigar - when it comes to cohesive kitchen design.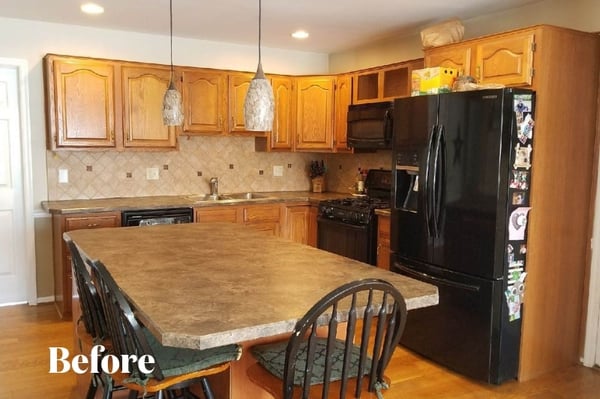 We got to work by refacing the cabinets with laminate Antique White finishes and the ever-popular Prestige square doors. All of that wasted space overhead was put to work too—now that the cabinet's height was taken all the way up to the ceiling. Cambria Quartz countertops in Bellingham add a luxurious style boost and the retro light fixtures give it all a little edgy personality. The white, ceramic subway tile backsplash and stainless steel appliances blend beautifully with the rest of the design. Now, this kitchen is better than "close;" it's right on the money (but you'll have to take your cigar outside).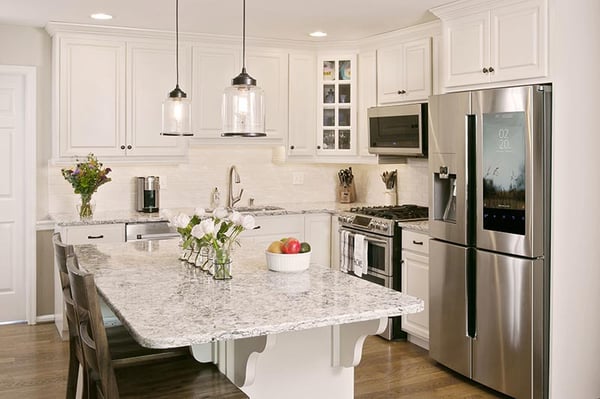 The Nightmare Before Christmas
There was only one season this red-and-green kitchen wasn't scary - Christmas. The rest of the year, it simply wouldn't do. We made it year-round beautiful by refacing the cabinets using Prestige, Statesman shaker-style doors. The linear, Pacaya finish adds captivating texture and stretches the kitchen upwards, making it appear larger than it is.
Re-vamped cabinet storage eliminated unnecessary countertop clutter and Cambria Quartz countertops in Windermere pair perfectly with the cabinets. The simple, all-white ceramic subway tile backsplash breaks up the textural finishes of cabinets and countertop, so they aren't overwhelming.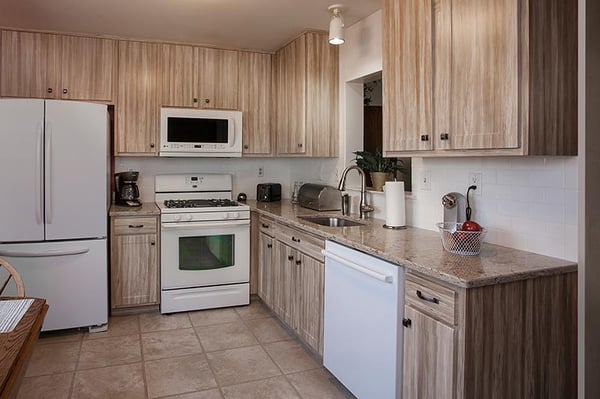 Sorry, Christine...
This kitchen was charming back in 1958 when Christine was parked in the garage. Now, it needed an update. We opened the space up with new, custom cabinets - adorned with Prestige Statesman shaker-style cabinet doors and removed the cumbersome peninsula "hood." The addition of cup-style hardware gives cabinets a retro-timeless look, and Cambria Quartz countertops in Hampshire add another stone texture that looks beautiful with existing brick and wood accents.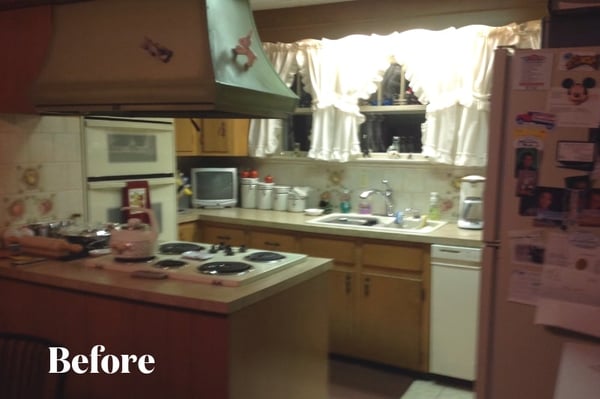 We installed white routed Corian backsplash that mimics subway tile but never requires grout maintenance. We're pretty sure we heard Christine purring in the background as we pulled out of the driveway...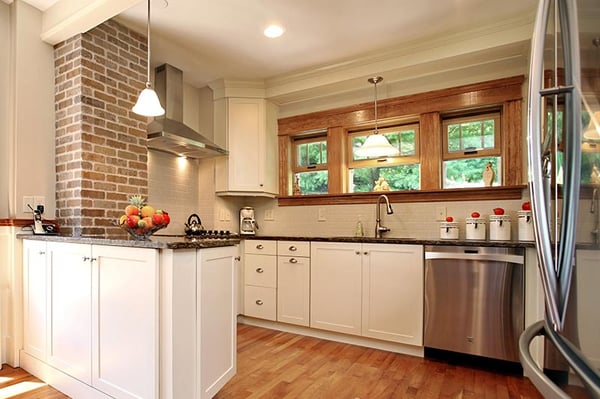 Saved from an Attack of the Killer Fruit
Can you say pattern overwhelm? You can after seeing a picture of this old kitchen—holy fruit cascade! We saved the owners from an Attack of the Killer Fruit by ripping everything out and starting over.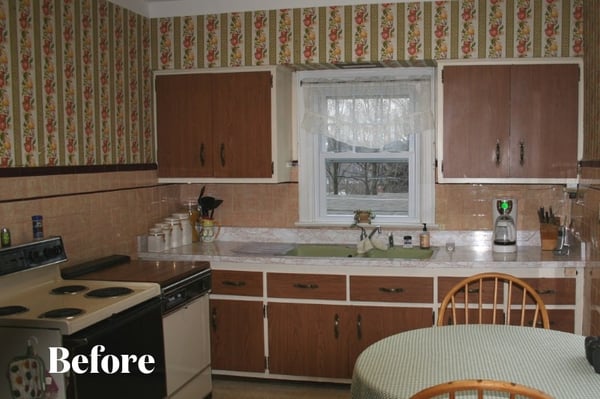 The redesigned kitchen - a study in contrasts - pairs Cherry cabinets, with a traditional raised-panel door in a rich Cordovan stain and sable glaze, and light Silestone quartz countertops in Capri Limestone. The white ceramic tile backsplash in a diamond pattern adds a subtle pattern.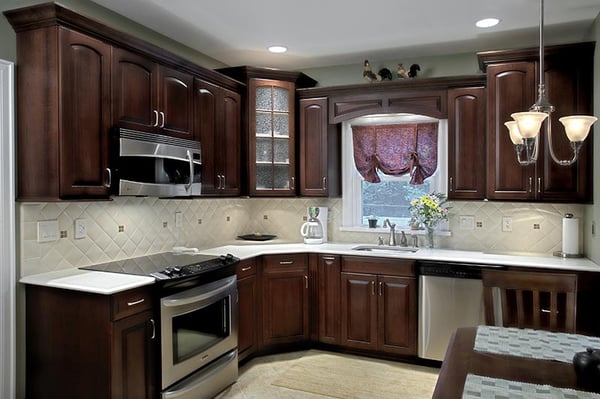 This Halloween, homeowners and guests can relax with cups of coffee - nary a flying fruit in sight.
Quiet that Scream
Okay, we admit: the "Before" picture on this one isn't that scary, but the owners prefer lighter colors and richer textures. We quieted their screams by refacing the dark cabinets with lighter laminate Prestige Square cabinets with a Secret finish, granite countertops in Deer Brown and a patterned marble backsplash in Tundra Gray.
Adding to the spooky-factor, these homeowners had a soffit above their cabinetry that we determined to be housing important electrical wiring for the kitchen. They also had a budget for this project, and re-wiring the entire space simply wasn't realistic. We always work with our clients to find the best design options within their budget. The soffit remained and we refaced it along with the cabinetry for a perfect, cohesive match.
Afterwards, their screams have transformed to sighs of relief.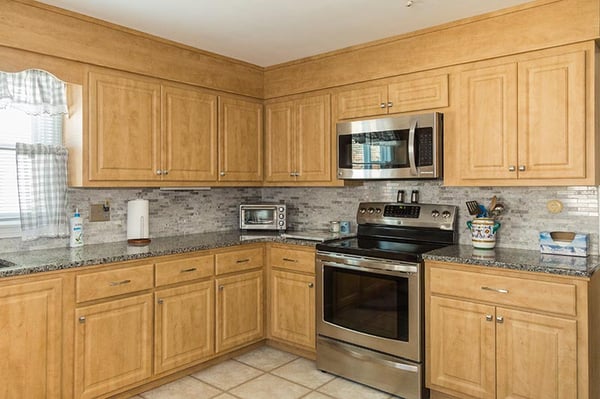 Exorcise the Bland
Since the Bland Kitchen Design Exorcists were in town, we thought we'd take this awesome kitchen space and give it some va-va-voom. We did that by installing new, custom hard maple wood cabinet doors in Julia-style (an embellished shaker) and a Washington stain.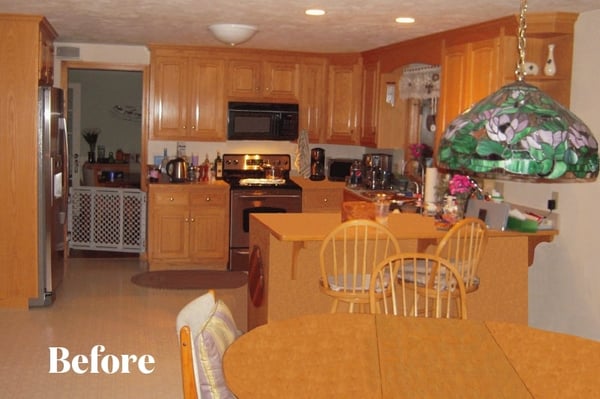 The gorgeous new shaker cabinets were topped by Cambria Quartz countertops in Darlington and the ceramic tile backsplash with a diamond pattern adds some visual interest and texture. Plus, check out those elegant glass tiles behind the stove-top and hood; they were made possible by the removal of excess cabinet boxes since the new custom cabinetry was more efficiently designed.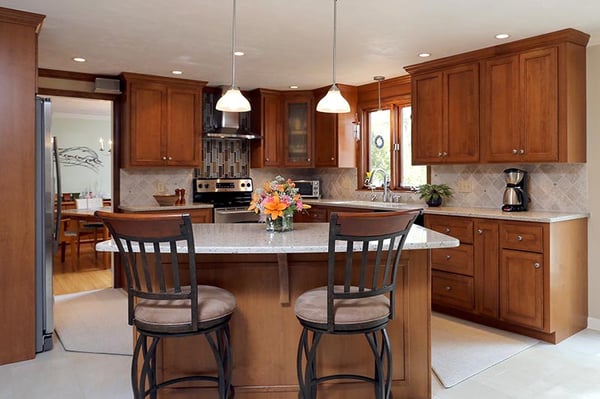 By re-setting the island at an angle, we added contrast and a more unique, open space concept. All in all, we feel we did a great job at exorcizing the bland and creating a more interesting kitchen and dining space.
Goodbye Clutter Horror Picture Show
Washed-out finishes and clutter-galore made this kitchen a Clutter Horror Picture Show for owners and guests. We refaced cabinets with a laminate, Satin White Finish on Hamilton-style doors. A Crema Perla Tumbled Marble Subway Tile backsplash finishes it off, and updated cabinet interiors allowed us to clear all that stuff off the countertops.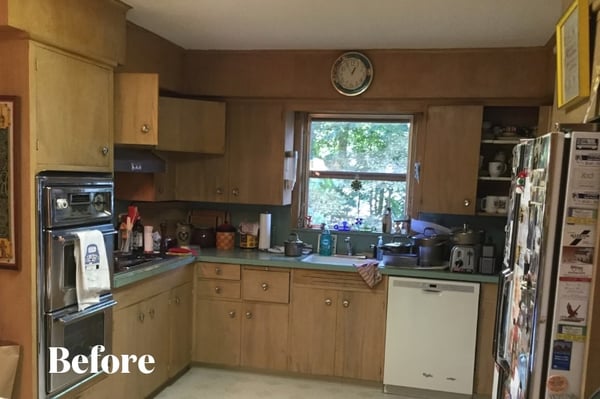 This kitchen also had a soffit area that housed electrical wiring above the cabinets, and a budget, like our aforementioned scream kitchen. In this case, the soffit remained in its wood finish, adding warmth and contrast to the bright, white design—for now, until the homeowner was ready to invest in re-wiring their kitchen.
No need to do the time warp now...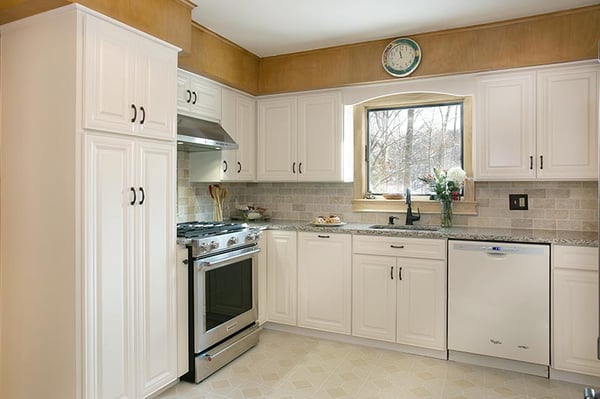 Are you tired of having a spooky kitchen? Turn it into our next "Before" picture and we'll transform it into your own, stunning "After" kitchen. Schedule a free in-home design consultation when you're ready to get started.
Check out our Before & After Gallery for even more kitchen design inspiration!