Tired of the "same ol'-same-ol'" approach to kitchen remodeling. They tell us the trends are changing every year, yet it can feel like you've already seen every possible kitchen design on the planet already. Isn't there something new to think about or plan for?
5 Eclectic Ideas to Fire-Up Some Kitchen Design Inspiration
Yeah, we get it. What are kitchens anyway but a collection of cabinets, appliances and countertops? Weeeell, hold on there a minute. While the bones of the kitchen may be somewhat universal, you can dress them up any which way, and that's where a little eclectic creativity works wonders for re-inspiring a kitchen remodeling plan.
Here are 5 eclectic kitchen design ideas to spark your idea book passion:
1. Get some retro light fixtures
Forget about the typical lighting vendors. Or, rather, use them for your basic recessed cans and task lighting needs. Then, work with a savvy designer in the know, start eBaying, Craigslisting, flea marketing and garage sale-ing.
Look for outstanding retro- or vintage- hanging light fixtures that aren't available in the contemporary market. That funky chandelier or those up-cycled dairy barn pendants will be just the thing to help your kitchen look a little different from the rest. Best of all, this eclectic feature can be taken down, re-sold, swapped or affordably replaced when you're ready for a new look.
2. Bring furniture into the kitchen
If you have enough cabinet storage via perimeter cabinetry, think about using a piece of furniture for your kitchen island. Antique Dressers, old bars, a customized butcher block, an ancient wooden work bench or picnic table, an enormous wood slab installed on metal legs - each has the potential to add unique flair to a kitchen while still providing the extra space desired for food prep and social seating or dining.
Minuca Elena of Staunton and Henry states, "Mixing repurposed furnishings with newer items creates an eclectic look that will brand your décor style as unique and fresh."
3. Opt for Glass Tiles
Time to look at the world through glass-colored tiles. There are so many fun ways to incorporate glass tiles into your backsplash. Even when you use colors, a white adhesive can mute them so they aren't quite as bold or shocking. Or, by all means, be bold and shocking by choosing bright, opaque versions. Glass tiles are luminescent, shimmery and just plain eclectic in their own right - plus, they look fantastic. Another bonus, you can create a glass tile backsplash that flows with any kitchen style - modern or traditional.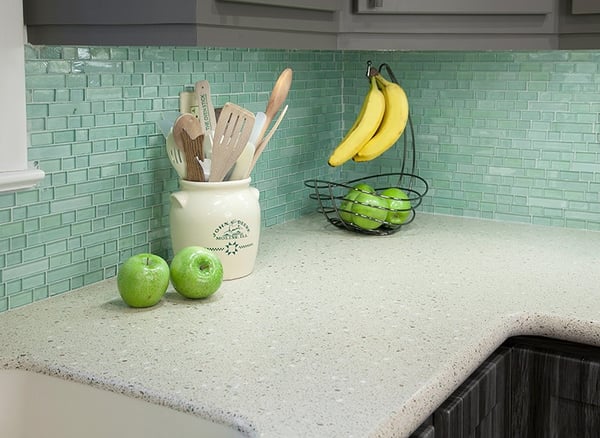 4. Tile Up the Walls
As long as we're on the subject of tiles...if you have plenty of exposed wall space, you can create a fun, funky and retro/historical look by subway tiling all the way up the walls. If you want it to look like exposed brick, great! You can also choose from more neutral tile colors - like the currently trending gray. This look works especially well in kitchens that integrate open shelving, or those where natural light is a premium - glossy tiles reflect light beautifully.
5. Mix it Up
When we say mix-it-up, we're not talking about your garden variety "island doesn't match cabinets" or "uppers don't match lowers." We're talking about really using color science and textured materials so almost nothing is repeated, but everything works.
Get familiar with a color wheel, integrate wood, stone, glass and metal, make sure there isn't a matching piece of cabinet/drawer hardware in the room. This look is so energized and fun - and it might end up being as perpetually "in style" as your neighbor's more neutral, timeless kitchen design.
Have a few eclectic kitchen design ideas of your own? Bring them in to a Kitchen Magic showroom and we'll give you our honest opinion and experienced advice.