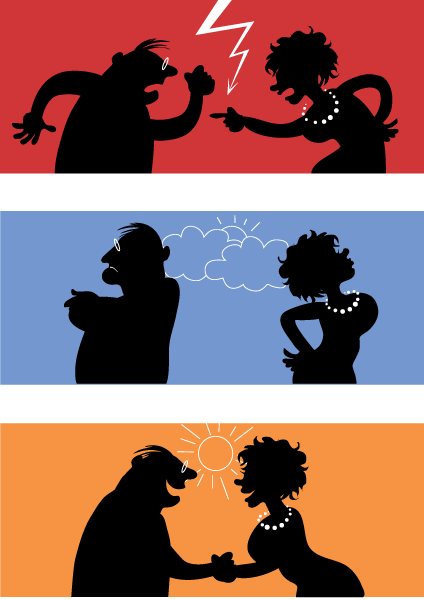 There's nothing worse than knowing it's time to remodel the kitchen, only to be stymied by your own partner. It's a common conundrum, but it's not an insurmountable obstacle.
When you find yourself in this position, think like a marketer; intuitively deciphering your partner's pain points and heart's desire - appealing to those with a very subtle and gentle rigor.
Convince Your Partner It's Time For a Kitchen Remodel
We assure you - it can be done!
Step 1: Don't be pushy!
Nobody likes a pushy salesperson. In fact, pushy sales people can make you turn away from something you do want, simply because you feel agitated and out of control.
At the first sign your partner's not on board, you need to pull back, reign it in and turn on those listening ears so you can figure out exactly why your partner is resistant.
Step 2: Hone in on the resistance
What is your partner's hang up? The trick is to counter - after patient consideration and calm contemplation, of course - each of the hangups with very reasonable solution.
Step 3: Launch the attack persuasive magic
After more than thirty years in the Kitchen Magic remodeling business, we've heard just about every reason in the book for why a kitchen model isn't a good idea - and we've got solutions for all of them.
Problem: It's too expensive.
Solutions: Here's the good news - there are all kinds of ways to get a top-quality remodel without blowing your budget.
Problem: The "our kitchen is fine the way it is" disclaimer
Solutions: Actually, it's not. Your kitchen is outdated and lacks the functionality it would have with an updated design.
Problem: Doesn't want the mess and inconvenience
Solution: Yep, remodeling is noisy, messy and a little inconvenient - for a short, predictable period of time.
If you hire the right design-build team, they'll give you everything you need to survive the remodeling process with your sanity intact. Good communication, clear instructions and an accurate construction calendar.
With this information, you'll be prepared to weather the remodeling storm. While it won't be the same home-sweet-home for that finite period of time, the results are a kitchen that even the most resistant partner will be grateful for.
Is your partner resisting the tide of home improvement?
Schedule a free, in-home consultation with Kitchen Magic. Our courteous design rep will come directly to your home (can't get more convenient than that!) and help you work some persuasive magic.