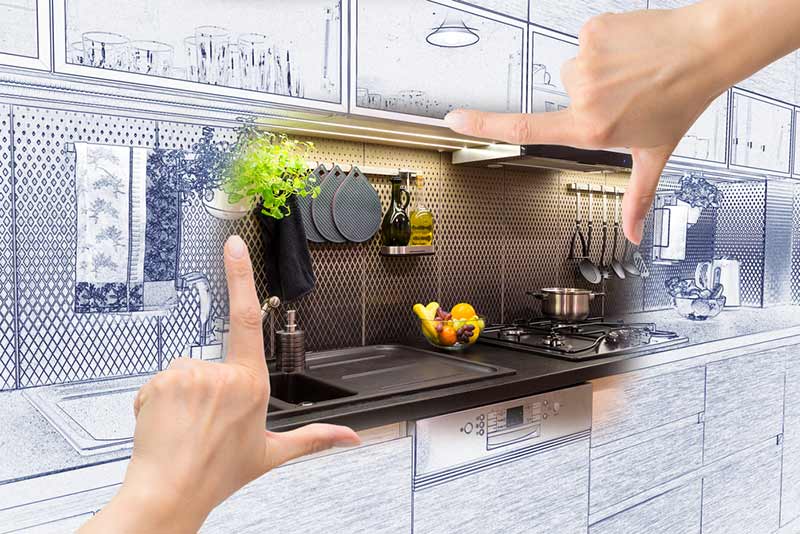 The common kitchen canundrum…"I want to remodel my kitchen and I want it to reflect MY style. But will my style choices turn off future homebuyers? What if I want fun colors or functionalities that might hurt the value of my home when I sell? Should I even care? It's my kitchen after all! They can change it however they want to when the time comes, right?"
Question: Is a kitchen's design for the current homeowner, or should it be designed for future buyers?
Answer: Both!
According to the National Association of Home Builders, the typical American homebuyer remains in their home for about 13 years. Realistically, the time it takes to plan, design and execute a full kitchen remodel is about five months. So, unless you're remodeling the kitchen in a home you just purchased, you may be living in your finished kitchen for a decade or less before it's time to sell again.
For this reason, we recommend clients focus on timeless, universal kitchen design options for the big ticket items, and add more personal, funky or unique taste preferences using accent pieces or features that can disappear when the "For Sale" sign goes out on the lawn.
You don't have to sacrifice your own taste or style
Designing for the imaginary future homebuyer does not mean you need to sacrifice your personal taste. On the contrary. Choose a cabinet design and countertop that suits your design style. At the same time, you may opt to tone down the color and finish you'd prefer, finding one you love but that's more neutral in its appeal.
You can add your own eclectic or individual tastes via towels, teapots and countertop accessories, window dressings, furniture, etc. These are the pieces that add a whole lot of pizzazz to a kitchen design, but are easily tucked away when a realtor is ready to stage your home.
Research what homebuyers are looking for
It's not such a bad idea to learn what contemporary homebuyers are looking for in a home and/or kitchen these days. This can shape the kitchen remodel in a way that intersects with your own tastes. Beyond color and style, you may find this step leads you to functional kitchen design ideas you wouldn't have thought of on your own.
According to bankrate.com, today's homebuyers want:
Accessible kitchens. These appeal to multi-generational households as well as those who plan to age in place.
Open floor plans. Some semblance of an open floor plan is always a perk, especially for Millennial homebuyers and baby boomers who like to socialize and/or entertain.
Big kitchens. Similarly, homebuyers like big, spacious kitchens - or at least kitchens that feel open and spacious.
Home offices. Only have a two- or three-bedroom home? Consider adding a home office or message center to the kitchen. Your household will wonder what it did without it.
Low maintenance. By choosing high-quality materials that are known for durability and resistance to staining, chipping, or breaking - as well as easy to clean - you'll improve your day-to-day life too.
Technology. While you don't have to go too crazy along these lines, it's worth considering appliances controlled via smart technology.
Energy-efficiency. There's no doubt that Americans are on-board with energy-efficiency. Solar panels are going up like there's no tomorrow and the demand for electric vehicles continues to rise. This same movement is reflected in the lighting plans, appliance choices and plumbing fixtures our eco-conscious clients select.
If you take the above considerations in mind, you'll be well on your way to designing a kitchen that is attractive to future homebuyers.
All that being said, your kitchen designer will always keep You at the heart of the plans. You'll design a kitchen with a layout and customized organization, suited to the way your household uses the space, and we'll find multiple ways to let your personality shine through and through.
Schedule an appointment with Kitchen Magic and learn how easy it is to design a kitchen for your taste and future homebuyers.