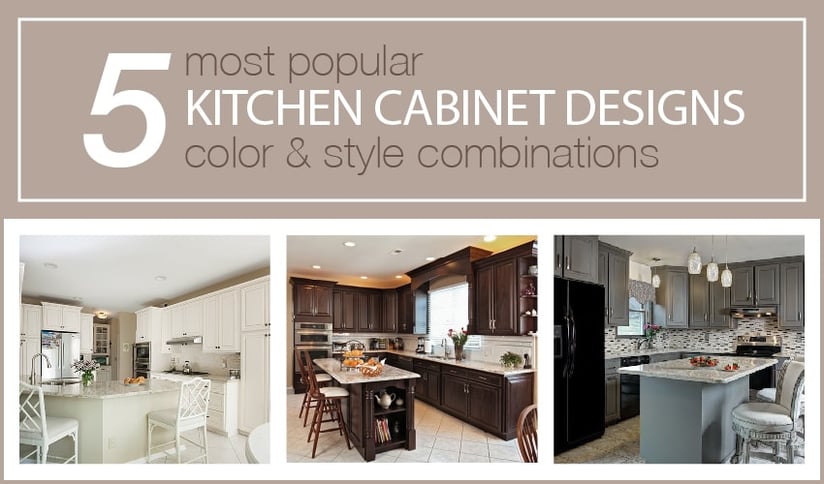 What's a kitchen cabinet but a place to house some dishware, right?
While that might've been the case before, the expression "The Kitchen is the Heart of the Home" has never been more true than in today's homes. Kitchen cabinet designs are a primary kitchen design element.
The kitchen used to be a separate room, hidden from guests. Now, kitchens are a part of an open floor-plan and customers care more than ever about what their kitchens say about them. That's right, your kitchen cabinet designs are going to be a part of telling the world, "We are ultra-modern and chic chic chic!" or "I wanted to create my grandma's country kitchen because all my best memories are there."
Need some inspiration selecting kitchen cabinet colors or kitchen cabinet styles? Check out, Our 5 Most Popular Kitchen Cabinet Colors and Our Top 5 Kitchen Cabinet Door Styles.
While a color or style can make a statement alone, one always has an affect on the other.
1. Classic Cherry w/ Sable Glaze on Classic Raised Panel
This combination creates a luxurious high-end statement no matter what it goes with.
This Cordovan on Cherry stain, is enriched with a Sable Glaze. It magically highlights the raised detail in the door and Dentil crown moldings. Granite or stone countertops, always work well with this style & color.
2. Frosty White on Statesman Shaker Style
This Classic frosty white in shaker style is an 'every man's and woman's kitchen. The flat-paneled Shaker, also knowns as Statesman, can invoke anything from a humble abode to an elite, upscale look. Frosty white, complements the Shaker's simplicity best.
3. Antique White with Walnut Glaze on Breckenridge Square
Antique White cabinets with a Walnut Glaze have been a top choice for homeowners for years. The clean, white color looks great in contemporary and traditional kitchens, and when paired with the Breckenridge Square style, it makes for a classic look that looks great in any kitchen.
4. Suede Gray in Prestige Square
The versatility of Prestige Square, lends itself to any décor motif, from contemporary to traditional to craftsman. The ever popular, and growing, Suede Gray creates a cohesive design, when paired with the Prestige square door style.
5. Chocolate Pear in Elite Square Panel
When searching for a color and style duo, just slightly out of the box, Chocolate Pear, creates an instant sophisticated look, when married to our Elite Square panel door. The warm tones of the Chocolate Pear give this style an upscale, stately expression.
These suggestions have been tried-and-true selections throughout the many years we've been in business. This tells us our customers are thoroughly satisfied, and these selections help to maintain the resale value of their homes.
Enjoyed this article? Download our free guide below to see even more combinations!