Did we have you at Chocolate Pear? If you think the title of our article is appetizing, just wait until you see how this rich color makes for a kitchen renovation you and your guests won't be able to stay out of. There is so much to enjoy in this comfortable space - visually, functionally and socially.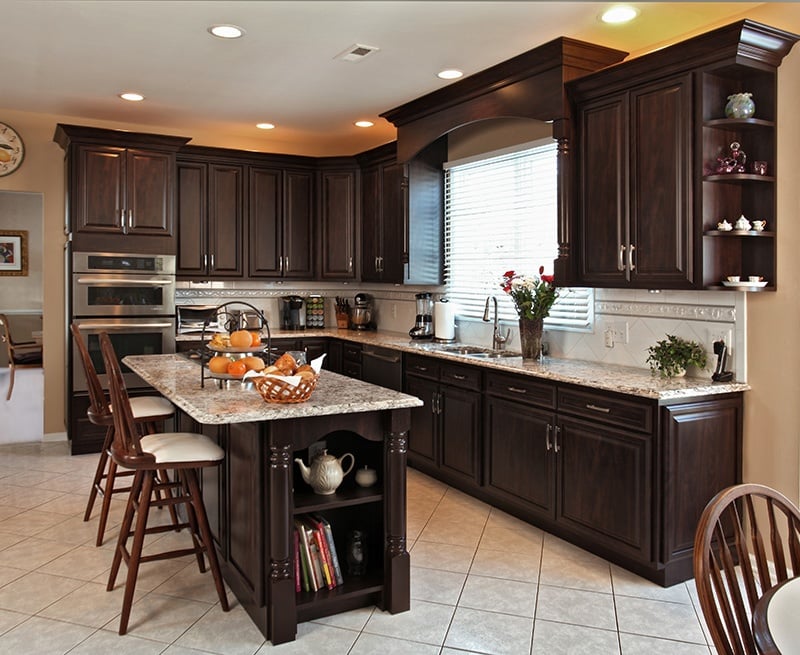 Let's start at the top, shall we?
This Chocolate Pear kitchen is a quintessential example of a transitional kitchen design. For example, the cabinets have been refaced (a contemporary concept, to be sure!) with a maintenance-free laminate that looks like wood but is much easier to clean and maintain. With only a modicum of cleaning, these re-faced laminate cabinets will be equally as stunning 10- and 15-years down the road.
The Cabinet Design
Notice that while the cabinets have clean lines and unadorned edges for the most part, as well as contemporary door and drawer pulls (modern features), they do include a couple decorative accents- like the two half-column legs that adorn the kitchen island, echoed on the cabinet edges that frame the window above the kitchen sink (traditional features).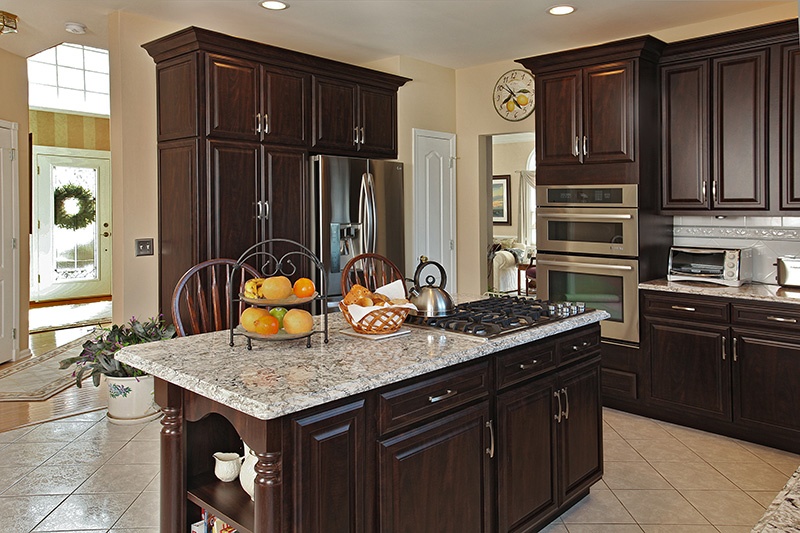 The furnishings you choose can also help to transition traditional and contemporary design motifs. Raised-panel doors are "traditional," but contemporary bar seating keeps the island anchored in modernity.
Using Chocolate Pair in the Color Scheme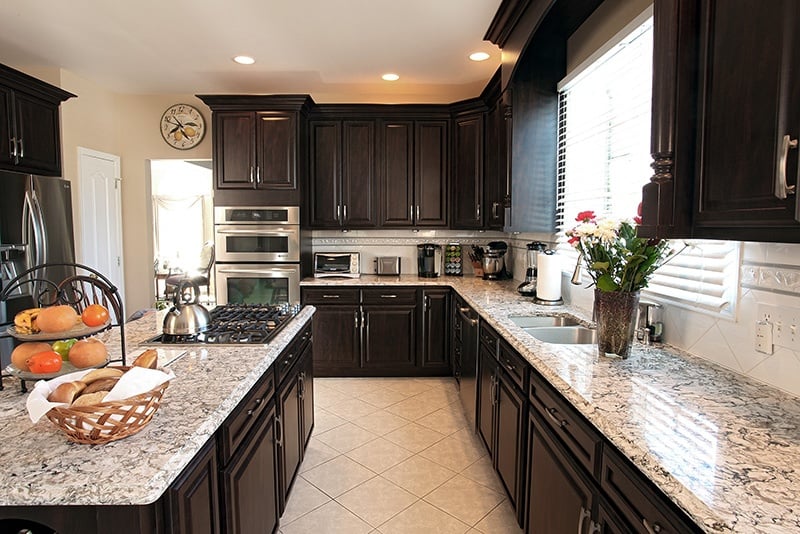 Chocolate Pear is a popular color but it can be too dark if the rich hues are overused. In order to balance the kitchen color scheme, and to keep things lighter and brighter, the homeowners selected a simple, white backsplash tile that is set on the diagonal. To add a little depth and interest, there is a decorative row of ceramic tiles, which add a little shimmer for a glamorous effect. The white backsplash also creates a nice transition between the cabinets and the countertops.
So, What's the Countertop?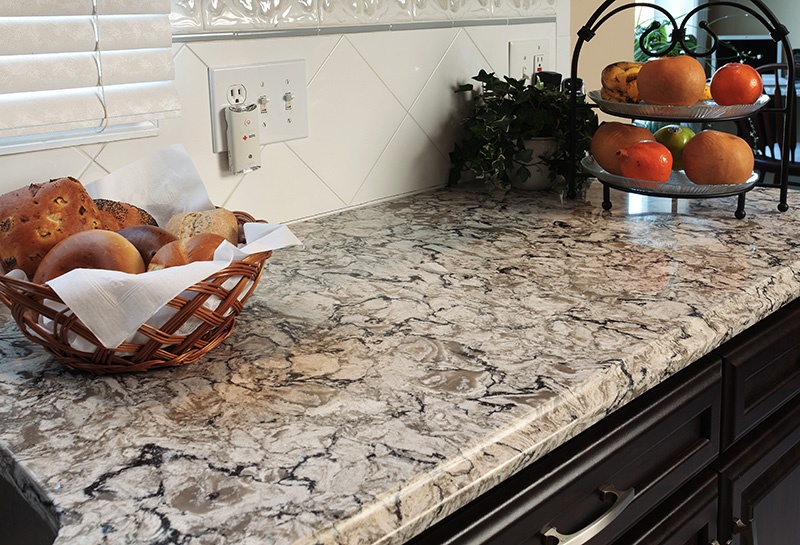 Can you guess what the countertops are? At first glance, you probably thought they were a granite or striking marble slab. In fact, they are Cambria quartz countertops, in a natural stone-esque pattern called Bellingham. These eco-friendly, non-porous counters are as low-maintenance as the laminate cabinets and should never suffer a single scratch, chip, crack or stain.
The end of the kitchen island is further proof of how you can add a little homey charm to a transitional or contemporary kitchen design. The well-placed bookshelves, flanked by the aforementioned, decorative half-column legs, provide space for your favorite cookbooks and decorative kitchenware.
Schedule an in-home consultation with a Kitchen Magic design professional. It doesn't cost you a thing, and you'll get expert tips on how to enhance the look and function of your kitchen.