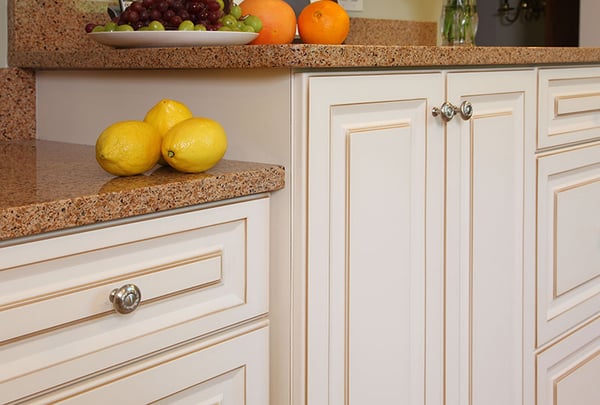 Looking to get extra "oomph" from your kitchen design? Begin exploring the world of cabinet glazes and you'll be hooked. Glazes are a smart addition to any kitchen - laden with all manner of benefits:
Depth
Warmth (a smart way to warm up all-white kitchens)
Camouflage (they're great for hiding that everyday cabinet smudge and grime we don't always have the time to wipe off.
In a nutshell, glazes are applied - and wiped away - adhering only to the cabinet's contours - particularly grooved surfaces, ridges and edges. You can leave as much or as little as you like. As kitchen designers and builders, we'll work with you to select a complimentary color, and the glazing technique that matches your design preferences.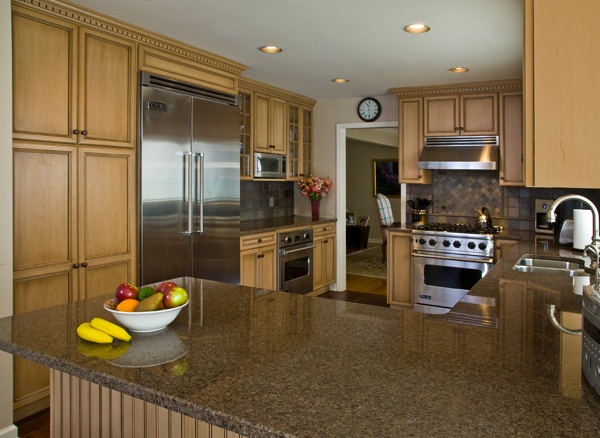 Most of the time, glazes are used in traditional or transitional kitchen designs, and they're also used to create distressed or antiqued cabinet finishes.
Glaze Your Way Towards Depth, Dimension and Texture
There are a variety of techniques and approaches we use in order to achieve a particular look.
All-over glaze vs pin-striping
The all-over approach means we apply the glaze to the entirety of the cabinet face. Using this less-meticulous method, the glaze automatically adheres to the more dramatic contours and is almost invisible on the flatter or smoother surfaces - although it's still visible.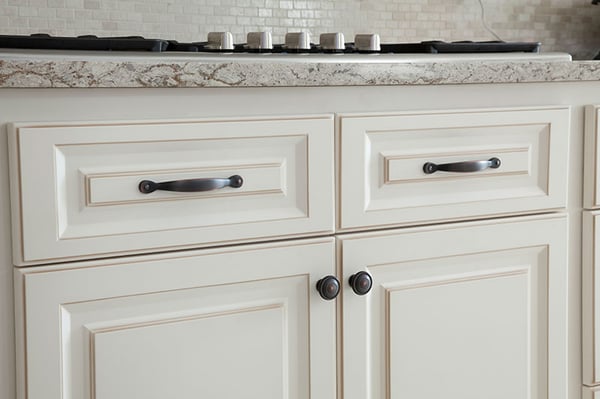 Pin-striping is different. With this technique, we use a narrow paint brush to apply the selected glaze carefully along straight reliefs and edges of the cabinet face. Because it requires a greater attention to detail and accuracy, the price for pin-striping is notably higher than other types of glaze.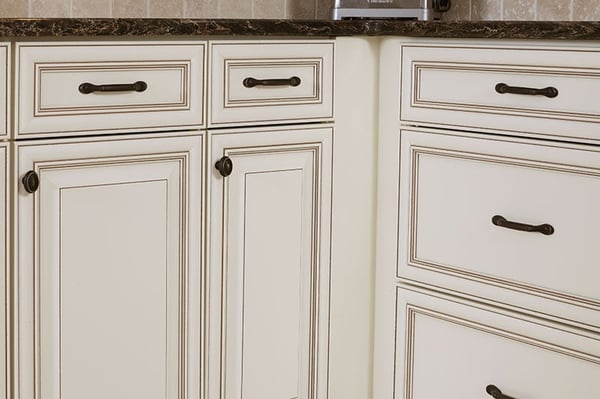 All-over glazes are typically more subtle, while pin-striping provides more dramatic definition - but overall effects depend on the color of glaze you select.
Choose a door style that suits your glazed desires
Similarly, only cabinetry doors with distinct reliefs or changes in elevation benefit from pin-striping or more dramatic glazing. So, for example, your Shaker-style doors might be best off with all-over applications as there isn't much to pin-stripe. On the flip side, if you love the more dramatic look glazing can achieve, choose more ornate door styles - like doors with raised panels or cathedral-style designs.
Wood cabinets can be glazed, too!
Wood cabinetry can be glazed too! We always stain and seal cabinets first so the glaze doesn't permanently absorb into the wood grains. Your kitchen design specialist will show examples of both so you can choose the look you prefer. Wood-stained cabinets with glaze have a richer and more rustic look than those without.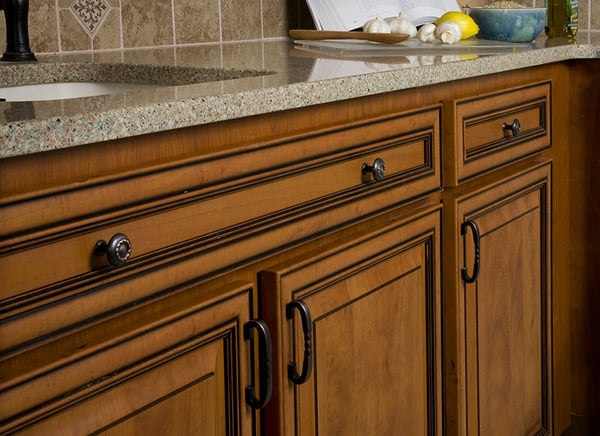 Cool or warm: what's your glaze style?
Choosing glazes can be tricky. Unless you're a professional or experienced remodeler, it's hard to know how the glaze will "turn out." Again, your designer is a huge help here. However - there are basic "glaze rules to live by" in terms of warm or cool effects.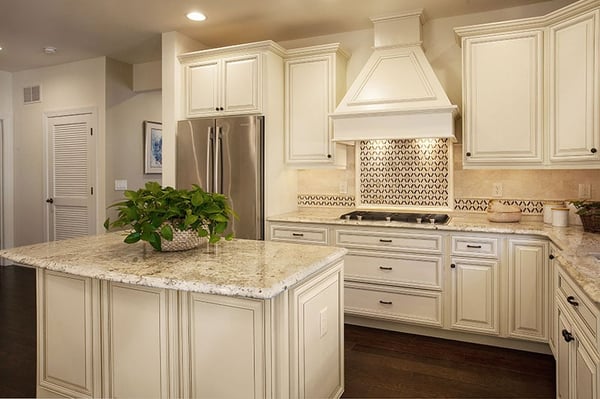 To warm white or lighter-colored cabinets, we turn to cream, beige or brown glazes. Select a lighter or darker hue, depending on the amount of contrast or texture desired.
If your kitchen has a cooler theme, we typically work with gray, white or black glazes. You can even pair a white cabinet with a black or pewter glaze to achieve a very elegant, contemporary look.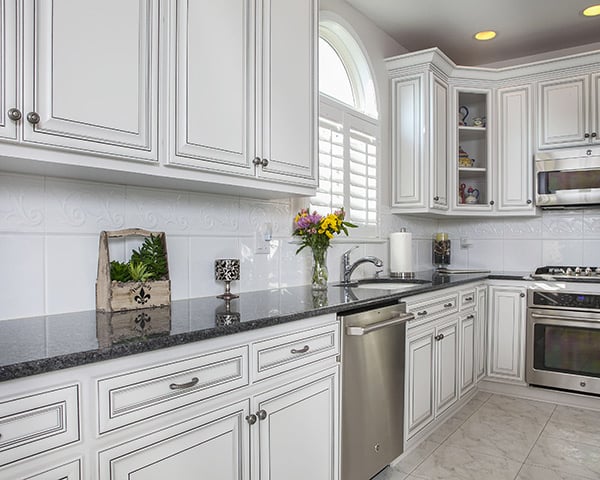 Visit the Kitchen Magic showroom to discuss your glaze ideas with our design professionals and to see real life examples of glazed kitchen cabinets.