Cabinet makers use glazes in combination with stains, paints or laminates to enhance kitchen cabinetry -- accentuate the cuts and styles of doors, drawers, panels, false fronts and molding -- so the cabinets appear gracefully aged or antiqued. Besides highlighting edges and crevices on recessed or raised areas, glazes are also used to create the illusion of depth on flat surfaces or make wood grain and marks less, or perhaps more distinguished.
Although there are many popular glazes used in kitchen remodeling projects, pewter, a silver- to bluish-gray color, is the subject of today's blog. It is a versatile glaze preferred by many for its ability to fit well with both formal and relaxed kitchen themes and atmospheres, as well as with dark or light finishes.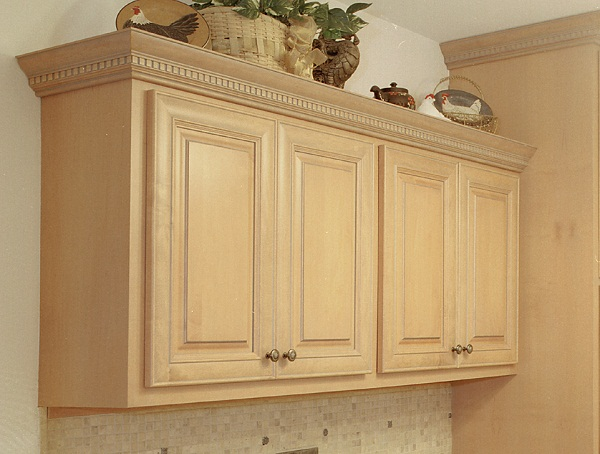 Popular Pewter Combinations
One popular combination is pewter glaze on wood kitchen cabinets stained with a dark shade such as cherry, mahogany or black walnut in a kitchen that features dark antique-pewter or cast iron cookware, appliances, fixtures, furniture, accessories and hardware. When used heavily, the glaze lightens and softens dark surfaces to create a timeless, classic worn and dusty look.
When used lightly or selectively along edges and crevices, it increases contrast making dark surfaces appear glossier, less worn and highlighted with gray lines similar to pinstripes on a dark suit.
Another popular combination selected frequently is pewter glaze on cabinets stained with light shades such as alpine or antique white, vanilla cream or beige in a kitchen that features light-colored antique, or modern stainless steel or black, furniture, appliances and light antique pewter, chrome or brushed nickel hardware.
When used heavily on light surfaces, the glaze darkens surfaces gray and increases contrast so that crevices appear deeper and stand out like dark exposed surfaces in cracked areas on weather worn white washed windows or fences. When used lightly, pewter glaze adds a light gray to silvery sheen that doesn't overwhelm the underlying color and reduces depth to soften the edges along crevices and indented marks.
In either combination, pewter glaze also makes gray or silver marks in other surfaces such as streaks in marble countertops or floors really pop.
Whether you want dark or light kitchen cabinets, you can't go wrong with pewter glaze. Contact a Kitchen Magic cabinet specialist to help you select a popular combination.