Delicious, moist cake is great—but sifting flour and mixing dry ingredients until your arms are tired can be not so great. This pumpkin cake is so good you'll be quickly confusing friends and family, because it's not homemade, but comes from yellow cake mix! Give this Pumpkin Oh-So-Good Cake a try today, and we bet you'll be sneaking extra pieces (don't worry, we won't tell!).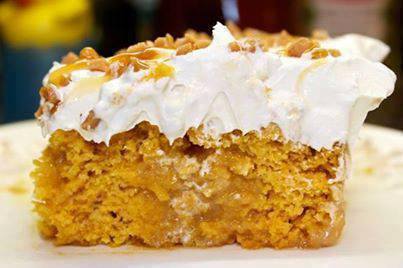 Ingredients:
1 box yellow cake mix
1 can pumpkin puree (15 oz.)
1 can sweetened condensed milk (14 oz.)
1 tub cool whip (8 oz.)
½ bag Heath Bits
1 jar Caramel Sundae Sauce
Directions:
In a large bowl, mix together the cake mix and pumpkin puree until you get a smooth batter. Pour the batter into a greased baking dish. Bake for 23-28 minutes in a 350degree oven, or until cake is lightly browned. Let the cake cook for 10 minutes, then poke holes in the cake with a wooden spoon. Pour the sweetened condensed milk over the cake to fill the holes. Let cake soak in the fridge for 30 minutes.
Remove cake from refrigerator, and top with cool whip, heath bits and caramel sauce. Refrigerate for 3-5 hours, or overnight and serve at your next fall party!
For more delicious recipes, visit our Pinterest profile.