Here on the east coast, the Super Bowl just ended, and while it was a warm 50 degrees for the Sunday game, we've been hit with a massive snow storm. So, in the wake of delicious, fattening Super Bowl snacks and about a foot of snow, I've found myself craving some comfort food that reminds me of warm, summer days.
Pulled pork sandwiches are one of my all-time favorite dinners, and usually make their first appearance around the fourth of July. In honor of the Super Bowl and the cold weather, I'm sharing my famous (and until now, secret) BBQ Chicken Sandwiches. Made with boneless, skinless chicken breast, they're a much healthier alternative to pulled pork, and I bet no one will be able to tell the difference--even you!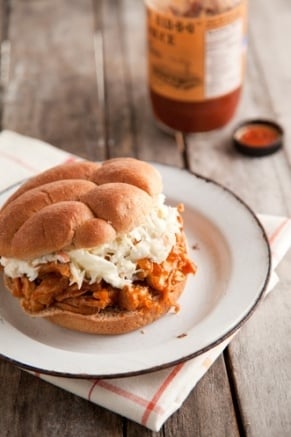 Photo from Pinterest.com
Ingredients:
4 boneless, skinless chicken breasts
1 bottle BBQ sauce, any kind you like
2 cups ketchup
1 cup dark brown sugar
3 cups Apple Cider Vinegar
1 tablespoon vegetable oil
1 tablespoon soy sauce
1 tablespoon garlic, chopped
1 teaspoon garlic powder
1 teaspoon black pepper
1/2 teaspoon crushed red pepper flake
Directions:
First, you want to boil and shred your chicken. This is one of the easiest and healthiest ways to prepare chicken, and once you have shredded chicken, you can used it in a variety of recipes. Place your chicken breast into a shallow pot and cover with water. Bring the water to a boil, turn the burner to medium-low heat and let simmer for 20-40 minutes, or until chicken is no longer pink on the inside. Once the chicken is cooked, remove, let cool and shred using two forks.
Next, combine all of the remaining ingredients in a large bowl to make your BBQ sauce. Your sauce will be ready immediately, but if you have a few hours to let it sit in the refrigerator, the longer it sits the better. Place your chicken and BBQ sauce in a large pan and let simmer on low for 45 minutes to 2 hours. The longer the chicken simmers, the more flavor it will absorb.
When you're ready to serve, you can set it out as a large platter with all sorts of buns and toppings for a fun family dinner or party!