Not sure what to do with your leftover Halloween candy? Or maybe you just want another sweet treat to keep the Halloween spirit! Either way, this Peanut Butter Candy Pie uses my two favorite candies—Butterfinger and Reese's, and is the perfect no-bake dessert to bring to a party filled with children!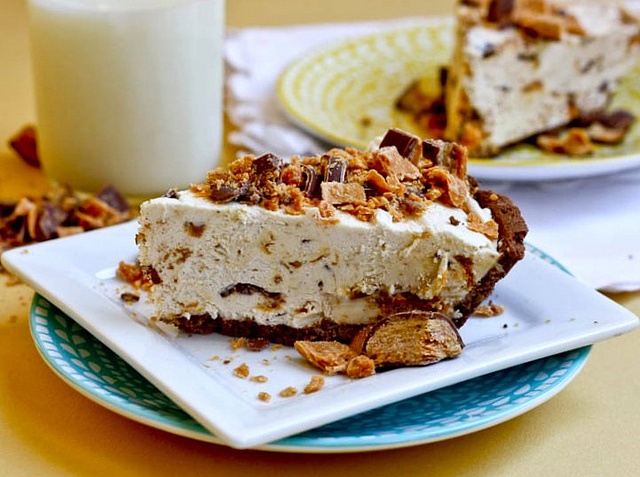 Ingredients:
1 6 oz package of chocolate graham crackers
1 tablespoon vegetable oil
1 8 oz package cream cheese, thawed
½ cup creamy peanut butter
½ cup powdered sugar
1 8 oz container whipped topping, like cool whip
1 package bite-sized Reese's
1 package bite-sized Butterfingers
Directions:
First, make the pie crust, by blending the graham crackers and vegetable oil in a food processor. Once the graham crackers are crushed, pack into a pie dish and bake for ten minutes in a 350degree oven, just enough to cook the mixture into a crust. Let the crust cool in the refrigerator while preparing the rest of the pie.
Blend cream cheese, peanut butter and vanilla extract together until smooth. Add in ¾ of the Butterfingers and the Reese's, saving the rest to sprinkle on the top. Gently fold in the whipped topping, place into the piecrust and let sit in the fridge for four hours.
For more delicous recipes, visit our Pinterest page.