I know, there are as many recipes for french toast as there are cooks, and they are all much of a muchness, but I've never found one quite as simple and economical as my mother's that uses whatever you have on hand, and offers so much flavor and satisfaction for so little work.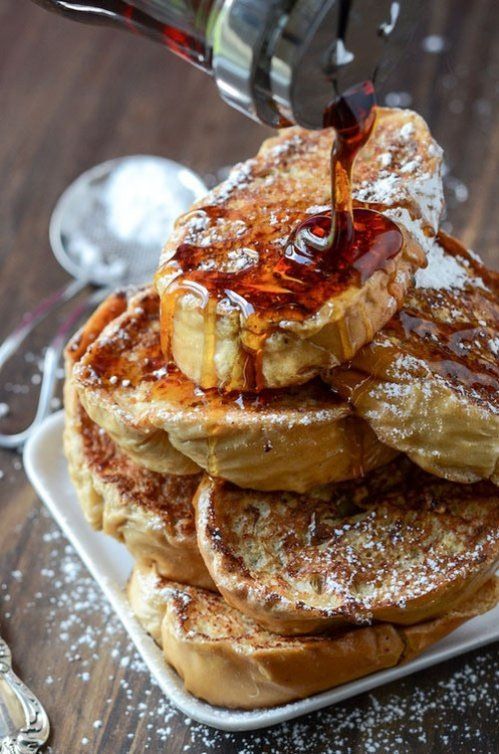 The ingredients are one egg per person (although you can get by with one for two, if those two are kids), some milk (my mother used canned; I use whatever is in the fridge – half and half is decadent and what my mother was going for with canned), sugar, cinnamon, nutmeg, vanilla, two slices of bread per person (whatever kind you have).
Set a skillet or griddle to heat while making the batter. Oil it or grease or spray it, or don't do anything if it really is non-stick.
Beat the egg with a fork in a shallow dish (a pie pan, a soup plate, whatever). Slowly beat in enough milk until it looks right (how's that for "old-fashioned" cooking?). Probably about 2-3 tablespoons, but you could add less – or more if you're cooking for a group and are a little low on eggs. Sprinkle with sugar, cinnamon, and nutmeg to taste. Add a dash or two of vanilla.
Dip slices of bread in the mixture. Dip them quickly if you're trying to stretch it or you prefer drier french toast. Let them sit for a couple of seconds if you're not and you want a custardy toast. Fry until browned on both sides. Again, time it to your preference.
The traditional way to serve it is with syrup or powdered sugar. If you want something heartier, spread one slice with peanut butter and jelly and top with the other. That's courtesy of my father, who grew up on a dairy farm. He also liked a fried egg on top of his stack of pancakes, and poured syrup over all of it.
We'd love to share your recipes! Enter your favorite holiday dish into our Holiday Recipe Contest, and you could win a Custom Corian Cutting Board!