Rotisserie chicken is the ultimate kitchen staple--it's perfect to use in soups, makes a delicious and healthy salad topper, and is a quick-fix for many weeknight meals, like Chicken Alfredo Lasagna. But rotisserie chickens can be expensive, most recipes call only for the breast meat, and who really knows how long those chickens sit inside the super market underneath those heating lamps. So, save yourself some money and spend a little time roasting your own chicken breast. It's really quite easy!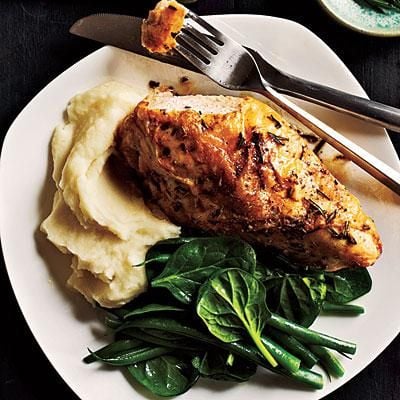 Photo from Pinterest.com
Ingredients:
2 split chicken breasts, rib meat, bone in, skin on.
3 carrots
2 Russet potatoes
1 white onion
2 tablespoons garlic, chopped
3 tablespoons olive oil
1 tablespoon oregano
1 tablespoon thyme
salt and pepper
Directions:
First, preheat your oven between 350 and 400 degrees. Begin preparing your chicken by washing and drying both split breasts. Next, with a small knife, make a slit between the skin and the meat of the chicken. This is to create a pocket within which you will place one tablespoon of your chopped garlic into each breast. To do this, simply stick your spoon underneath the skin, and then push down on top of the skin with your fingers to spread the garlic. After that, liberally sprinkle salt and pepper on top of the skin, and one tablespoon each of oregano and thyme.
Next, it's time to cut your vegetables. Because everything will be cooking together, it's important to make sure each vegetable is cut into equal sizes. So, cut your carrots into thirds, your potatoes into fourths and your onion into fourths, ensure that all pieces are the same size and that they should all cook within 1-2 hours. Place all of your vegetables in a bowl, sprinkle with salt and pepper and toss in 1 tablespoon of olive oil, making sure that everything is evenly coated.
Place your chicken breasts in a glass baking dish lined with aluminum foil. Use the remaining 2 tablespoons of olive oil to evenly coat the chicken. Surround the chicken breasts with your vegetables, cover the whole thing with anothersheet of aluminum foil, and bake covered for about 1 hour, or until chicken is fully cooked.
To tell if your chicken is cooked, cut a small slit in the top of the breast with a knife, and test to see if the juices run clear. If the juices are still pink, the chicken is not fully cooked.
Remove the aluminum foil, and bake uncovered for twenty minutes, or until the skin is golden brown. Let cool and enjoy as a meal, or remove the skin and shred the meat to use in your favorite chicken dish!