Summer is in the air! As we get ready for long vacations, swimming pools and backyard parties, the winter month's menu of stews and hot chocolate gets traded for burgers and lemonade. One of my favorite parts of summer eating and entertaining is that I get to open up the freezer and pull out those delicious frozen treats. While I love fudge pops and mile-high ice cream cones as much as the next girl, I'm always looking for a healthy and homemade alternative to those fatty frozen treats. So today, I'm sharing my favorite frozen banana pops--they're cold, sweet, creamy and easy (plus healthy and kid-friendly)!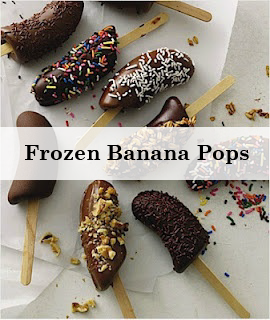 Ingredients:
4 bananas, slightly ripe
1 10oz bag of dark chocolate chips
8 Popsicle sticks
sprinkles, peanuts, cookie crumbs for toppings
parchment paper
Directions:
These frozen banana bits are incredibly easy! First, cut each banana in half, resulting in 8 pieces. Then insert a Popsicle stick into each banana half and place on a sheet of parchment paper. In the microwave, melt your chocolate chips at 30-second intervals, mixing in between until completely melted. Dip each banana pop into the chocolate and then roll in whichever topping you choose (peanuts are my favorite). Place on a baking sheet lined with parchment paper and let sit in the freezer for at least 3 hours or until chocolate has fully hardened. Let your frozen banana bites slightly thaw before serving and enjoy!