Seven Layer Dip is a staple at every game-day party we throw during football season. But Seven Layer Dip can take a long time to make, and can get pretty messy when eveyone's dipping tortilla chips into one big glass serving dish.
This Cinco De Mayo, I wanted to turn the classic Seven Layer Dip recipe into something fun and easy for my guests to walk around with in one hand. Thus began my famous Fiesta Cups--you won't believe how easy they are to make!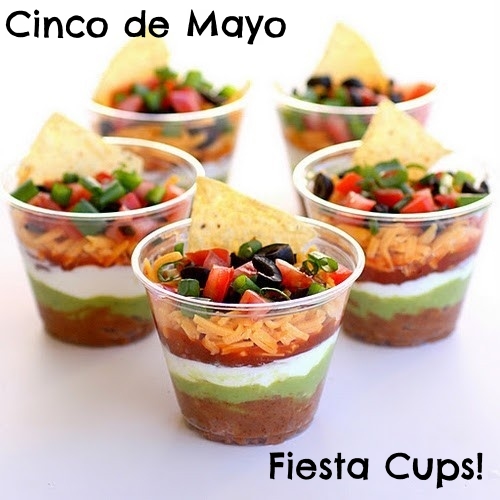 Ingredients:
1 can refried beans
1 jar salsa, any kind of your choosing
1 tub guacamole (or your favorite homemade version)
1 tub sour cream
1 cup shredded cheddar cheese
1 cup chopped olives
1 cup chopped red onion
1/2 cup chopped cilantro
Directions:
Start by measuring out 1 tablespoon of refried beans on the bottom of each cup. Next, spoon out 1 tablespoon of salsa, guacamole and sour cream. Top with another spoonfull of salsa, and then a sprinkle of cheese, red onion, olives and cilantro. Stick a tortilla chip in the center for decoration, and pass out to your guests!