Here's an easy way to spice up dinner on a winter evening.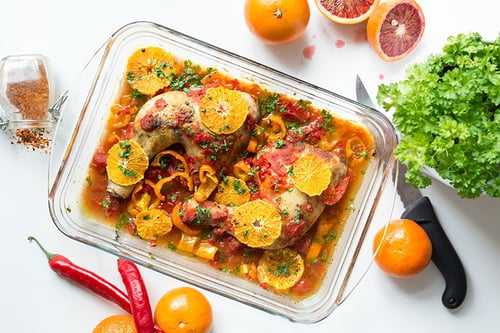 Ingredients
1 lb. boneless, skinless chicken breasts, cut into chunks about 1-1/2 inches across
2 potatoes, peeled, chopped into chunks
1 red onion, peeled and chopped
10 baby carrots, washed, drained, cut in half
2 tablespoons oil for stir-frying
2 tablespoons curry paste or curry powder
1 cup chicken broth
1 teaspoon granulated sugar
1/2 teaspoon salt, or to taste
Freshly ground black or white pepper, to taste
Ground coriander, optional
Directions
Heat a wok or deep-sided frying pan over medium-high heat. Add 2 tablespoons oil to the heated wok. When the oil is hot, add the onion. Stir-fry until the onion is softened and translucent. Add the curry paste and stir-fry until fragrant. (If using curry powder instead, add a small amount of water to form a paste).
Add the chicken and stir-fry for about 5 minutes so that the chicken is browned and coated with the curry paste.
Add the carrots and potatoes. Stir for a minute and add the chicken broth, sugar, salt, and pepper. Cover and simmer over low heat for about 15 - 20 minutes, making sure the chicken is cooked.
Taste the curried chicken and adjust the seasoning if desired. Sprinkle the ground coriander over top.