Making Apple Pie from scratch can be tricky, especially for new cooks who are just looking for a quick weeknight dessert. This Apple Brown Betty is exactly what the name claims—the easiest. It combines the sweet and spicy flavors of a traditional apple pie and updates the difficult piecrust with a hassle-free crumble made from ingredients you already have in your pantry.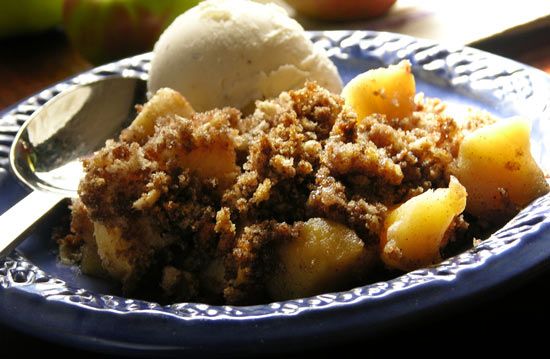 Ingredients:
6 medium-sized apples, peeled, cored and thinly sliced
½ cup white sugar
½ stick unsalted butter, softened
½ cup dark brown sugar
1 ½ cups flour
1 tablespoon cinnamon
1 teaspoon vanilla extract
½ lemon juice
pinch salt
Directions:
Place your apples into a greased baking dish. Sprinkle the apples with lemon juice. In a separate bowl, cream together your butter and white sugar until the two are combined well. Add in your vanilla extract. Next, add in your flour and brown sugar, and gently combine together with your fingers. You want the texture of the brown betty to be in many pieces, so that you can easily sprinkle the crumble on top of the apples. Add in the cinnamon and salt and gently mix in with your fingers. Bake your Apple Brown Betty in a 350degree oven for 20-30 minutes, or until the top is browned and the apples are soft when poked with a fork.
To view more delicious recipes, visit our Pinterest page.