Looking for a last-minute Valentines day dessert? These super-easy and delicious Chocolate Covered Strawberry Squares transform your favorite store bought items into a special treat for your sweetie!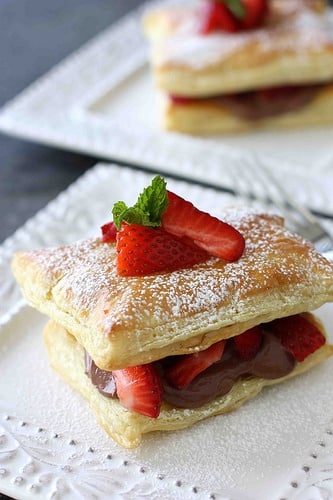 Photo from Pinterest.com
Ingredients:
2 sheets (1 box) frozen puff pastry, thawed
1 box instant chocolate pudding
2 cups mini dark chocolate chips
Powdered sugar, just enough to sprinkle
1 box fresh strawberries
Directions:
First, prepare your chocolate pudding as directed on the box, and let cool. While your pudding is cooling, take out your thawed puff pastry sheets and roll out to about 1/4" thickness. Cut each sheet into 6 equal squares. Place each square about 2 inches apart on a lined cookie sheet and bake for 8-10 minutes in a 350 degree oven. Let the puff pastry squares cool before assembling your squares.
To assemble the squares, first place one puff pastry square down on a serving plate. Top the first square with about two tablespoons of chocolate pudding, a sprinkle of chocolate chips and about two strawberries, each cut into four pieces. Top the strawberries with another puff pastry square, top with some more strawberries and a sprinkle of powdered sugar.