It's Passover, and that means that our Jewish friends are celebrating this next week with unleavened foods and lots of matzo! To kick off our matzo-loving recipe brigade, we have a chocolate and caramel covered matzo treat that tastes just like a delicious toffee dessert.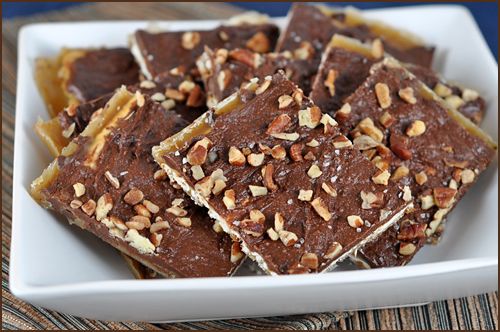 Photo from Pinterest.com
Ingredients:
1 10oz bag of milk chocolate chips
1 10oz bag of baking caramels
2 cups chopped nuts
pinch of salt
Directions:
First, lay your pieces of matzo flat on a piece of parchment paper, and break into small pieces with your hands. Slowly melt the caramel in the microwave, stirring every 30 seconds until the caramel is completely melted. Dip each piece of matzo in the caramel, lay flat on the parchment paper and let sit for 30 minutes in the refrigerator. Once the caramel has set, melt the chocolate just as you melted the caramel, and dip each piece again in the chocolate. Sprinkle with the chopped nuts while the chocolate is still hot, let sit for another 30 minutes and serve!