Bruschetta is a quick and easy dish that makes a great appetizer for sharing with friends or to start off an intimate dinner.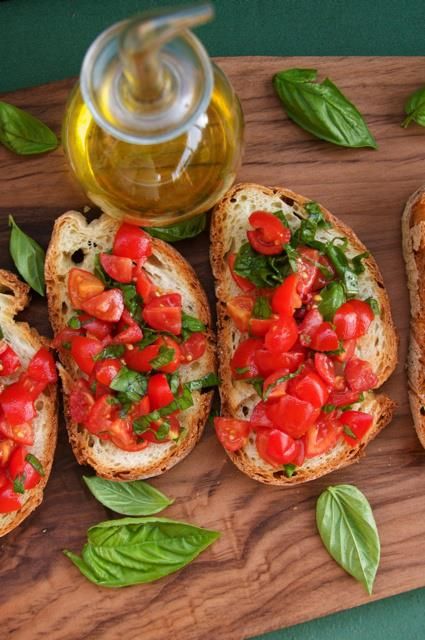 Ingredients
1 pint grape tomatoes, quartered
1/3 cup chopped fresh sweet basil
1/4 cup chopped fresh flatleaf parsley
1 small shallot, minced
2 cloves garlic, minced
2 tablespoons extra virgin olive oil
1 tablespoon balsamic vinegar
1/2 teaspoon kosher or sea salt
1/4 teaspoon freshly ground black pepper
1 large loaf French bread
additional extra virgin olive oil
Directions
In medium glass bowl, combine tomatoes, basil, parsley, shallot, minced garlic, the 2 tablespoons of olive oil, balsamic vinegar, salt, and pepper.
Gently fold ingredientstogether. Cover bowl with plastic wrap and refrigerate at least two hours to marry flavors. (Even better if made the day before.)
Allow bruschetta to come to room temperature. Taste; adjust salt and pepper, if necessary. Just before serving, preheat oven to 300?F.
Slice bread crosswise into half-inch slices. Arrange bread slices in a single layer on a large baking sheet. Brush each slice lightly with additional extra virgin olive oil. Bake until just beginning to turn golden; do not let brown.
Top each slice bread with about 3 tablespoons of bruschetta, or allow each diner to serve him- or herself.
For more delicious recipes, check us out on Pinterest