Spring has finally arrived, and it's time for the latest installment of our quarterly report on the trends in kitchen style and décor for the 2018 springtime season.
As we've explained in our previous reports, it isn't necessary (or practical) to remodel your kitchen every time the trends change. They change way to frequently for that, and we're here to help you find ways to stay on top of the trends, without breaking the bank.
Spring Your Kitchen into On-trend Style
The trick to maintaining an on-trend and stylish kitchen is to start with a classic design as your backdrop and change out seasonal décor or make simple cosmetic changes that are in alignment with what the trend experts are forecasting. Here are their forecasts for the current spring season…
Finish with patina
Mixing metals continues to trend very strongly, and you can rest assured that it's completely fashionable to use copper, brass, stainless, and so on, together in the same kitchen. The newest thing for metal materials in the home is patina finishes. Wikipedia describes patina as, "a green or brown film on the surface of bronze or similar metals, produced by oxidation over a long period." Trend experts are noting a pivot towards treating different types of metal to achieve unique patinas.
You can easily get this look in the kitchen in a number of ways. Barstools with metal framing come to mind, also cabinet hardware, decorative plates, curtain rods, vases, hooks, and light fixtures. In the example below, the backside of the kitchen island displays a lovely teal patina.
Sconce lighting fixtures
Sconce lighting is back in a big way this season…but, did it ever leave? The current preference is for metal sconce fixtures with an industrial look and feel. You can also opt for more ornate options, but if you do, antique or vintage-looking designs are your best on-trend bet. Install them by the pair, or more, for a cohesive and well-lit kitchen design—especially if you can find them in that patina finish!
Moody and/or bold colors
Our past 2 reports have indicated jewel-tones as designer favorites in the kitchen, and that Pantone's color of the year for 2018 is Ultra-Violet. These trends still hold true, but as per usual, there's some variation updates.
Moody colors like ink blue, forest green, and a plethora of grays and greiges, reign supreme right now. They are easy to coordinate, neutral-ish colors, that one can easily see will not go out of style anytime soon. But, bold colors like yellow, bright greens, and purples are also on-trend right now. We know, we know… contradiction, much? Well, the good news is that you have your choice. When it comes to pops of color in the kitchen, choose muted, bold, or both. The key is to incorporate at least one of the types of colors we've mentioned here into your kitchen's design.
Handles over knobs
For a brief stent, handles were at the back of the pack, but they are now gaining on knobs and pulls in the never-ending competition of cabinet hardware. This new incarnation of the handle trend pairs ornate handles with modern cabinets. So, the ideal is to have shaker or plain cabinets, with ornate handles in copper, brass, rose gold, or any patinaed metals. This contrast is complementary to both the cabinets and the hardware, and the combination elevates your kitchen's design with a layered style. It's the little details like this that add to your kitchen's wow-factor.
It's marble, marble, marble
We imagine that granite and quartz sometimes feel the same way Jan Brady felt about her sister, Marcia. Marble tends to be the popular kid in class, regardless of what the trends say. Sure, Granite's had her heyday, and Quartz isn't doing too bad herself, but Marble is the tried and true luxurious surface material that's been utilized in interior design since ancient times.
Marble, and especially Carrara Marble, is huge right now. But, if a new countertop or backsplash isn't in your near future, how can you get this look? Well, the answer is tabletops. Be it a dining table, side table, plant stand, or even a trivet for your countertop, you can add the look of marble to your kitchen, without even thinking about a remodel. And, if the real thing is not in the budget, go for faux! Cambria Quartz, Corian Solid Surface, and other composite materials out there have some great, authentic looking faux-marble designs.
Natural timber for that bespoke look
"Bespoke" seems to be the word of the moment in the kitchen design world. Meaning, "goods made to order"—in interior design, this word refers to a home with unique and personal details that are custom made to the owner's tastes. One of the trendiest ways to get the bespoke look is to use interesting wood species, and let the natural beauty speak for itself by refraining from lacquer or stain.
Wood species with funny names like Pippy Elm, Pecky Cypress, or some different varieties of walnut have predominant and irregular grains with visual appeal that deserves to be shown off. Many designers are using these kinds of woods in cabinetry, but you can make a much smaller investment in decorative pieces and details made from these eclectic types of woods.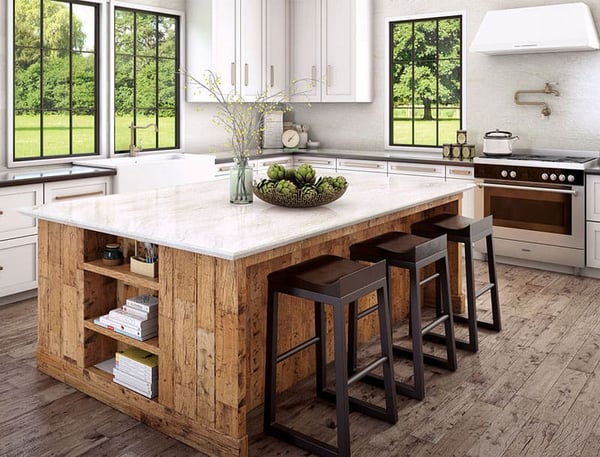 The wall is alive!
Living walls are a big hit this season. Sure, they've been on Pinterest for years, but it seems that more and more people are starting to feel comfortable with taking the plunge in mounting flush containers of moss, herbs, succulents or other houseplants to their kitchen walls. And, who can blame them? The finished product, displaying greenery and textures will create an instant focal point that s sure to impress all of your guests. Not to mention, plants improve the air quality of your home, so it's a multi-win!
Botanical artwork
If your thumb isn't, well… the greenest, then a good alternative to the living wall is my favorite new trend of framed botanicals. You can frame dried plants and flowers, or you can opt for botanically inspired artwork. Framed botanicals such as shamrocks or lavender are lovely. Likewise, an artwork series themed around herbs will do the trick. This is an excellent and maintenance-free way to bring a little greenery into the kitchen.
There you have the latest kitchen décor trends for spring 2018. Stay tuned, we'll continue to bring you seasonal updates on the latest style trends, so you can keep your kitchen fresh and in-vogue!
For more kitchen trend and style advice, check out these articles: