Hello Spring, it's wonderful to see you again, we've missed you so very much! For many of us, the warmer weather is an invitation to shed those heavy layers and shake that cabin fever. While everything is changing outside, it's time to update your décor on the inside. It's the next installment of our quarterly report on the trends in kitchen style and décor for the 2019 springtime season. Make your home as fresh and inviting as the great outdoors with these trendy suggestions.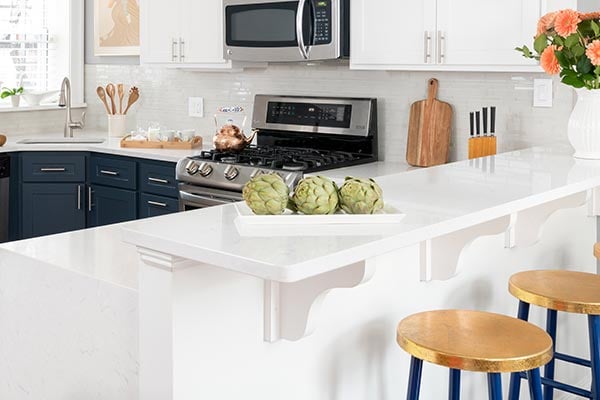 Affordable Kitchen Decor
We've scoured the reports and done the research. These are our hand-picked ideas from the top home interior trends experts. The options are perfect for freshening up your kitchen with accent pieces and décor that won't break the bank.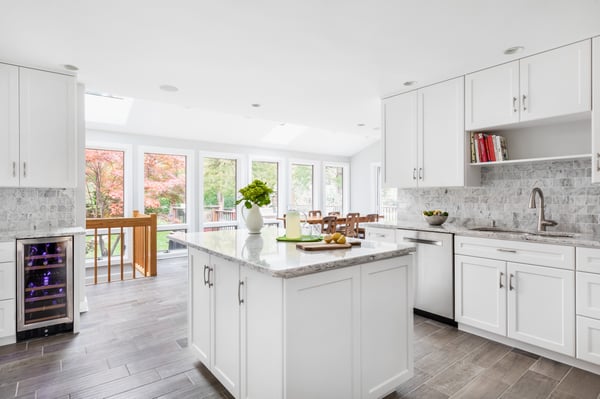 Back to basics
The Scandinavian kitchen design style is on the rise in 2019. It's all about creating simple, minimalist spaces that incorporate natural materials. Things like, wood, stone, brick and shiplap are great ways to infuse the raw, eco-friendly resources into your home. You can accomplish this with wooden trays or bowls, woven baskets and stone décor. These elements will add texture and depth to your kitchen and give you a homey look and feel. This spring be one with nature in your own personal sanctuary.
If you're looking to make a statement, switch to matte finishes. Matte appliances and finishes create a dramatic feel in the room. It provides a very sleek design element and is another way to add sophistication. This finish is a perfect pair with natural woods and timbers for a rustic yet refined feel.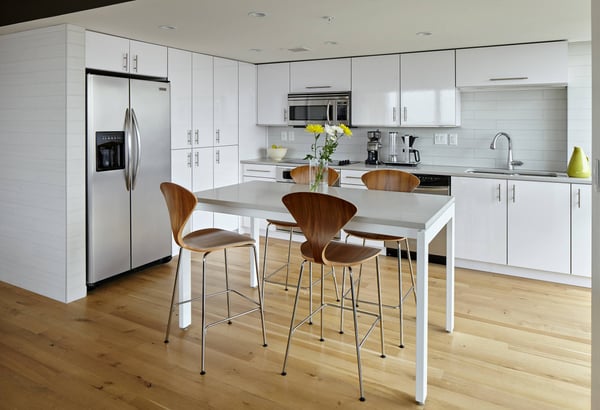 Create an oasis away from technology
These days we are all so engrossed in our technology whether it be a phone, tablet or the laptop. Even the kitchen has become a high-tech space with Wi-Fi and touch appliances. Don't get us wrong, we love these advancements and how they've made life so much easier but sometimes we just want to step away from the tech and unwind in a serene oasis.
Continuing with the minimalist trend, it's time to get a little distance from technology. This idea has materialized via the use of different hues and shades that are a departure from the sterile neutrals (think whites and greys) of the past. When you want to put the tech away think about mixing colors for a homey feel. Try some greens to infuse a feeling of relaxation in your space. Hunter green is especially trending right now. We still want to embrace technology but sometimes we need a little unplugged 'me' time and we think you might enjoy it too.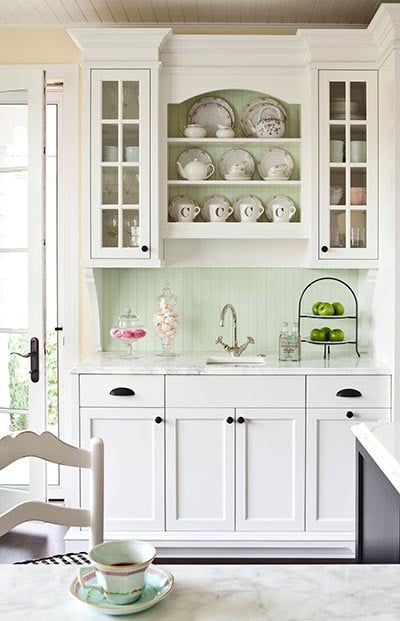 Bring Spring Indoors
Spring is a time of renewal; the snow has melted giving way to green grass and luscious plants. To spruce up your kitchen think about displaying some greenery—either fresh or drying. Bring the tantalizing scent of fresh herbs to your kitchen by displaying them along the counter or the walls. If you've got a green thumb, try your hand at growing some in small-pots to line your countertop, you can double your efforts by incorporating the horticulture as part of your design elements.
A décor trend that's maintained popularity year after year is the living wall. You may have seen or heard about this trend before but to refresh your memory, you can mount a container of moss or those herbs you're growing right to the kitchen wall. The result is the addition of lively color and natural textures that create a focal point to surely be a topic of conversation. We're telling you, this spring get in touch with mother nature, you won't be disappointed.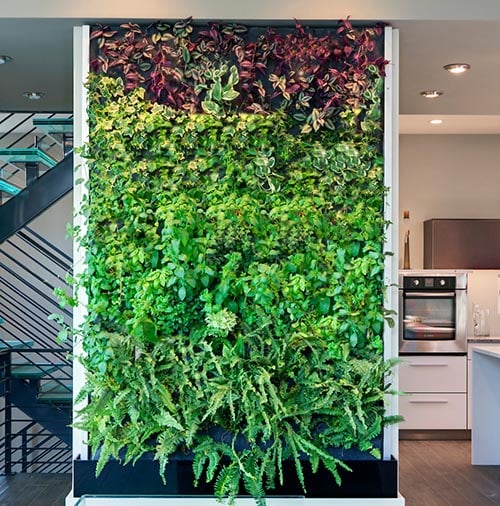 Max out
If the minimalist trend just isn't your style don't worry, the design world loves contrasts and there is always a different spot on the spectrum to fall back on. But you don't have to go to extremes with the maximalist style either. Adding splashes of color can give you an updated and refreshed look for spring. You can accomplish this through accent pieces like the lighting fixtures and seating options (more on that later). Be bold with your choices, you can get inspiration from the art deco design style. Break up the space with a funky, geometric lighting feature. Or, get people talking with a statement wall clock. Whatever you choose, let your personality shine through in these pieces and you'll create a room that you'll love coming home to.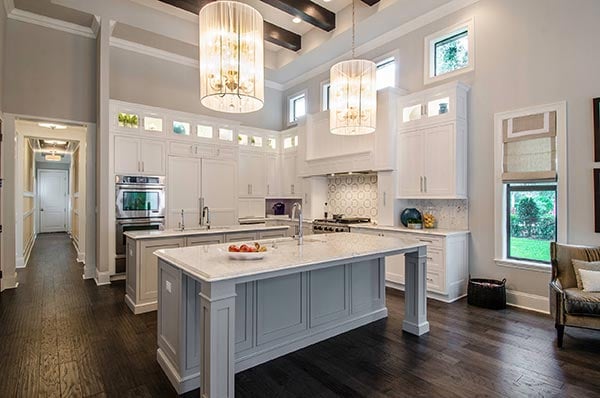 Terrazzo time
If you're looking for something that will give you a unique and decorative splash of color than Terrazzo might be for you. Terrazzo is a confetti-like mosaic of composite materials with pieces of granite, glass, quartz or marble. It first garnered popularity in the 80s as part of the Memphis Group design style which is marked by abstract, color designs that combine asymmetrical shapes. This material is widely used for flooring or as a unique backsplash. But you can spruce up your space by incorporating it in your design for much less through a decorative vase or bowl. There are plenty of options to add pops of color through a terrazzo accent table or on a smaller level with coasters. Take advantage of this popular design trend on an affordable scale with your décor choices.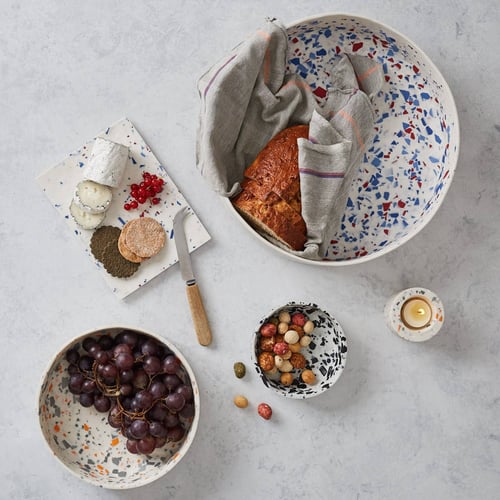 Heavy metal
Mixing metals has been on-trend for some time now. Think about including copper accent pieces like sinks/faucets, drawer knobs and pulls. Metals are a great way to add intricacies that are aesthetically pleasing. Copper and gold are popular right now because they are viewed as more neutral for the space but also add warm tones. It's the sophistication you're looking for but with a heritage feel.
Don't be afraid to combine copper with brass or silver and gold. Be bold with your design choices and let these accents become conversation starters.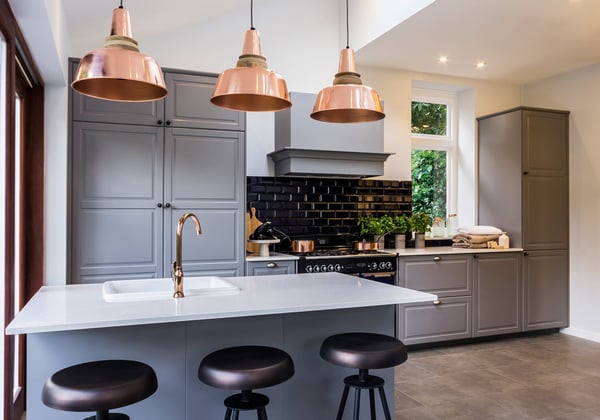 Stylish statement stool seating
As we previously mentioned, your stool seating options are a great way to add glamour to your kitchen. No matter what your design style—whether it be maximalist or minimalist, the seating choice in your kitchen is a way for you to really reinforce and bring it home. Get stylish with your island or bar seating and add your personal flair to the most used room in the house. Your options are wide open and range from simple and modest (those in the minimalist trend) to extravagant and refined (maximalists we're looking at you!). Either way, you've got room to let your design flag fly!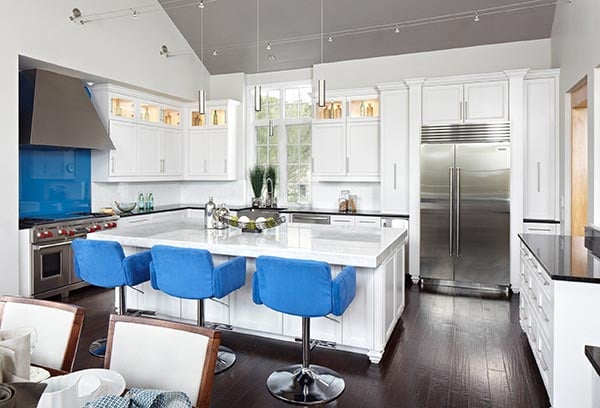 There you have it, the latest kitchen décor trends for spring 2019! Stay tuned, we'll continue to bring you all the seasonal updates on the latest style trends throughout the year to keep your kitchen en-vogue.
For more kitchen trend and style advice, check out these articles: