When you think beach house, you're probably envisioning homes off the coast in the southeast or west. Location may be a big deal when it comes to real estate, but it doesn't have to define how you design the interior of your home. You don't need to be located near water or sandy beaches to spread those beachy vibes.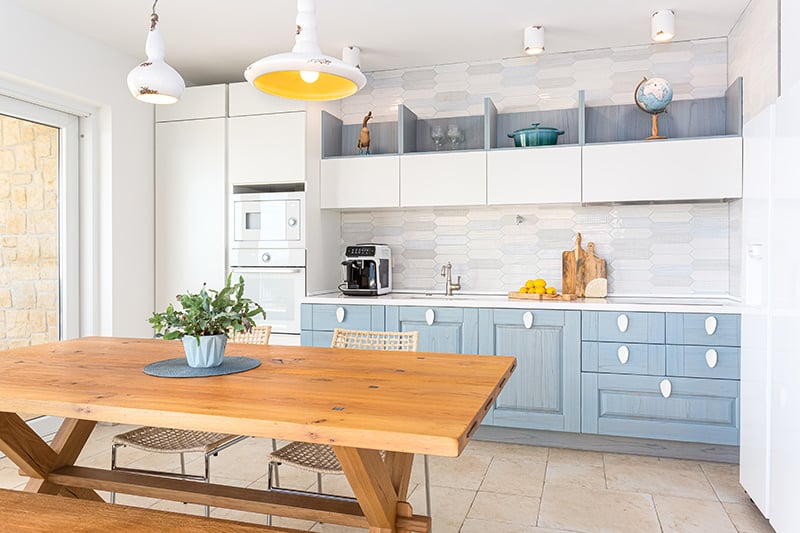 Cruisin' Down the Coastal Highway of Your Beachy Kitchen Design
Beach-themed interior designs are becoming popular because they bring light, airy and relaxing energy to the home. Another benefit is that they work with every design taste—from traditional to modern. If you find yourself pouring over issues of Coastal Living, imagining your fantasy split-level beach house, start putting those dreams to work in reality and design your oceanic-inspired kitchen paradise with these tips.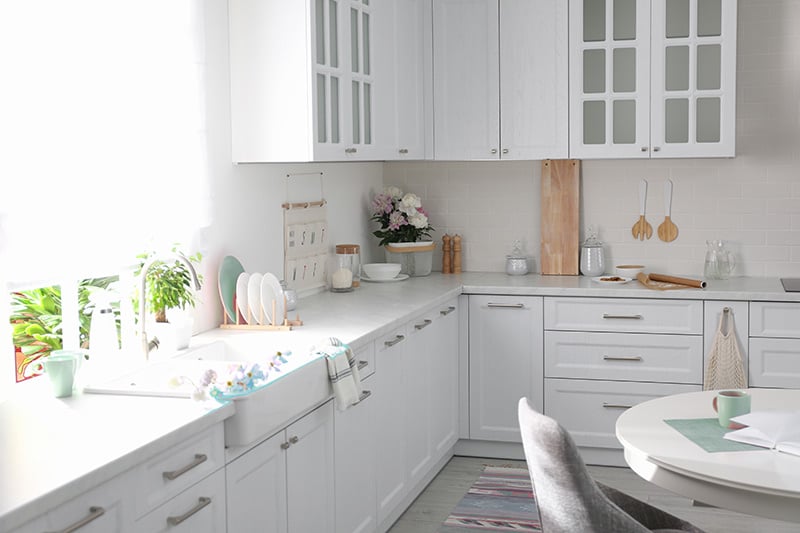 Coastal design elements for a landlocked kitchen
A beach house design doesn't mean you just incorporate seashells, starfish and coral—although you're certainly welcome to use these nautical accents. Rather, it's a specific look and feel your adding to a space via your color palette and deliberate design choices.
A beach theme is inspired by the raw elements of nature. It's about invigorating your room with the energy you get from hearing the waves crash against the shore as the salty sea airs blows across your face. Seeing your feet through the clear, tropical waters or feeling the fine white sand squish between your toes. It's the sensation you get after spending the entire day outdoors, soaking up the warmth and having perfectly sun-kissed skin to show for it. It's clean, rejuvenating, natural and low maintenance. So, why not let your kitchen put you in a better mood.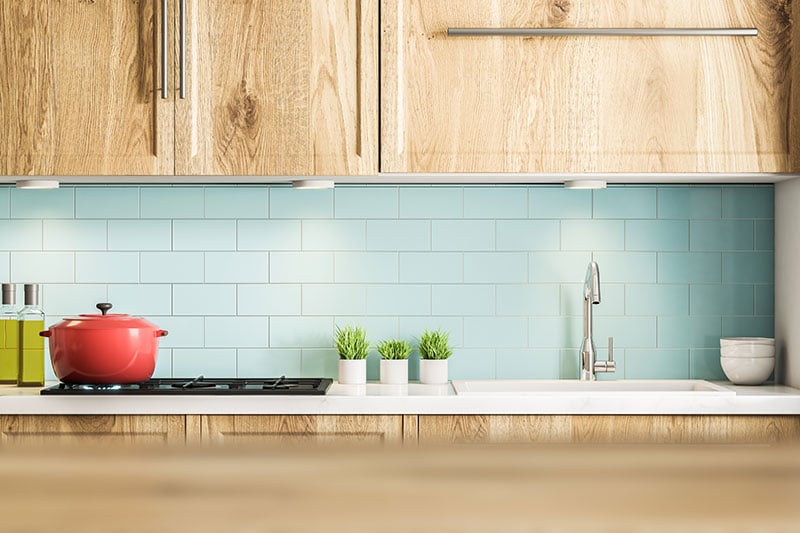 First things first, think white kitchen designs
You'll be hard-pressed to find a coastal kitchen that doesn't include any white accents. White gives you the clean, natural look you're trying to achieve. The good news for you is that white is a cabinet color with longevity behind it, it'll never go out of style. While other cabinet colors and finishes trend in and out, white seems to stand the test of time. The combination of a monochromatic cabinet and countertop creates a uniform visual for your space. It's clean and keeps the kitchen feeling open and spacious.
Add some beadboard to define contrast
Beadboard is a fun feature because it can be used in both traditional and modern designs, typically in moderation with the latter. Install beadboard-style wainscoting on the walls. If you're not looking to include it in a big way, use it on your kitchen island or backsplash. It's easy to paint or re-paint for temporary style updates and it adds just a little contrast to the rest of the room.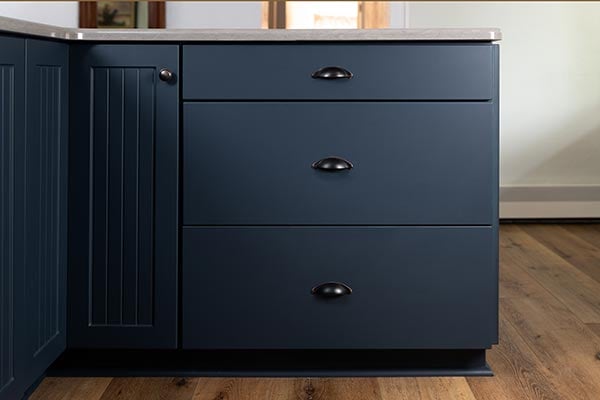 Open shelving in the kitchen
Beach houses also have quite a bit of sand and salt residue due to the high humidity levels. For this reason, open, exposed and easy-to-clean surfaces are the norm. Even without the beach air, open shelving is a good example of this. The bonus is you can enhance your theme by displaying your colorful or patterned dishware on these shelves. Storing items out in the open is an opportunity to incorporate more accents to the design.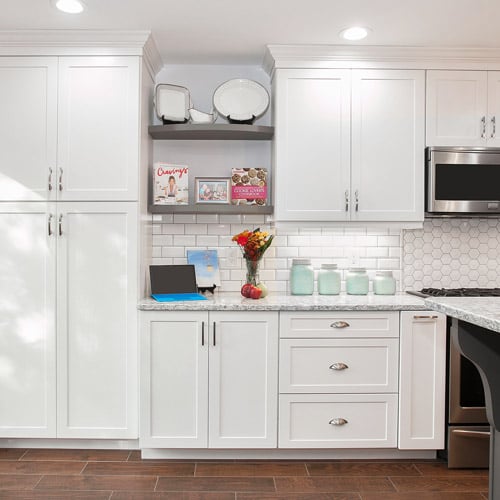 Add some glass kitchen cabinet doors
Here's another choice that promotes the "light and bright motif". Just like with open shelving, glass cabinet doors allow a peak into the kitchenware and objects stored inside. If you're not a fan of open shelving, then glass cabinets give a similar look but keep everything contained behind closed doors—albeit ones that are see-through.
Don't forget about color
We're mentioning how you can use shelving to showcase some of your patterns or color. But don't just confine it to the shelves. Some of our favorite beach colors include bright blues, yellows and greens. How about turquoise to replicate the tropical waters you swim in?
If you're not a fan of the all-white kitchen design, then think about new colored cabinets. Sea Glass is an opportunity to really drive home that beach design in your kitchen. It pairs well with white countertops. Even more, it's perfect for your accent pieces like pictures, a candle chandelier lighting fixture and chairs or stools. Have some fun with tropical color paint choices to brighten up your room.
Mimic the open seas with a vast, open floor plan
Open floor plans have been popular for a while. For those who like to entertain with a social home, you've got the space for all your guests without being closed off. In a coastal design all that open area is reminiscent of the miles of ocean. Better yet, if you've got an abundance of windows in your kitchen, you're taking advantage of all that natural light which works well with the open floor plan in your beach design.
Include natural beach features in the kitchen
A coastal-inspired home often incorporates natural elements—this is where those starfish and seashells come into play. Nautical novelties are the perfect way to get the theme across. Create a stunning seashell centerpiece for your table. Integrate some rustic maritime accents like an anchor in your clock or signs.
You can also work in natural elements through other means such as a butcher-block countertop for your island. Exposed wood beams can do the trick as can stool seating made from naturally finished wood or woven (think wicker) materials. Using reclaimed lumber is another way to add a natural, more rustic look—like driftwood. which is eco-friendly to boot!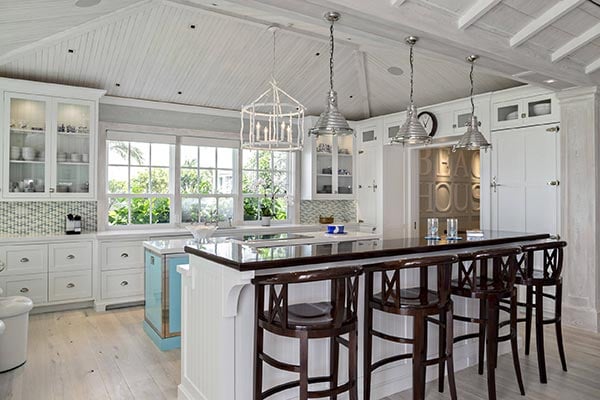 Equip the kitchen with easy-to-maintain surfaces
Beach houses are all about fun, socializing and indoor-outdoor living—so low-maintenance features are in high demand. Laminate cabinet doors and quartz or Corian countertops can take a beating. They are easy to wipe down—positive attributes for any kitchen. The HanStone quartz collection offers many great options that will fit with the raw natural elements you're trying to include.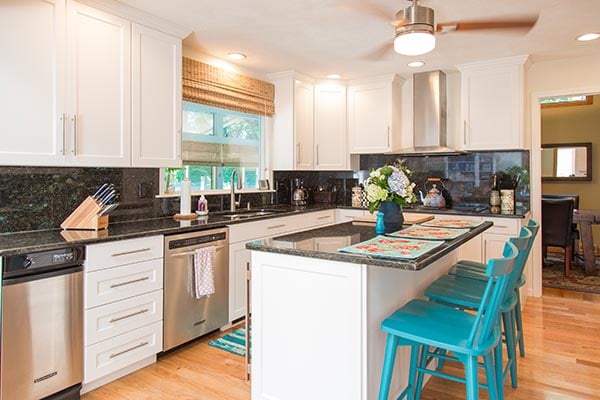 Looking for a way to blend your upscale tastes with a more casual and comfortable kitchen design? A coastal kitchen might be the perfect answer. Schedule your free in-home design consultation with Kitchen Magic today and we'll start brainstorming with you.
For more design ideas, check out these blogs: