When you think beach house, you probably envision the southeast or west coast. In fact, water is not required for designing a home around coastal themes.
Beach-theme interior designs are becoming popular because they create light, airy and relaxing energy to the home. Another benefit: they work with every design taste - from traditional to modern.
If you find yourself pouring over issues of Coastal Living, imagining your fantasy beach house - start putting those dreams to work in the Now - and design your beach house kitchen.
Coastal Design Elements For an Landlocked Kitchen
Beach house design doesn't mean shells, starfish and coral - although you're certainly welcome to use those accents if you want. Rather, it's a particular look and energy added to a space via color palette and design details.
Typically, a beach house emanates the same type of energy as the ocean, sand and sky that inspires it: clean, rejuvenating, natural and low-maintenance.
Think White. You'll be hard-pressed to find a coastal kitchen that doesn't have white accents. The good news for you: white is a cabinet color with longevity behind it. While other cabinet colors and finishes trend in and out - white seems to stand the test of time. It's clean and keeps a kitchen feeling open and spacious.
Beadboard. Beadboard is a fun feature because it can be used in both traditional and modern designs - typically in moderation with the latter. You can install beadboard-style wainscoting on the walls or use it on your kitchen island or backsplash. It's easy to paint - and re-paint - for temporary style updates.
Open shelving. In addition to gorgeous sea and sky, beach houses also have quite a bit of sand, salt residue and high humidity levels. For this reason, open, exposed and easy-to-clean surfaces are the norm. Open shelving is a good example of this - enhanced by the colorful or patterned dishware you store within it.
Glass cabinet doors. Here's another design choice that continues that "light and bright motif". With glass cabinet doors, the kitchenware and objects stored inside them add splashes of color. These can be in a transient way that more permanent features are not. These colors can align with what's trending, seasonal changes, or your favorite beach colors such as bright blues, yellows and greens.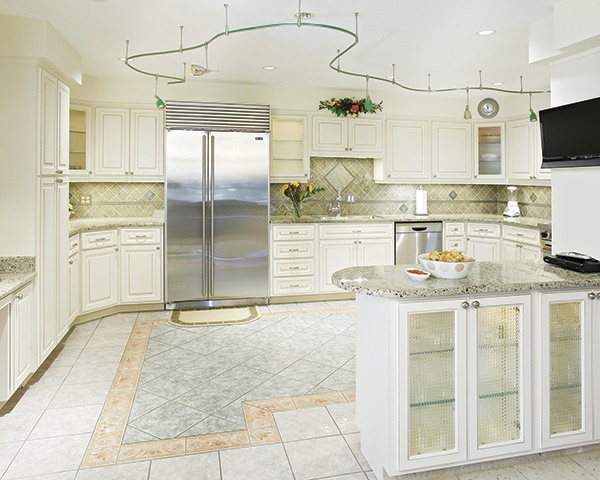 Natural features. Beach homes often incorporate natural elements - this is where those starfish and shells come into place. For the kitchen, however, you can work natural elements in by using a butcher-block countertop for your island or the actual countertop. Exposed wood beams can do the trick as can counter bar seating made from naturally-finished wood or woven materials. Using reclaimed lumber is another way to add a natural, more rustic look - like driftwood - and it's eco-friendly to boot.
Easy-to-maintain surfaces. Beach houses are all about fun, socializing and indoor-outdoor living - so low-maintenance features are in high demand. Laminate cabinet doors and quartz or Corian countertops can take a beating and are easy to wipe down - positive attributes for any kitchen.
Looking for a way to blend your upscale tastes with a more casual and comfortable kitchen design? A coastal kitchen design might be the perfect answer. Visit Kitchen Magic and we can start brainstorming with you.