In the design world, when you want to break up continuous space, the best thing to do is throw a pattern into the mix. The mishmash of bright colors in an eye-catching design disrupts monotone schemes inviting guests to sit down and enjoy their stay. Herringbone is a popular design pattern right now. We'll tell you all you need to know about how to achieve this elegant look in your kitchen.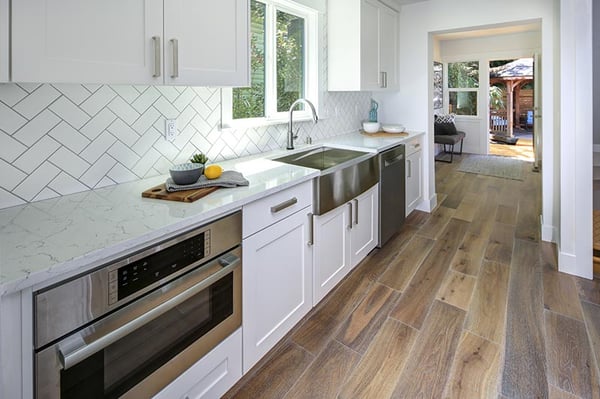 What We're Hearing About Herringbone Patterns
The herringbone moniker is attributed to the fact that the pattern resembles that of bare fish bones—most notably the herring fish. Considered bold and distinctive, this geometrical pattern is also timeless. Originating during the Roman empire and evidenced in ancient Irish textiles that date as far back as 600 B.C.E., it's come a long way in the design world.
It was first used as a weaving pattern which was then translated to other applications—including tile, bricklaying, flooring and stencils. Today, herringbone patterns can be a visual focus in terms of size, color and contrast, or they can be quite demure when utilized in monochromatic schemes.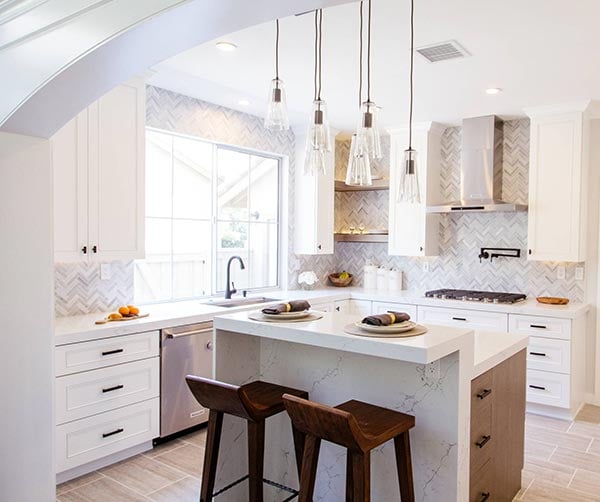 Fishing for herringbone patterns in the kitchen
You'll be able to create a stellar design in the kitchen using just about any material. Whether it be titles (subway), bricks or wood you'll produce picture-worthy results in your home. This pattern is usually demonstrated through the kitchen flooring or backsplash but don't be limited. We've seen herringbone used in: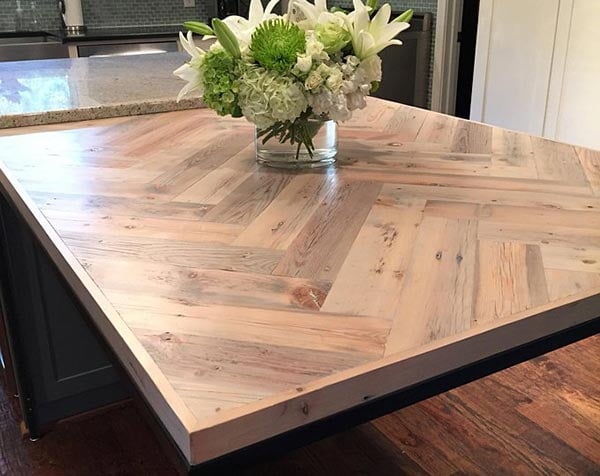 Photo of Reclaimed Herringbone Dining Table by HippieHouseCo
The geometry of a pattern
The herringbone design is geometrically precise, working with repeating patterns—all rectangles or parallelograms. This pattern is often confused with the chevron design because both patterns have the zigzag orientation. The way to tell the difference between chevron and herringbone is that chevron has a continuous zigzag design. Herringbone on the other hand, is a broken zigzag. It breaks at each section's reversal.
To further explain, chevron is an inverted V-shaped pattern. The edges match up perfectly to create that distinct and uniform zigzag. When tiles or wood planks are cut, they are cut at an angle to ensure that both ends match up perfectly to create the continuous line shifts. With the herringbone pattern the V-shape is created from 90-degree angles between the materials. The tiles or planks are not cut at an angle, instead the straight edge of one is placed on the straight edge of another to create a 90-degree angle that's broken up.
Both designs produce visually pleasing results. Whichever you choose you'll add a level of elegance and sophistication to your kitchen.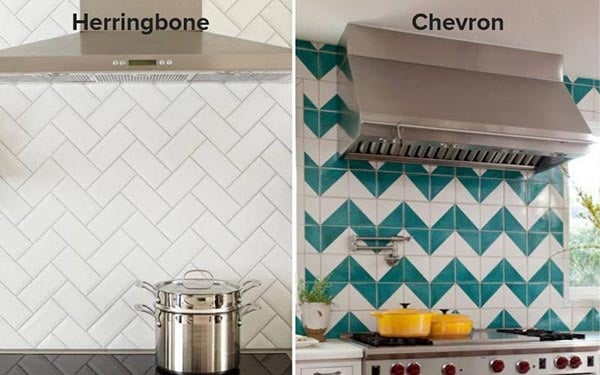 Photo of Herringbone and Chevron Backsplash Pattern by Stacey Brandford Photography and Kristin Lomauro Interior Design
Laying out the herringbone layout
There is more than one way to create a spectacular herringbone design in your kitchen. Whichever material you choose, each piece is laid at specific angles to one another, either parallel or offset. Some of the popular layouts include:
Straight (90-degree) herringbone pattern
In this construction you set your tiles at 90-degree angles to one another. The field of materials run parallel with the boundary edges (the boundary being the floor or the backsplash edge you're working with). This option gives more of a geometric and modern vibe.
The best way to explain this is if you follow a single "track" of tiles laid this way, it resembles a set of stairs, creating a new "step" with each addition. When those tracks nestle into one another, they form a fun pattern of "angles" and "arrows", providing a sense of movement in your space that draws the eye diagonally across. This especially creates enticing visuals for a kitchen backsplash.
For those looking to make a bold statement, herringbone pattern on the floor is a unique design. Depending on how the material is positioned you'll create some depth in the room by drawing your guests' views to follow the deep V of the design. For those with a more contemporary or modern kitchen design you may find this to be the best orientation.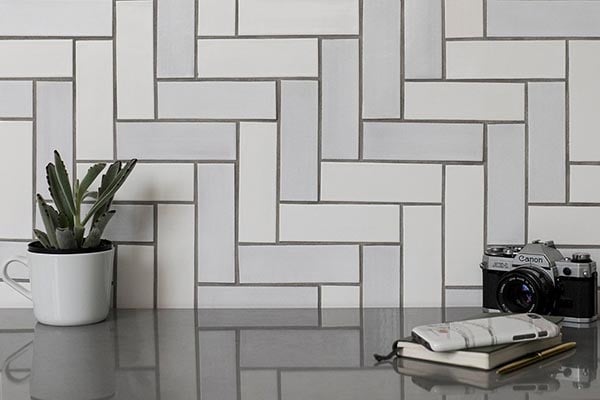 Photo of Straight Herringbone Subway Tile Design by Mercury Mosaics
Classic herringbone
In this pattern, material is laid in the 90-degree angle positioning but shifted slightly to create a point or arrow that moves the eye up or down. This pattern is a bit softer and offers a classic look. If you're going for the timeless in pattern design, then this orientation may be the best choice for you.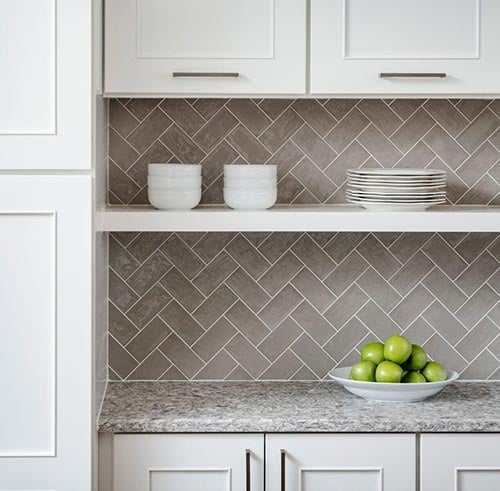 Stacked or vertical herringbone pattern
To really shake things up, you could orient your materials in a vertical or stacked design. By turning the shape 45-degrees on its side, the resulting points or arrows draw the eye left or right following the pattern. The tiles are laid end-to-end, rather than with a proportional overlap, so they wind up resembling a chevron pattern. It provides a fresh look for the kitchen but isn't overdone.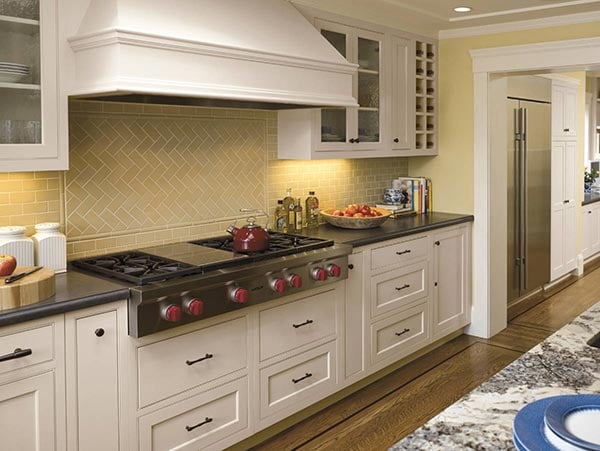 Proportions and color for the textural win
Aside from the pattern layout, material proportions (length vs. width) and color choices also determine the final effect of the overall appearance of your space. You'll add some much appreciated texture to your room depending on the materials you choose.
Using rectangles or parallelograms with minimal proportional difference (think the classic subway tile shape) will be less dramatic than those using tiles that are thinner and longer. Thinner tiles create a busier looking space which can be broken up with colors.
But, be careful with your color choices because too many brights could have a detrimental effect on the room. You've got the choice to go bold with a uniform color like a blue or green or it can be muted and refined. You've even got the option of doing a monochromatic color scheme to keep the look more subdued. The backsplash is where you have the most freedom to create an eye-catching design.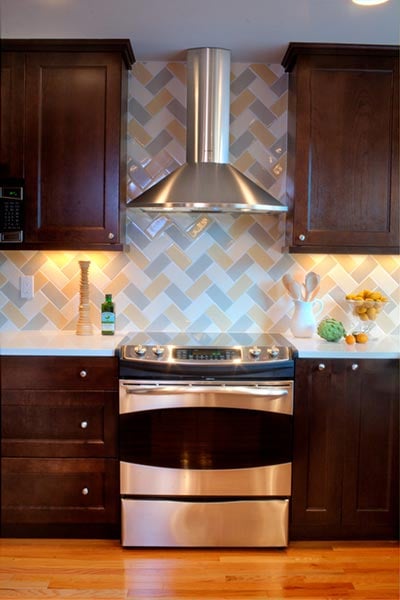 Voted most likely to be found on the backsplash
As we've noted throughout, you're most likely to see herringbone patterns on the kitchen backsplash. It's the perfect opportunity to add a little spice and personal flare to your home. The pattern can span the entirety of the backsplash or some homeowners keep it contained to smaller sections—like behind the stove top. Either way, you're designing a focal point for the room that'll be sure to spark discussions from family and guests alike.
You'll have a number of materials to choose from too. Subway tiles are a go-to option and within this realm you've got ceramic, porcelain, and marble to name a few. Think about a beveled edge because that'll create a 3-D effect to add texture.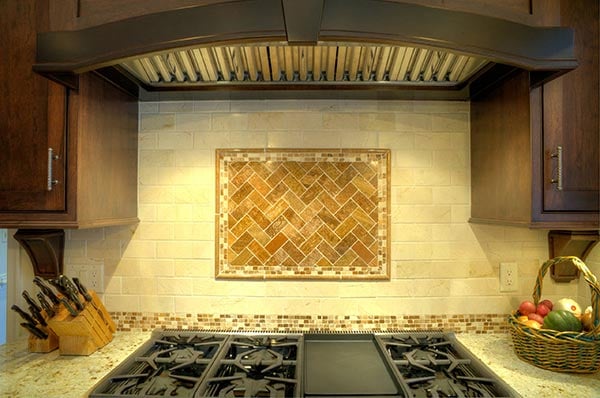 Lay it all out on the floor
For those with a daring sense of design, use a herringbone pattern on the floor. It adds tremendous texture and breaks up a continuous space. As with the backsplash, you can always make this design a focal point in the center of the floor if you feel full coverage is too much.
This layout is possible with a range of kitchen floor options, including wood or engineered flooring, plank-style ceramic flooring or rectangular tiles. It's another opportunity to incorporate texture, so keep that in mind when making your decisions.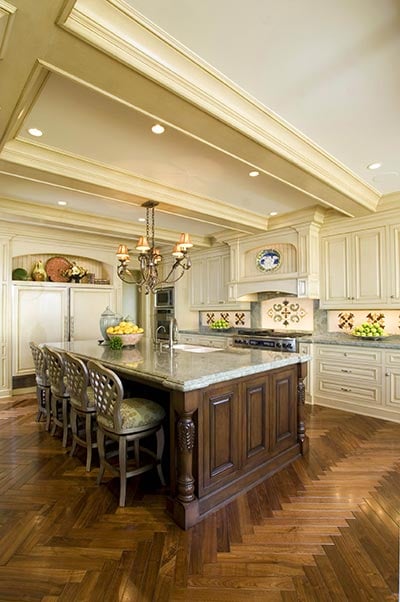 Has the herringbone pattern piqued your interest, thinking about how to incorporate this or other creative tile patterns into your kitchen design? Schedule a consultation with one of the pros here at Kitchen Magic to discuss your options.
For more ideas check out these articles: