For those of you already living in the beautiful kitchen of your dreams, or those hiding from your ugly kitchen in restaurants every night, we ran our first Scary-Ugly Kitchen Photo Contest, which began in October, 2013. The contest asked all of our Facebook fans, blog readers and other social media followers to send us pictures of their ugly kitchens in the hopes of winning a dream kitchen makeover, featuring cabinet refacing by Kitchen Magic. The contest took place on our official Facebook business page, and consisted of three rounds of judging in which one winner was picked from over 250 contestants.
In December, Mr. & Mrs. Scott from Bath, PA were chosen as the official Scary-Ugly Kitchen Photo Contest winners, and their dream kitchen makeover began.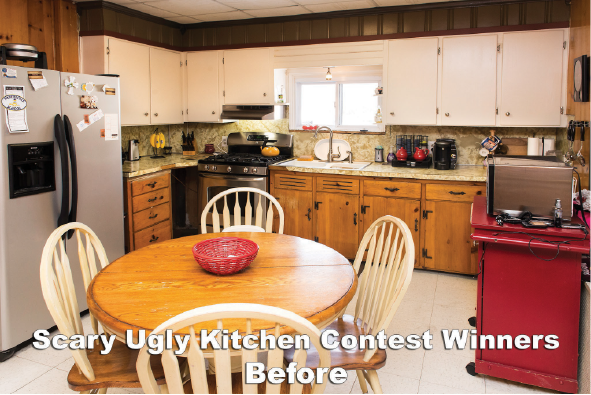 Before their scary-ugly kitchen was chosen as the winner, they were mere contestants. John Scott actually submitted the couple's kitchen into the contest with this description that quickly spoke to all of the husbands and wives at Kitchen Magic, "Old! Very outdated, my poor wife has put up with this sorry kitchen for twenty-six years, and though I've tried to renovate it myself on numerous occasions, it's not gotten much better. To have a kitchen renovation would be a dream come true for both of us."
And it wasn't just John's heartfelt description that stuck out—the kitchen photo itself was just plain ugly! Mismatched lower and upper cabinets displayed a poorly constructed and most likely incomplete attempt to remodel. The stained, cracked and outdated laminate countertop was not only an eyesore, but also a dirty and dangerous piece in the home. To top it off, the kitchen was missing a whole section of cabinets in the corner, leading to a dysfunctional and downright nonsensical space.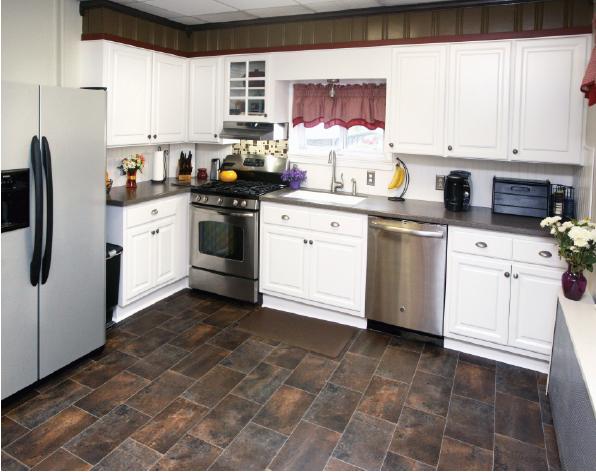 Needless to say, Mr. & Mrs. Scott were overjoyed to hear that they had become the winners of our Scary-Ugly Kitchen Photo Contest, and that their ugly kitchen would be transformed into the beautiful kitchen of their dreams—for free!
Satisfied with the overall layout of the space, but discontented with the outdated appearance, the couple knew that cabinet refacing was the perfect and permanent solution for their kitchen. To make the room appear larger and keeping with current style trends, Mr. & Mrs. Scott chose Frosty White cabinets in a classic Prestige style. For a durable and affordable countertop to fit the family's busy lifestyle, a gray Corian countertop was the perfect material to complete the makeover.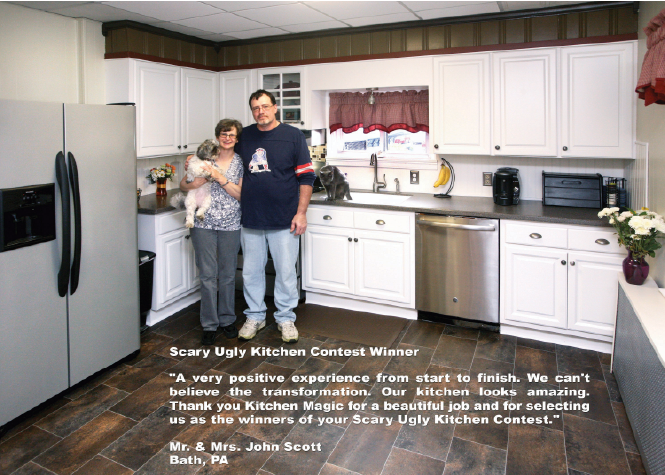 Now, with a newly refaced kitchen, the Scotts couldn't be happier. They recall their time with Kitchen Magic, stating that it was, "A very positive experience from start to finish. We can't believe the transformation. Our kitchen looks amazing. Thank you Kitchen Magic for a beautiful job and for selecting us as the winners of your Scary Ugly Kitchen Contest." Click here to see what others are saying about Kitchen Magic.