That's right! Those "sweepstakes" you read about do, indeed, have winners. Case in point: at a recent home show where attendees had a chance to enter our Dream Kitchen Makeover Sweepstakes.
Says the homeowner: "I never won anything before! I met with the Kitchen Magic Rep at a home show who encouraged me to enter and then I forgot all about it - until they called me to tell me I actually won!"
Peek Inside Our Sweepstakes Winners' Classic Cherry Kitchen
While they were ecstatic at winning our Sweepstakes, they are even more enamored with their brand new cherry kitchen. It is, indeed, a delight - and it's also proof that Cherry cabinets are as stylish as ever - even if they are a traditional classic.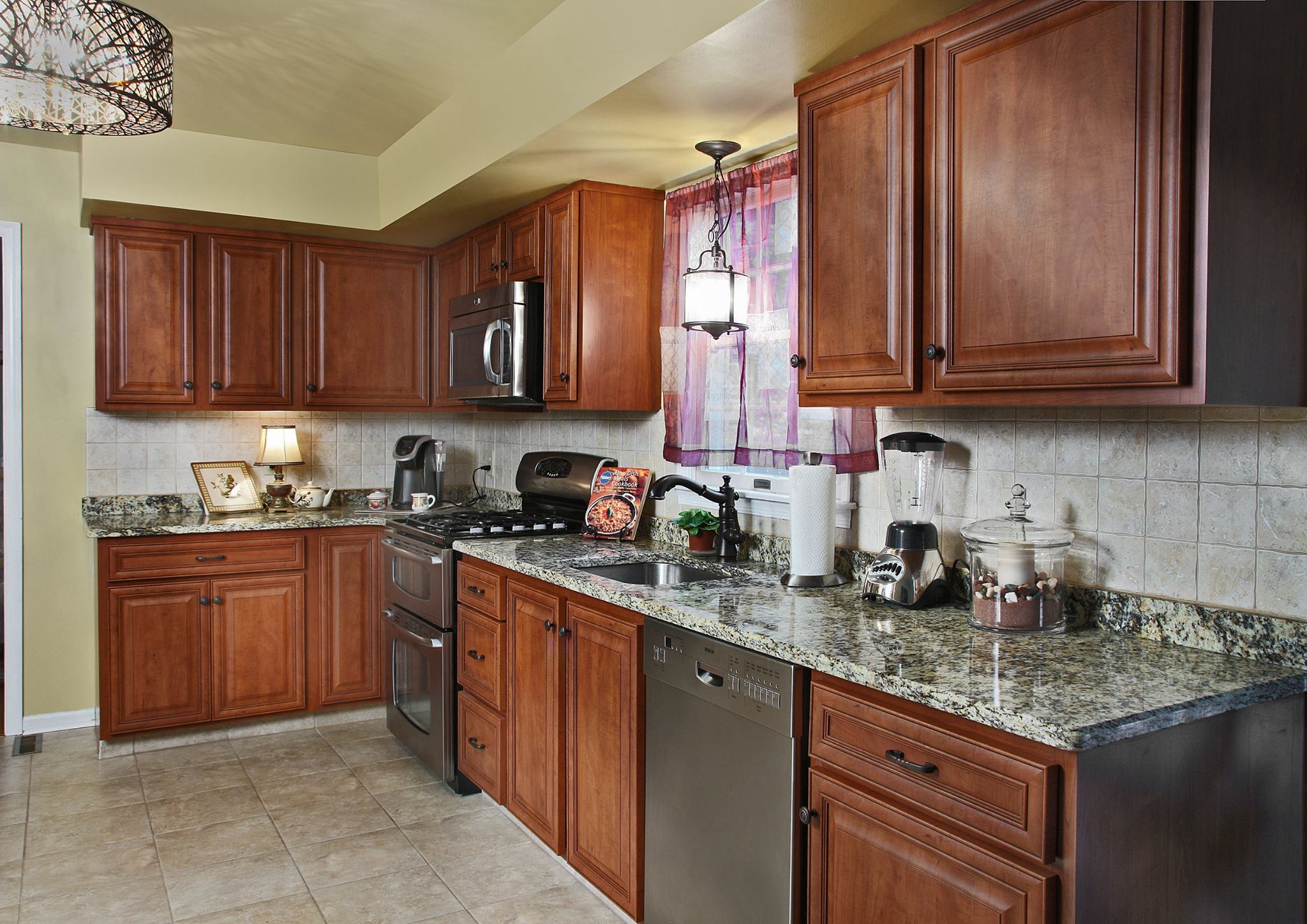 Now, onto the details of this spectacular Sweepstakes kitchen renovation... You can see from the before pictures (below) that the existing kitchen was "nice, but blah." Outdated oak cabinets and Formica countertops made for a bland finish. With a little extra money in the budget, these homeowners could jazz things up a bit, selecting upgrades they'd always dreamed about.
Stunning Granite Countertops
First, they perused granite slabs, choosing a slab with a boldly-patterned finish. The white foundation allows black, brown and sandy hues to pop. Together, these transition neutral colors in the backsplash and wall with existing, black-accented, stainless steel appliances. If cared for correctly, their granite will provide decades of cooking and entertaining - two of the homeowners' favorite activities.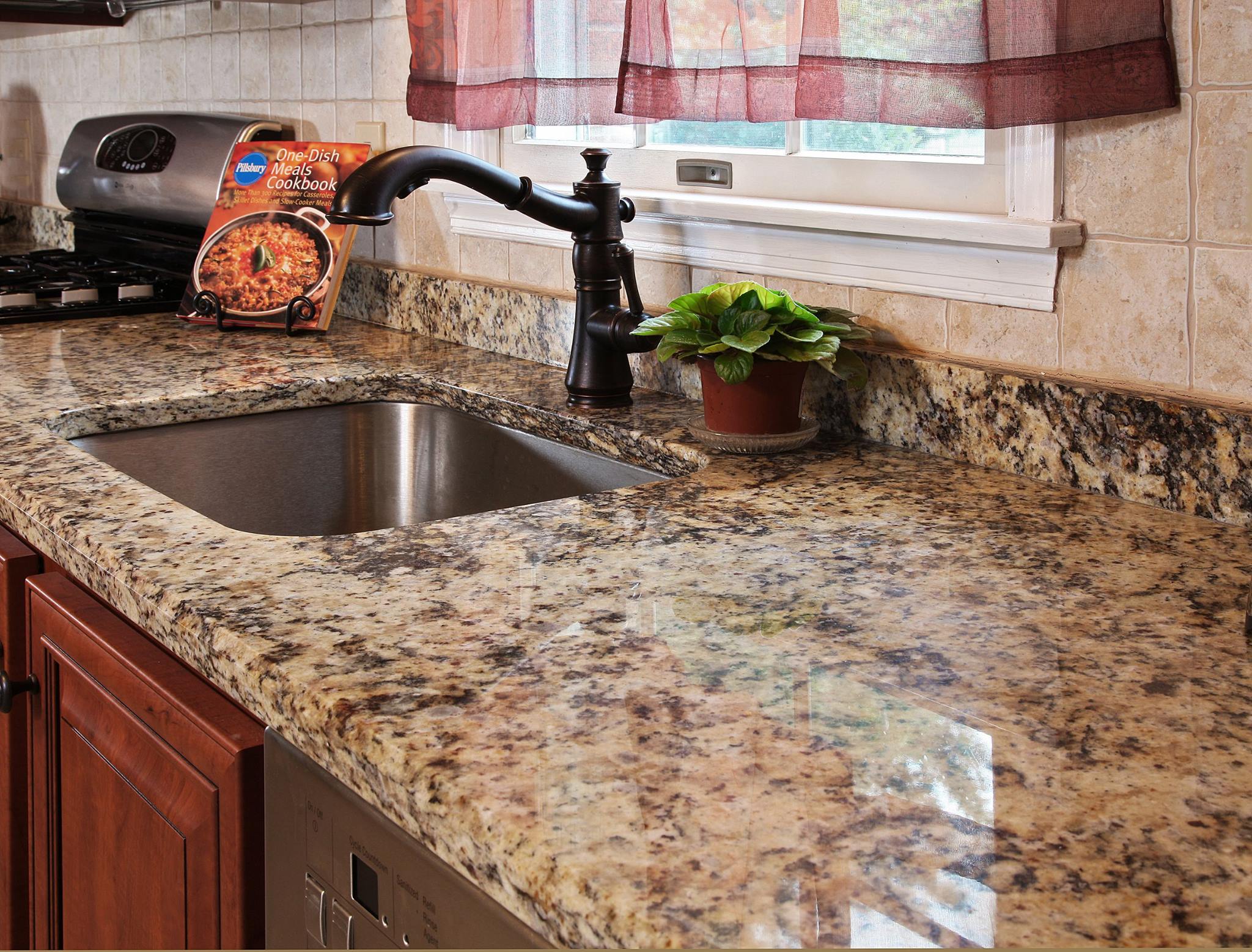 A Beautiful Cherry Finish
While oak cabinets blended into the surroundings, new cherry cabinets add a burst of energy and extra warmth. They are a fantastic complement to the granite countertops and are more attractive companions alongside the stainless steel appliances as well. These cabinets boast Vintage-style doors from our faux-wood collection, ensuring that the wood grain patterns are as authentic as you can get - without using real wood.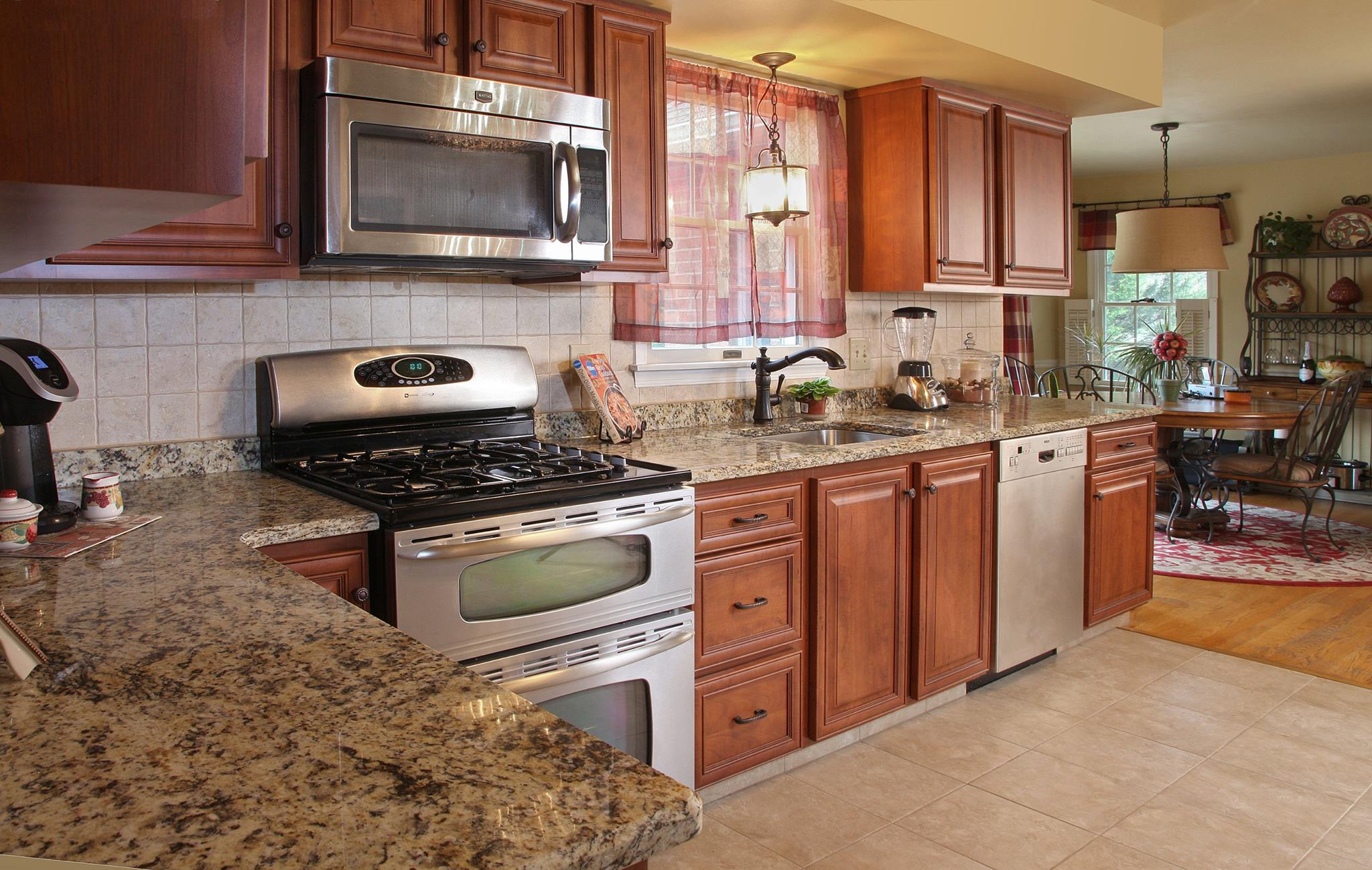 Maintenance-Free Cabinets
In a well-used kitchen, cabinets endure more than their fair share of wear-and-tear. Steam, heat, grease splatters, fingerprints and smudging - all make it difficult for real wood to always look its best. Laminate cabinets, on the other hand, can handle all of the above, and can be cleaned with all-purpose cleaners to boot. To complete their appeal, cabinets were outfitted with efficient storage solutions, including slide-out pot drawers and spice organizers, so they are as functional as they are attractive.