Have you ever roamed a yard sale or flee market searching for a hidden treasure? Better yet, have you ever re-purposed anything you've found into something new and useful for your home? If you're a fan of refurbishing items for different means, then you may be a fan of the industrial kitchen design. Embrace the combination of old and new with an affordable style you can incorporate in your kitchen.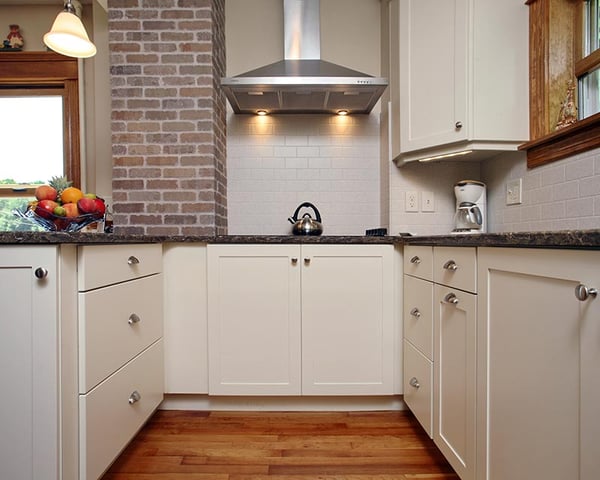 Industrial Kitchens Blend Old and New for A Look That Works for You
This is a hardworking design which embraces exposed materials like brick, wood beams or metal pipes. It's a contradiction of textured, rustic finishes, tough exteriors and smooth surfaces. It's a design for those who want to take pieces of imperfection and find a home where they fit perfectly together. You don't have to spend a lot of money to achieve the style and the best part is that you can go as refined or stripped back as you want. No matter the outcome, your kitchen will have a warm, inviting appeal that never lacks character or individuality.
Industrial kitchens—the basics
The industrial kitchen is unique and customized to each home and family. But we'll show you some of the common characteristics found in this style.
Start with the bare bones
Pieces of this design can be incorporated into any home, but to really maximize on the industrial aesthetic you need to start with good bones. A solid foundation for an industrial design is a spacious and open floor plan coupled with high ceilings that allow you to experiment. You want the room to showcase your pipes—and not the vocal kind! High ceilings allow you the ability to peel back the layers and reveal all the under workings of a house. See how functional your space is when you get down to the nitty gritty.
Combine different materials for a strong industrial kitchen design
If there's one specific element of this design that stands out, it's the fact that exposed elements are a must. This means a wall constructed entirely of uncovered brick or ceilings proudly displaying things normally kept out of sight. In this design we want to see it all and appreciate how it works. The interconnected-ness and functionality of the design is out in the open working for you.
An abundance of texture creates intrigue
This raw textural beauty won't leave you feeling cold and sterile though. Each part of the design is intricate and inclusive. It provides a warm, cozy space for family and friends to stop by and enjoy. Texture is a must in the design world and it's no surprise that you'll find it in spades in the industrial kitchen.
There's something elegant and simple about the rough, harsh brick coupled with smooth and sleek stainless-steel appliances. A matte finished backsplash against the durable, shiny quartz countertop pulls you into the room. Your guests will want to see with their hands once they see the different elements with their eyes.
Metal, metal and more metal
In case you couldn't tell, metal is the theme of industrial kitchens. It's everywhere or at least you're going to want to put it everywhere. Incorporate it throughout your design with stainless-steel appliances and countertops, or accent pieces like the furniture (chairs/stools), lighting fixtures and shelving. Mixing those distressed finishes such as a brushed bronze or brass will create that broken-in character that gives your space some character and personality.
Kitchen accents make the space unique
Continue the mixture of materials throughout the entire room. Blend some leather and metal kitchen island stools with a bronzed floor lamp. Get the most out of your metals by mixing finishes—since that's always acceptable when accessorizing your space.
Look for funky items, things that are re-purposed for another means. Take an old office desk and turn it into a functional kitchen table for you and guests. Re-purpose a fancy bird cage into a stunning lighting fixture that'll be sure to generate some chirps as you entertain guests. The best part about this is that the funkier the better—nothing is off limits. If you have the vision for it, you can make it happen!
Kitchen flooring to get you on your feet
Concrete flooring is truly popular when it comes to the industrial design and fits in with the raw exposed elements motif. The buffed-out surface is built to last and if you're adding heating slabs underneath you've got a modern bonus to keep your tootsies warm.
Concrete isn't always an option though and that's fine because you've still got a lot of great picks. Wood flooring works just as well in an industrial kitchen. If you've got the original wood from the home, even better because it's all about finding ways to recycle and reuse what already exists. If you want a more contemporary design that's non-wood, then tiles are always an acceptable alternative. Think about ways to include contrast into your space by going with dark flooring and lighter cabinets and countertops or vice versa.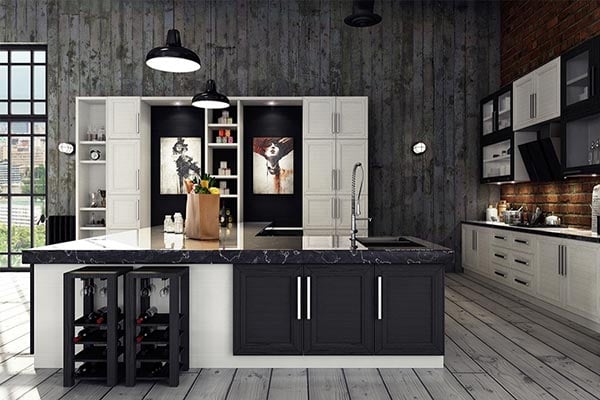 Photo by Home Designing
Color choices are usually metallic or black
Your color scheme will revolve around metallic and black. These combinations go hand-in-hand to create the industrial aesthetic you're looking for. You're mimicking the feel of a factory but conversely, at the same time, creating a warm and cozy room. If you're not into the black and silver design, then wood can add that pop of color you want. In addition, find colorful, retro appliances to slip in the design and you'll get the splash of variety you're looking for.
Functionality is what you're searching for in the kitchen
Because an industrial kitchen, at its heart, is a functional space you'll want to include open shelving. Keep all your dishes, bowls and cups within easy access. Not only is this efficient when you're cooking and working in the kitchen, it creates visual contrast that breaks up the room. Every piece you include is thoughtful and important as it serves a specific purpose.
If you're thinking about making some changes to your kitchen design and the industrial style has piqued your interest, schedule an appointment with Kitchen Magic today. Our design consultants will work with you on ways to incorporate elements of this style in your home.
For more design ideas, check out these blogs: