When a trend is established, it gains mass popularity which means it shows up everywhere you turn. Design websites splash them around in picture-perfect galleries where flowers never wilt, kids clean up their messes and there's nary a water spot to be seen. It looks great doesn't it? So perfect, that you think it's the best choice for your kitchen.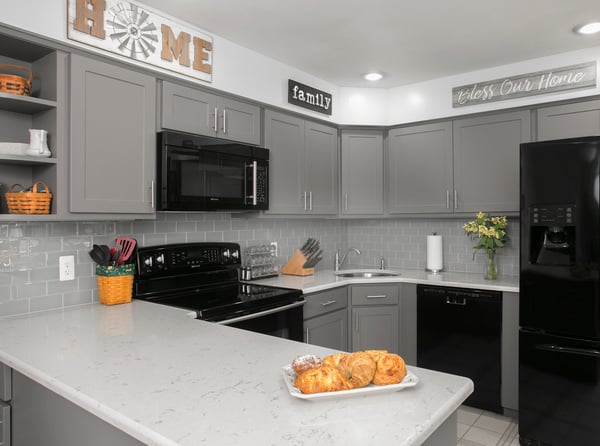 If you've read our Trendy vs. Timeless Kitchen Design blog you know it's hard to resist trends. The problem is that homeowners become convinced that certain trends are exactly what they want—when, in fact, it's a psychological tactic, only a matter of having seen the same trend repeatedly in pictures.
Are Matte Finishes Right for Your Home?
Matte cabinets and countertops are a good example of a trend that has taken the kitchen design world by storm—and left several homeowners behind—wondering whether a matte finish was really the best choice for their household. Again, a popular choice in 2019, matte finished cabinets continue to generate a lot of buzz.
Before making any final decisions on kitchen selections, it's always a good idea to familiarize yourself with "the good, the bad and the ugly" of any trend. That way, you'll have all the information to make the best decision that works for your lifestyle—especially if you prefer a kitchen that is lighter on cleaning and maintenance requirements.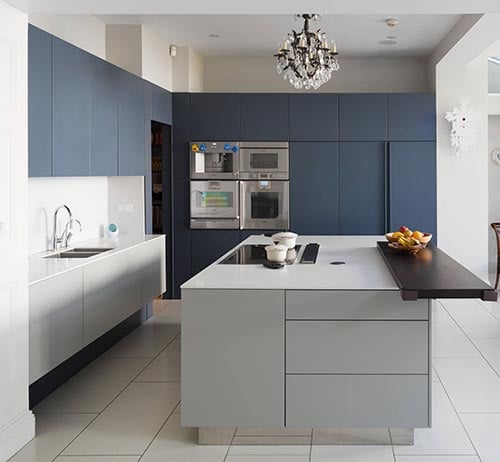 The Good
First, we'll start with the positives. Matte cabinets and countertops have been around for a while, but they started making serious headlines around 2012. They're considered chic and "modern". This is ironic since gloss and shine are also marks of more contemporary or "modern" kitchens—so you can see how "trend" factors are in play here.
Matte finishes conceal imperfections
Since high-gloss finishes are the quickest to show stains, smudges or scratches, matte finishes became popular for those who don't want to clean their cabinet surfaces as often. The finished product is smooth to the touch and creates a satiny/soft feel for a subtle and natural appearance. This finish doesn't reflect light like gloss does so at first, you'll think it masks the appearance of blemishes (more on that later).
Matte finishes create texture
Homeowners with larger kitchens or open floor plans are also drawn to matte cabinet finishes because they feel that large expanses of glossy cabinetry can be "too much" gloss when shared between living, dining and (potentially) other areas of the home. In a kitchen that has lots of gloss and shine, matte finishes on the countertops (called honed) and cabinets can be a way to add a little textural difference as well. It produces a stunning, sleek look that adds a level of sophistication to the room.
The Bad
Now onto the not so good aspects. Matte finishes don't reflect as much light, and this can work as a camouflage of sorts. So, the public story is that matte cabinet finishes hide more of the dust, grime and general kitchen smudges than polished or glossy finishes—which it does.
Conceals, but doesn't prevent
The finish can't prevent those types of issues it just makes them less prominent. As a kitchen remodeling company who sees the before-during-and-after of these finishes, we can attest to the fact that this is the case. It seems as if the greasy and oily fingerprints and pet smudges show up. To add to that, they can be difficult to clean (see below).
The illusion of space
If you've got a smaller kitchen, matte cabinets may not be the right choice for you. Because it absorbs light rather than reflects it, it's not going to make your space look or feel any bigger. If that's what you're going for then matte might not be right for you. You can try other options to make your small space feel bigger.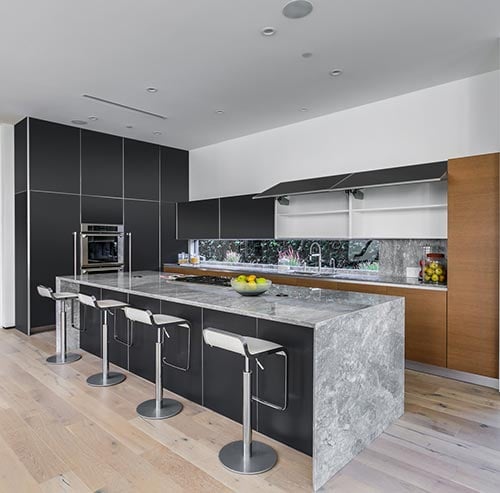 The Ugly
Finally, on to the worst of the worst about matte finishes. Cleaning is always a chore we'd rather not spend our time on. But cleaning is a necessary evil, and cleaning matte surfaces is not as easy or straightforward as glossy or semi-gloss.
Matte finishes are harder to clean
Continuing from the "bad" aspects, the initial smudges, bumps and scratches might not show up to begin with, but they're more difficult to eliminate when they do show up. Cleaning greasy fingerprints or smears is tricky on matte surfaces because it's hard to do without leaving streaks or other evidence behind. The matte finish may even seem to absorb the stain, making it difficult to eliminate completely.
Also, while the literature and science behind matte finishes says they don't show as much, some of our clients feel the opposite is true—and that they're cleaning cabinets more often than they have in the past with previous, glossier finishes.
The Bottom Line
The bottom line is you should have honest, realistic conversations with your kitchen design team to ensure you choose finishes that make sense for your lifestyle and kitchen use. It may be that a semi-gloss finish—that meets in the middle in terms of shine but is still easier to clean when compared with matte—is a safe middle ground.
Matte Tips & Tricks
If you're thinking matte is the right choice for you then here are a few tips that might help with your decisions and maintenance. If you're selecting matte for the cabinet, then think about choosing a shaker style door. The cut and design add depth and can create contrast in the space. Another way to add contrast is by combining two colors to create focal points. Finally, use microfiber cloths to clean the surface. It won't scratch the surface but will keep your kitchen looking sharp.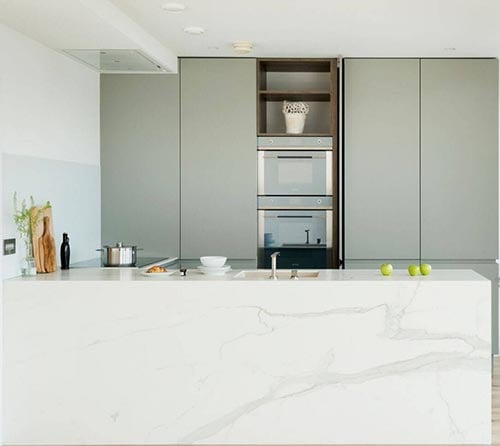 Want to work with a kitchen designer who will be honest and up front with the good, the bad, and the ugly about potential kitchen design ideas? Schedule a consultation with Kitchen Magic.