Rustic charm is a step in a decidedly more eclectic direction from "shabby chic," but this design style is all about creating vintage elegance for a warm and inviting space. Your kitchen is the hub of activity in your home, and you spend a large portion of time there. It's natural to want something functional that meets all your needs without having to sacrifice style, personality or comfort. If you like to combine vintage appeal with stylish accents, then rustic kitchen designs may be perfect for you!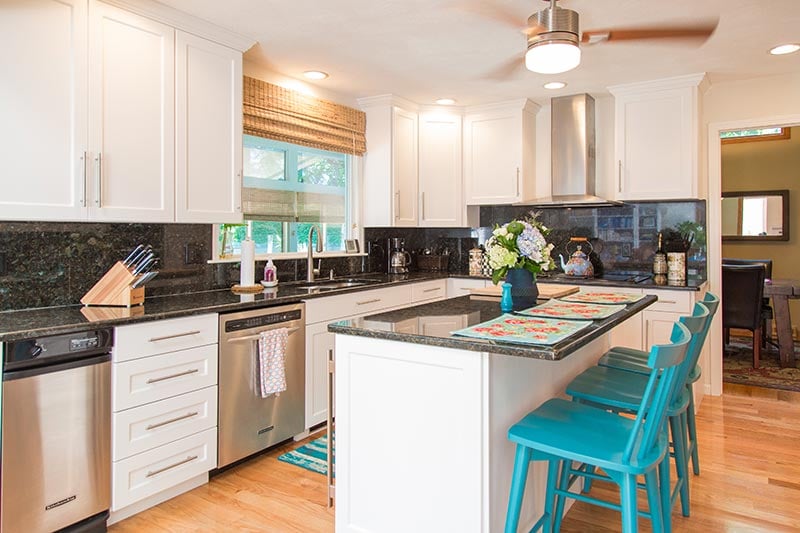 Perfecting Your Rustic Kitchen Look
As with most design elements, balance is the key to a successful and aesthetically pleasing result. Here, you're looking for a nice blend of the old-fashioned, the simple and the chic. The vintage and repurposed items you include bring a homey vibe to your space that's both honest and alluring. Although it may seem like it's just thrown together, it takes a skillful art to create a design that works just right.
You'll want to take some cues from the farmhouse style here, because these two designs both rely on a blend vintage and refurbished appeal. And like the industrial kitchen design, you'll want to find the best of old items and reuse them to create a unique and functional space when you plan your rustic kitchen design. But don't go too far in one direction, because you'll lose that charm you're going for and may end up with a case of sensory overload. Here are some tips for creating a perfect blend of shabby and chic.
Mix and Match Kitchen Items to Create a Comfortable, Practical Room
The basis of rustic design is about finding pieces and décor that create feelings of comfort yet are still practical for all your needs. It's not about trendy consumerism. You're celebrating the old, weathered and at times discarded, and finding a new home for these still useful items. This mix and match of old and new works to create a room that's useful for you and your family but makes your guests feel right at home too.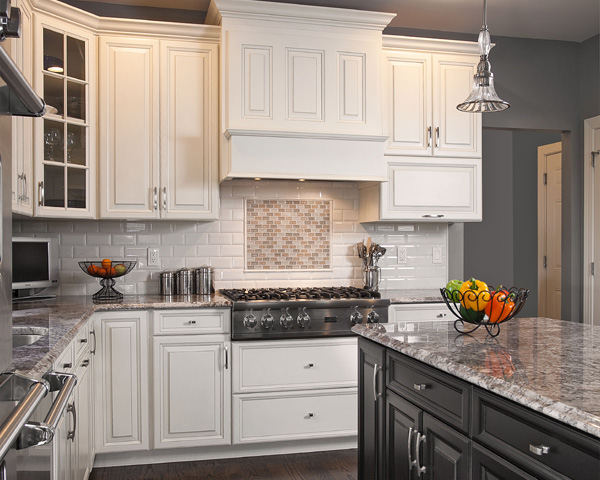 Give Your Kitchen Smart Vintage Design Appeal
The vintage appeal is where it's at for this style. Any family heirlooms you've got, now's the time to include them. Don't be afraid to define your space your way and let your unique personality shine through here. If it blends together and elements play off each other, then it's right!
If you're looking for storage solutions and want to include a kitchen island, consider an old salvaged dining-room server or similar flea market find that can be paired with a stunning countertop. A little upgrade with some DIY love can make these repurposed items a focal piece in the room. You may also have found a used table that can be sanded down or resurfaced to give your kitchen even more rustic charm. It all works to your advantage, both functionally and stylistically.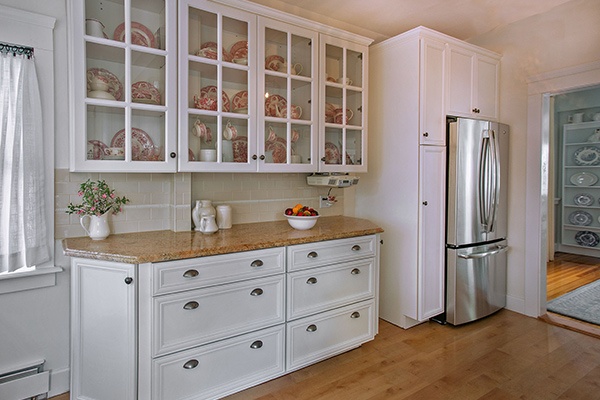 Distressed Finishes and Cladding in the Kitchen
Continuing with that vintage appeal, distressed finishes are going to be your go-to for a rustic kitchen. Include some distressed cabinets—like the farmhouse appeal—you'll create that vintage look but keep it cozy and alluring.
Distressed finishes are the popular choice for a rustic kitchen, as are the traditional shaker style cabinets. You also can't go wrong with white shaker cabinets. White is always timeless and fashionable.
Another option is cladding, the introduction of shiplap, beadboard or other textures to design elements. For example, beadboard cabinet finishes are versatile, and can adapt to many design styles. Shiplap (think horizontal beadboard) backsplashes offer a similar effect. Cladding is used in the traditional farmhouse kitchen designs, but also can be used to generate a coastal look. And it's perfect for rustic designs because it's graceful and comforting.
Open Shelving Works Great with Rustic Kitchen Designs
Open shelves offer a lot to rustic designs. Drawing on the inspiration from the functionality of farmhouse styles, an open shelf lets you have easy access to your most-used dishes, cups or utensils. Putting them on display not only makes them easier to get to, but also adds another decor element to the room. You can proudly display your vintage plates or tableware on higher-up shelves for all to see, too.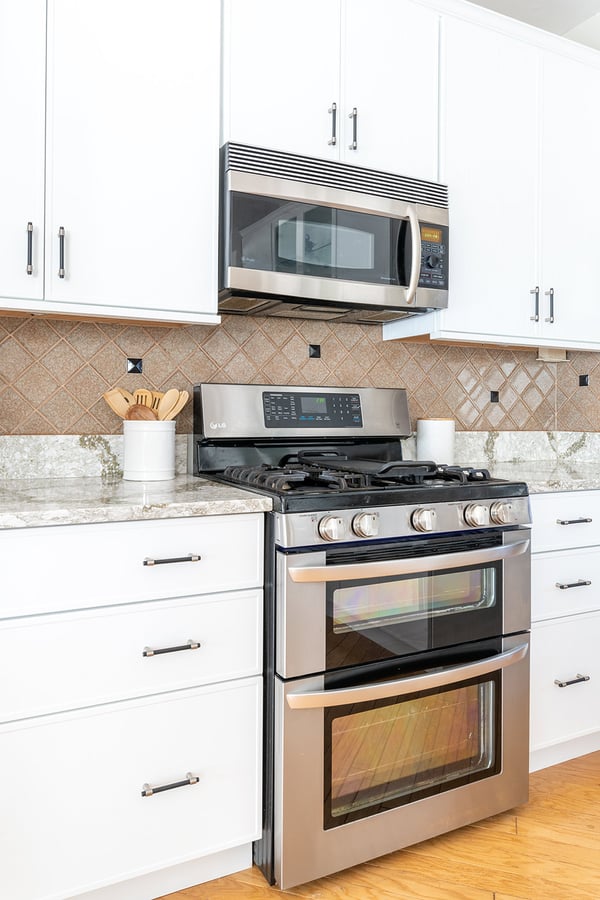 Eco-Friendly Kitchen Designs for the Win
One of the basic elements of rustic design is also what makes it so eco-friendly. You're recycling old items into something useful. Instead of throwing out all that wood or furniture, or buying brand-new items, you're finding a way to incorporate repurposed ones into your space. This creates less waste and garbage, keeping Mother Earth happy in the process.
Another way to make this design eco-friendly is through cabinet refacing. If you want a new cabinet design, then use your existing cabinet frames and just give them a face lift. Cabinet refacing can fit into whatever vintage design you choose. The end result: you'll have a quality upgrade in the color and style you want, without the cost, time and waste associated with a full kitchen remodel.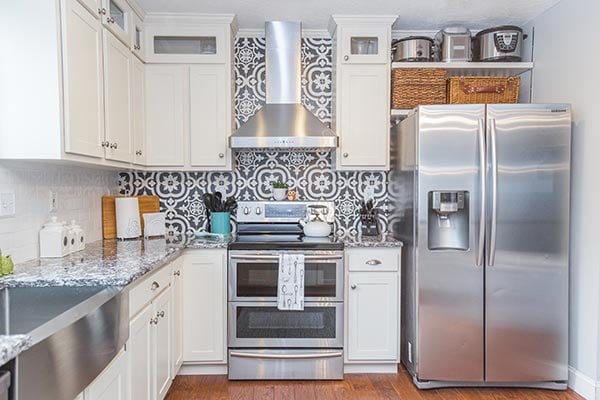 If you're thinking about updating your kitchen and want to make the most of what you currently have, schedule a free design consultation with Kitchen Magic today. Our kitchen consultants will work with you to find the perfect design for your home!