It's fresh of the press, get it while it's hot! That's right, we just released the 2018 Kitchen Design Trends, our annual report on the up-to-date latest in kitchen trends and style. With the trends being fickle and ever-changing, it can be a chore just to keep up with all of the waxing and waning of different elements and their popularity. We're here to help you stay on top of the trends and be in "the know" of what's hip in 2018 with this guide.
Here are the 2018 trends that our Kitchen Magic team members want to call-out as their staff picks, and you can download your own copy of 2018 Kitchen Design Trends at the end of the article.
Being that yours truly is a member of the Internet Marketing team, it's my job to stay on top of the latest trends, so I will go ahead and get this party started!
Vintage Lighting

My favorite kitchen trend for 2018 is vintage (or vintage-inspired) lighting. I just love how this one element, out of so many elements in the kitchen, manages to completely sway the style of entire the room. Antique and vintage-inspired lighting adds not just visual interest, but contextual interest as well. It's thought provoking, calling on ideas of history and the past, and causing the viewer to wonder things like, "I wonder what era that light fixture is from", or, "Wow, is that a real antique??"
I just love design aspects that get the mind thinking, and that's why I feel excited about this trend. In fact, we wrote a blog about this very topic a few months back, check out How to Incorporate Antique Lighting into Your Kitchen Design.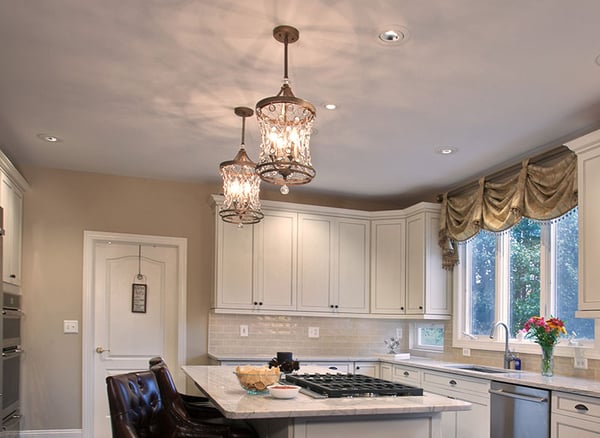 Motion or Touch Faucets

Maureen Kiley, Purchasing and Materials Manager
"It's no secret that winter tends to be cold and flu season and this year, the flu is worse than it's been in a decade or more. What if I told you that you can turn your kitchen faucet off and on with the wave of your hand and avoid touching it (and all those icky germs) all together? One of the smartest innovations in the last few years has been technology such as that offered in Moen's MotionSense faucets that allows touch free control. Not only can you turn the water off and on by simply waving your hand over a sensor located at the top of the faucet, there's also another sensor that captures the movement of your hands that will turn water on when you start to wash your hands and turn it off when you stop, minimizing wasted water as well. Less germs spread, less water wasted and less having to clean your faucet - MotionSense by Moen provides hands-free convenience we could all use in our lives!!"
Interested in seeing more kitchen faucet styles? We have a blog that you may enjoy: So Many Moen Faucets: Which is Right for Your Kitchen?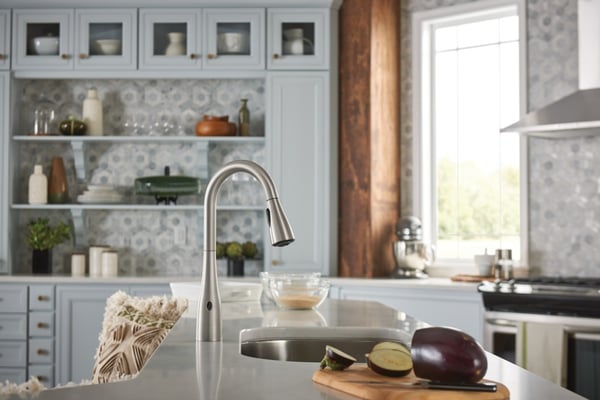 Smart Technology

Alessandra Donato, Internet Marketing Manager
"I love the idea of smart technology for the kitchen! It's wonderful marriage between the organic and inorganic, which to me, makes perfect sense. All of today's smart appliances—and those still being imagined—are making cooking more interactive, efficient, and are even promoting healthier lifestyles!
Some of my favorite smart kitchen gadgets to use in 2018 include:
App Controlled Cooking Devices. Wifi-enabled cooking devices are super helpful for those with busy lifestyles. These app-controlled kitchen gadgets give you the flexibility to control meal prep and cooking from anywhere! One device that stood out to me this year is a device called Anova Precision Cooker, a sous vide cooking appliance, which allows you to cook vacuum sealed meals in water at precision temperatures for more even, better quality results! And it's just under $150 on Amazon!
Voice Activated Home Assistants. The new and ever-evolving home assistants like Alexa, Google Home, Sonos, and Siri are the just the beginning. These voice assistants can quickly help you buy groceries, play your favorite music, or help you convert units like cups to ounces.
Amazon's Dash Buttons and Dash Wand. Are you running low on Keurig cups? Need to order more paper towels? With just a simple press of a button, these small and compact buttons can be attached anywhere in your home to order your most commonly used kitchen supplies and foods! And with the Amazon Dash Wand with Alexa, it can help suggest new recipes to you, as well as add food and ingredients to your amazon shopping cart to be delivered by Amazon Fresh or Pantry! This handy device only costs $20! By the way, integrated to control all your other Alexa-enabled devices, too!"
For more insights about the direction that smart technology in the kitchen is going, read our blog: What to Expect From the Kitchens of the Future.
Fewer Upper Cabinets

Linda Reiner, Regional Sales Representative
"To shelf or not to shelf is that the question for 2018? Open shelves can be beneficial for a multitude of reasons. Eliminating some of the wall cabinets and substituting open shelves can really change a kitchen for the better. Cabinets can often give the feeling of a closed-in-space, while open shelving in place of one or two cabinets make the room feel more airy; particularly in a galley style kitchen. Another common benefit is to let valuable natural light in by taking down the wall cabinets on the sides of the window.
Homeowners choose open shelves if they want to display special finds from their tag sale hunts, grandma's hand me downs, special pottery or just everyday items. Having dishes, bowls, mugs out in the open is especially helpful when having house guests and they don't have to open up every cabinet to find a coffee mug, it's right in sight."
Learn more about open kitchen shelving in our blog article, Open Shelving vs. Cabinets with Doors.
Gray Cabinetry

Linda Fennessy, Marketing Manager
"Gray cabinetry is becoming a popular kitchen cabinetry choice. I've watched this trend slowly develop over the years. It started about five years ago as a coordinating island choice with white cabinetry. In 2017 it really took root, expanding to the rest of the kitchen for those bold trend setters. It looks best in a shaker or mission style with a flat center panel for a minimalistic look. Additionally, the shade of gray is equally as important. A dark, smoky gray offers the richest overall look."
"Gray cabinets allow homeowners to take their kitchen design in any direction, suiting a contemporary, as well as the traditionalist home motif. I consider it the chameleon of design, because of its ability to complement its environments existing style, blending in seamlessly. Homeowners are breaking away from white kitchens and heading into a 'gray area' that's warm, sophisticated and will be very much in vogue for 2018 and beyond."
Did you know that the color gray can be good for your mood? It's true! Read 4 Scientific Reasons to Go Gray in Your Kitchen to learn more.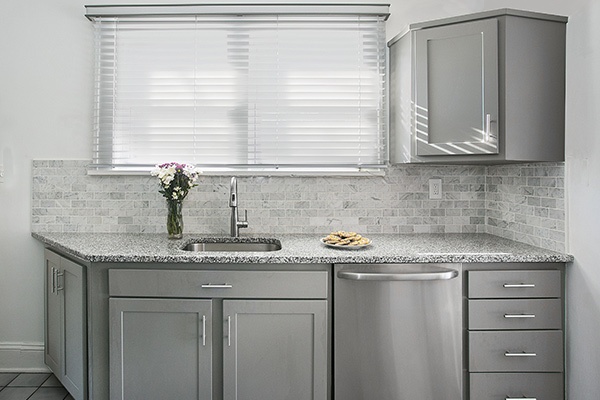 If you can't get enough of the latest kitchen trends, go ahead and give these related blog articles a read: