The recent changes in lighting and temperature are sure signs that autumn is upon us, and that means it's time to begin assembling holiday gift lists for family and friends.
Since the kitchen is the heart of the home—and kitchen renovations continue to be the most popular home improvement projects—we recommend surprising your holiday gift recipients with kitchen gifts they didn't even know they wanted.
A Dozen Gifts to Give to a Kitchen
And, never fear! If you wind up keeping them all to yourself, the intended giftees will never know the difference, and your secret will be safe with us!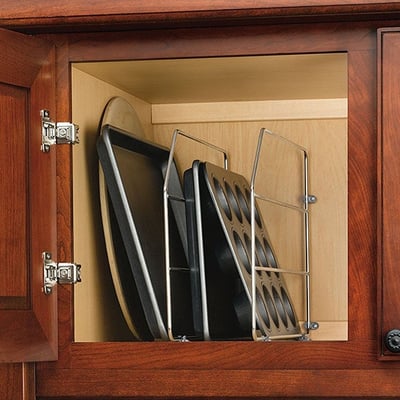 Bakeware Rack
Can you imagine anyone not wanting to have their bakeware and/or cookware organized? We tried, and we can't either. Bakeware racks are fantastic space-saving organizers in kitchens, both small and large.
Over-the-Sink strainer and cutting board
Does this need any extra descriptive enhancement? An over-the-sink strainer and cutting board transforms dinner prep and post-shopping veggie/fruit washing. You'll wonder how you lived without it.
Herb storage container
We're big fans of kitchen herb gardens, but this herb storage container is the next best thing. Now those herb bundles you buy at the store will stay fresh for weeks at a time.
Bacon & sandwich press
A must-have for any professional grill cook, a cast iron bacon and sandwich press is just what you need to keep bacon or ham from curling, and to make restaurant-worthy Paninis. Yum! The wood and cast iron combo looks right at home in traditional kitchen designs and adds eclectic charm to modern versions.
Electric salt & pepper grinders
Fresh-ground salt-and-pepper are essential to just about every dish. However, messy hands and traditional hold-and-twist models are cumbersome and unsanitary. Electric options operate with one-handed precision and they're easy for kids and seniors to use, too.
Colossal ice cube tray
There's nothing worse than diluted, happy hour cocktails or juice. Big ol' cubes like these are the solution and since they aren't something we typically buy for ourselves, they're a much appreciated gift.
Vacuum sealed canisters
Coffee, sugar, flour, pasta - all deteriorate with exposure to light, heat and/or air. That's why we prefer to store our countertop and cabinet ingredients in vacuum-sealed canisters that are as functional as they are attractive.
Pasta machine
Anyone who thinks pasta machines are superfluous - just wait until you eat a batch or two of homemade pasta! The difference between "real," fresh pasta and the dried package stuff is worth the little amount of storage space you'll sacrifice for an extra appliance.
Kitchen rolling cart
Have a smaller kitchen? Wish you had an extra kitchen island from time to time? Are you a renter? A kitchen cart is a high-quality, attractive product that is there when you need it and can be moved/re-moved when you don't.
Multi-storage unit for paper towels, foil, plastic wrap, etc.
Finally! Someone tired of all those jumbled boxes in a drawer invented this stylish, stainless steel kitchen multi-storage unit so we can keep those kitchen essentials neatly, in one place.
A microwave cleaner via an erupting volcano
No, really. It's true. This awesome microwave cleaner is shaped like a volcano and erupts like one too, using the amazing cleaning powers of vinegar and water. Once the Eruption Disruption Microwave Cleaner steams and "erupts," you (or your amazed kids) simply remove it. Then, all that built-up grime comes right off with a clean, dry cloth.
Immersion precision cooker
Perfect for cooking large meals that have taken up the space on your range, or for hot summer days when you don't want to add heat to the house, precision cookers are a wonder of culinary technology! You just place it into a 10-inch container with water, add your food in a sealable bag, select your cook temperature, and press start. This gadget will heat the food to restaurant quality perfection, without ever overcooking.
There you go, folks - 12 trendy, handy and desirable kitchen gift ideas your family and friends will be grateful to recieve. Visit Kitchen Magic in person or subscribe to our blog to keep in the loop of kitchen design and organizing solutions just like these!