In this age of ever-progressing convenience we've become accustomed to having an abundance of knowledge at our fingertips. And knowledge is power, but so is technology—the driving force behind this thought revolution. It only makes sense that we've incorporated technology advancements in our kitchens too. You'll be amazed at all the ways these high-tech installations revolutionize the functionality of your home.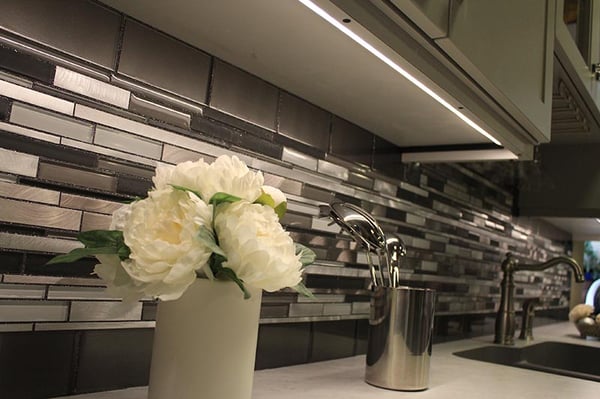 Kitchen Designs: Welcome to the Digital Age
When you're ready to begin a kitchen remodel or refresh you'll want to include space for technology throughout your design. You've got a lot of options ranging from the inexpensive voice-controlled items to the pricier WiFi appliances. No matter what your budget, here are some trendy ideas for bringing tech into your space right now.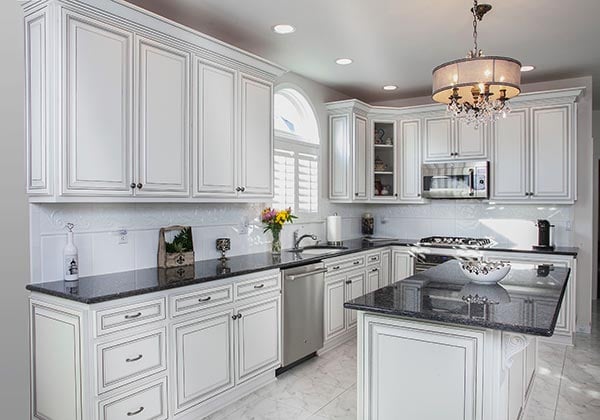 Shout-out to voice-controlled home automation
Have you ever been baking in the kitchen and needed to know the conversion for the right measure? Maybe you had to stop what you're doing, wash your hands and type in a search for the answer. While having it all at your fingertips is helpful, with voice-controlled technology there's no need to lose anymore cookie dough.
These items have been around for a while, but they bear repeating if you don't already have one. Voice controlled products like the Amazon Echo, Google home or other similar programs, allow the ability to use voice commands to start, end, or change a variety of functions. From lighting and music selections, to thermostat settings and even window shading variations, speak it and it shall be done.
Your upcoming kitchen remodel may be just the right time to invest, allowing you to sync some of the following smart tech products with your home audio, entertainment and security settings. Voice-control can be as expensive or inexpensive as you're willing to go. You'll find the right fit for your home and when you do, you'll be navigating with ease.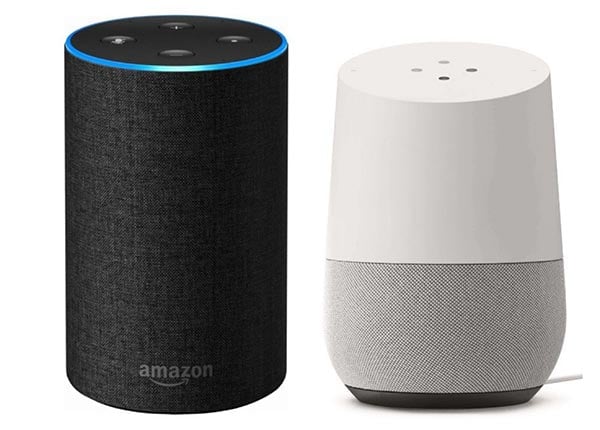 Photo of Amazon Echo by Amazon and Photo of Google Home by Google
Shine a light on kitchen lighting technology
A comprehensive kitchen lighting design includes task, safety and ambient lighting, via a range of fixtures (some hidden or some installed to make a statement). At Kitchen Magic we know how important the lighting plan is to the functionality of your home. That's why we offer smart lighting options—check out how you can take control of your space with under cabinet lighting. We've got customized enhancements for use in your kitchen from morning 'til night and with LED energy saving options they'll be worth it.
Smart lighting technology, like that which is offered by Control4, illuminates the kitchen with a touch of a button or the tap of a phone setting. Set the mood with pin-point accuracy by varying brightness, intensity and zone lighting with a touch of your fingers from anywhere in the room. It's time to bring out your inner tech side and make life easier for yourself.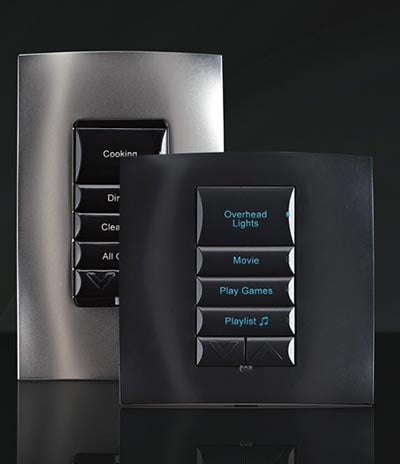 Photo of Control4 lighting pad by Control4
The mechanics of motorized cabinets and automated countertop heights
Now that you've set the mood with tech-enhanced lighting and music options, consider upgrades for other areas of the kitchen. Here are some ideas for improving other aspects of your design:
Creating livable kitchens with technology enhancements
A livable and accessible kitchen gets you the most bang for your buck in the long run. When you take the time to remodel your kitchen, you want to do it right. In addition to blumotion soft-closing doors and drawers—which prevent slamming during closure—consider installing motorized cabinets that raise and lower your cabinetry for comfortable access. These quiet motor systems adjust the height of counters and cabinets, so your storage spaces and appliances meet you (or the current chef) where you're at!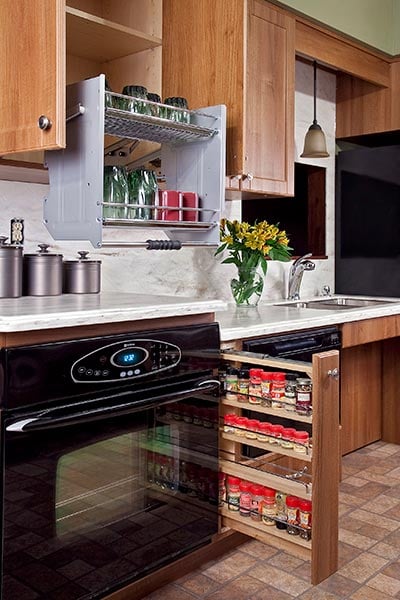 Smart kitchen appliances are safe and efficient
A smart refrigerator with Wi-Fi and touchscreen features is a popular tech item in the kitchen. It's not the only technology capable item though. Other household appliances are following suit and you'll want these in your home, they almost do all the cooking for you!
For example, smart stove knobs, like those offered by Inirv, are available to set cook times and burner settings. They respond to voice commands too (everything is about voice activation these days!). Stovetops and ovens offer remote access/operation as well. Some devices even set reminders based on recipes, or specific food items, for when to flip, stir or add ingredients. Take the hassle out of cooking and add extra precautions for those little ones running around. You can never be too safe.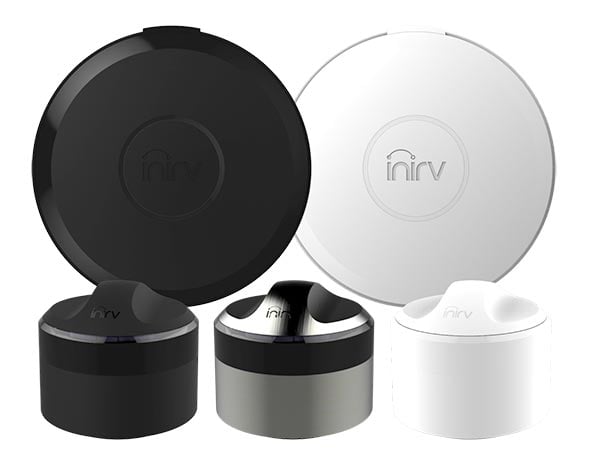 Photo of Inirv Smart Stove Knobs by Inirv
Let's get digital: kitchen gadgets for convenience
While we haven't quite un-boxed any Jetson-esque kitchen robots yet (unless you count the Roomba), we're getting closer each day. There are many high-tech kitchen gadgets that will bring assistance and efficiencies to your home. Here are a few options we think you should check out:
Drop Scale: This WiFi controlled kitchen scale comes with a recipe app that assists even the least-experienced chefs in producing Michelin star-level meals—well maybe not but you'll still get rave reviews! Measure out your ingredients with precision on the drop scale, or for health conscience folks keep track of your servings. Check out the details here.
DaysAgo: Optimize the freshness of your food (and ditch the spoils) with this digital tracker. It counts the number of days something has been opened so you know exactly how good it is when you go to eat.
Sous vide: If you really want to impress your guests, check out a sous vide and cook all your meats perfectly, every single time. Everyone will be raving about the meal without all the work on your end.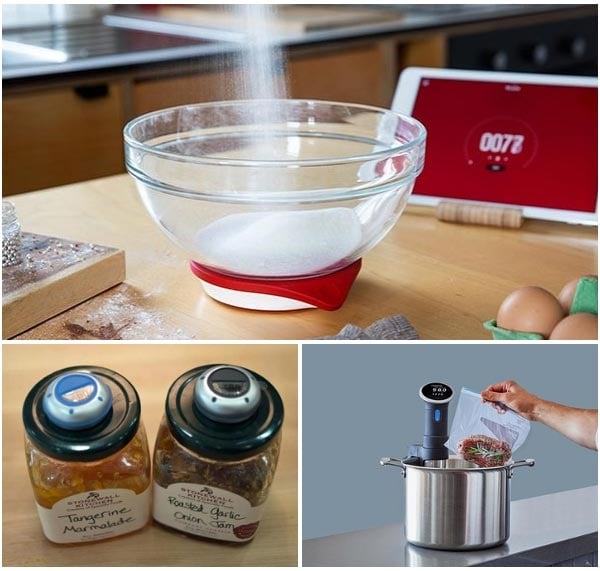 Photos by Drop Scale and Daysago and Anova
These high-tech kitchen design ideas and gadgets are ideal for homeowners interested in creating a timeless kitchen. Technology is ever-changing but jump on board with some of these enhancements and you won't be sorry. Contact Kitchen Magic today for more ideas and inspiration in your kitchen upgrade.