We have been waiting with bated breath since last spring's season finale cliffhanger of NBC's This is Us. While Randall and Beth Pearson's relationship has fans riveted, it's their contemporary kitchen that really has us swooning here at Kitchen Magic.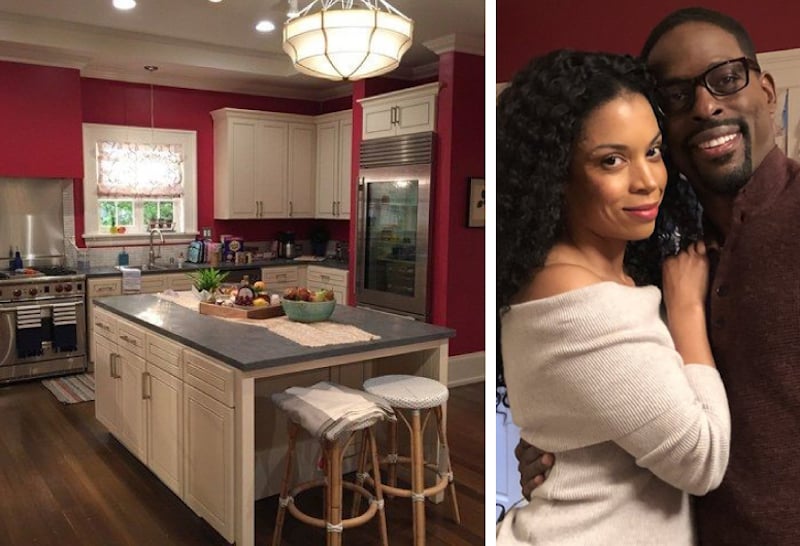 Photo Credit: Gary Frutkoff, Architecturaldigest.com and Today.com
This Is Beth's Contemporary Kitchen
It's not just the crisp, white cabinetry and the contemporary dark countertops that we love. All the smart kitchen details really set this space apart from the average kitchen. A kitchen's style is usually a sum of its parts, and this one exudes Beth's personal style: bold, strong and family-focused with an undeniable fun streak. There is no doubt that this space belongs to Beth (portrayed to perfection by Susan Kelechi Watson).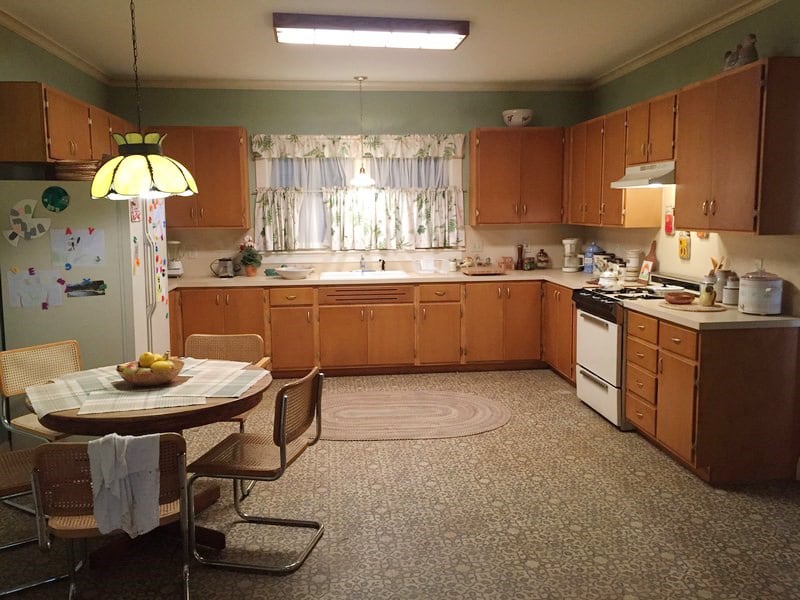 Photo Credit: Photo Credit: Gary Frutkoff, Architecturaldigest.com
A Far Cry from Randall's Childhood Pine and Formica Kitchen
Randell (played by Ron Cephas Jones) was always destined for success, and the flashbacks to his childhood home show just how far he has come. The circa-1970 kitchen is an iconic shout-out to time period, complete with formica countertops and pine cabinet doors with vintage rounded pulls. And yes, were' pretty sure that's carpeting on the floors. (Was that a thing?) In what cupboard do you think the Crock-Pot that changed their lives forever is stored?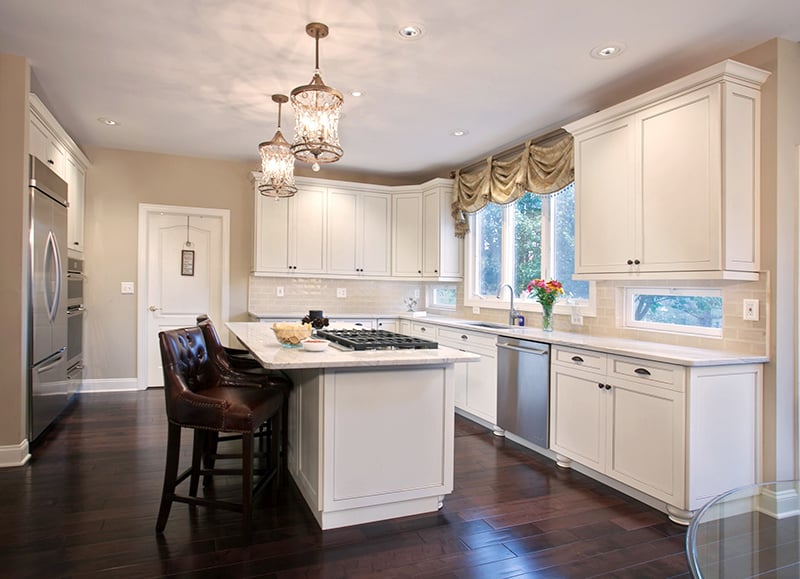 Similar white cabinets to the This Is Us kitchen also complement neutral-colored walls. These are in our Madison style in Frosty White.
Classic White Cabinets Set the Mood
The ever-popular white cabinetry in the Pearson's kitchen give the space a fresh complement to the bold red walls. Randall & Beth's cabinets include a beaded edge, which adds subtle architectural interest and enriches the overall design.
Whether you choose wood cabinet doors or maintenance-free cabinetry, there are so many styles and colors available to you. For homeowners operating on a budget, cabinet refacing can transform your kitchen at a considerable cost savings.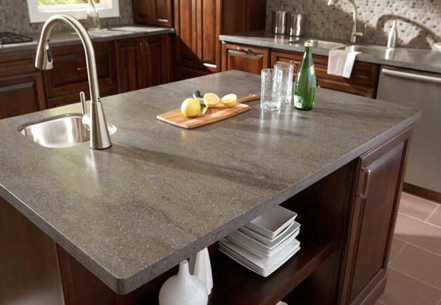 Another kitchen with the same amazing countertops from the show. Photo Credit: 4willis.com
Corian Countertops That Rock the Room
Kitchen countertops can add contrast to a design. We're pretty sure Beth and Randell have a Corian countertop in the Lava Rock pattern, from the company's Corian Private Collection. It has the look of soapstone in a neutral chocolate-and-charcoal mix. These dark colors create a luxurious affect, particularly when used with an eased edge.
Solid surface Corian is a man-made countertop material that is extremely durable and requires almost no maintenance. Non-porous and bacterial resistant, this product is a good choice for busy families. With Beth's hectic lifestyle, a Corian countertop lets her personal style shine through and helps free her from a lot of extra maintenance.
Island Influences
The kitchen island is the place where Beth and Randall's family often gathers. It serves as both a clean, contemporary table and a massive space for storage. The island is a dramatic focal point (as if this family didn't have enough drama) and a place to perch with a cut of tea or an after-school snack.
Islands certainly can give a kitchen a splash of personality. Many homeowners customize for their personal style, function and needs, adding shelves, drawers, a stove top or sink or two-tiers, just to name a few possible features.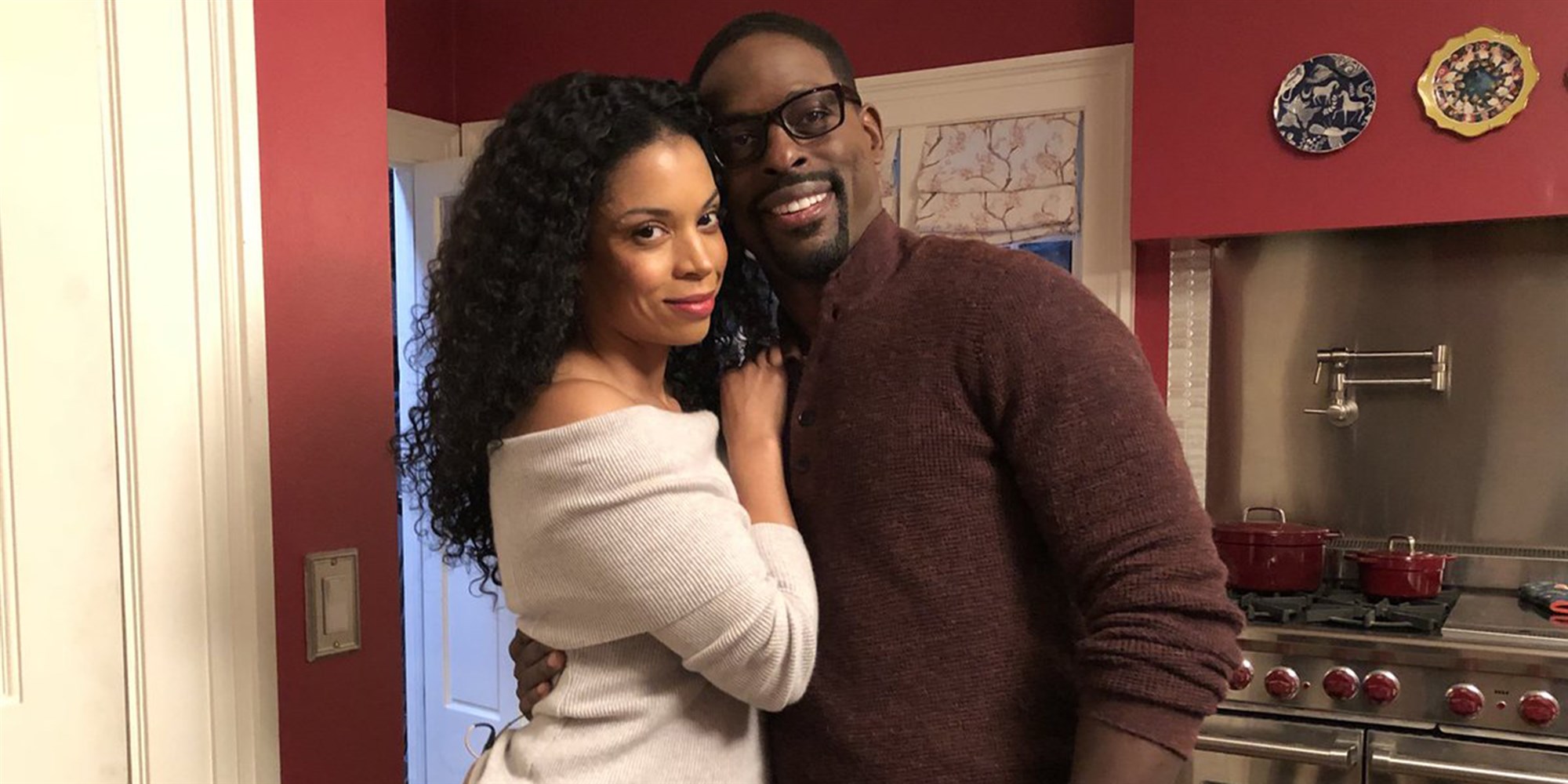 Photo credit: Today.com
From This Is Us to "This Is Mine"
Feeling inspired by the This Is Us kitchen? By the end of the season, you could be saying, "This is Mine!" Call Kitchen Magic for a free in home consultation and find out how we can help you transform your kitchen in less time, with less stress and at an amazing value.
For more design ideas, check out these blogs: