Our Shades of Gray in the Kitchen remodel is a showpiece for timeless, classic design. It's got color, but not too much. It has a transitional motif, blending the best of contemporary kitchen design elements with just a hint of traditional accents, and it has style galore!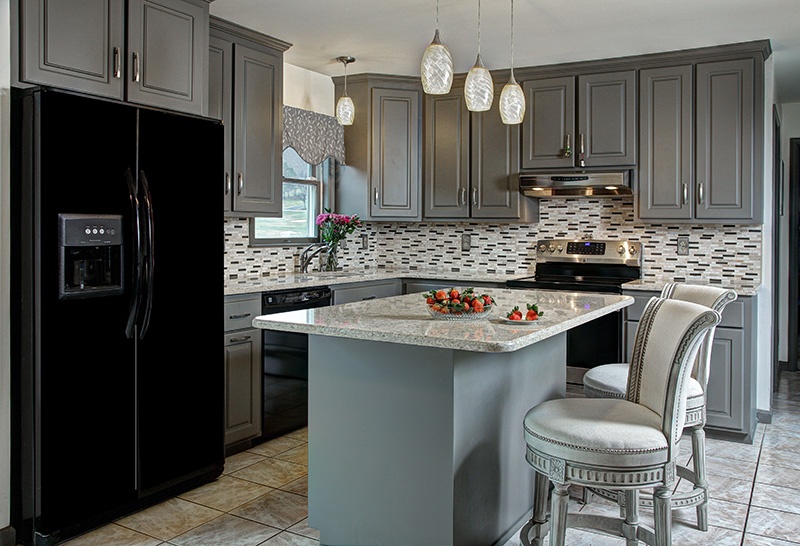 Visit a Transitional Kitchen With Trend, Style & Class
First, take a look at those gorgeous cabinets. Most people would guess "custom" but, in fact, these owners used cost-saving cabinet refacing to completely revamp their outdated cabinetry. Kitchen Magic uses a proprietary kitchen cabinet refacing process that not only reinforces the existing cabinet boxes but also makes sure your new all-wood cabinet veneers and doors are built to last.
Prestige Square Cabinets in Suede Gray
In this case, the owners chose Prestige Square cabinets. That is a smart choice for a transitional kitchen design because it maintains the clean, streamlined look celebrated in modern design. The raised panels are usually associated with traditional design but the sleek hardware and the Suede Gray finish are decidedly contemporary.
Now, let's talk about that Suede Gray shade. Gray is a wonderful, neutral color to work with when creating a kitchen color palette. It also happens to be a trending color right now, so these owners were in luck. In fact, gray, white and black are all considered neutral colors, which is why they work so well together. In this kitchen, black is the accent color, striking a contrast with the lighter white, off-white and pale gray tones found in the countertops and walls.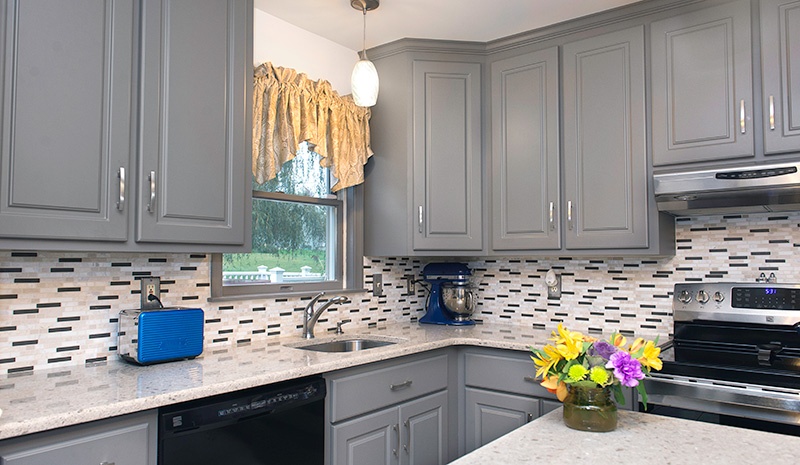 Cambria Quartz Countertop in Darlington
The countertops are Cambria Quartz in Darlington. Quartz countertops are considered "the new granite" because they have all the elegance of natural stone, without any risk of staining, etching or cracking. The Darlington pattern is extremely versatile and would work with a range of colors. In this case, it creates a counterbalance to the darker shade of gray used for the cabinets.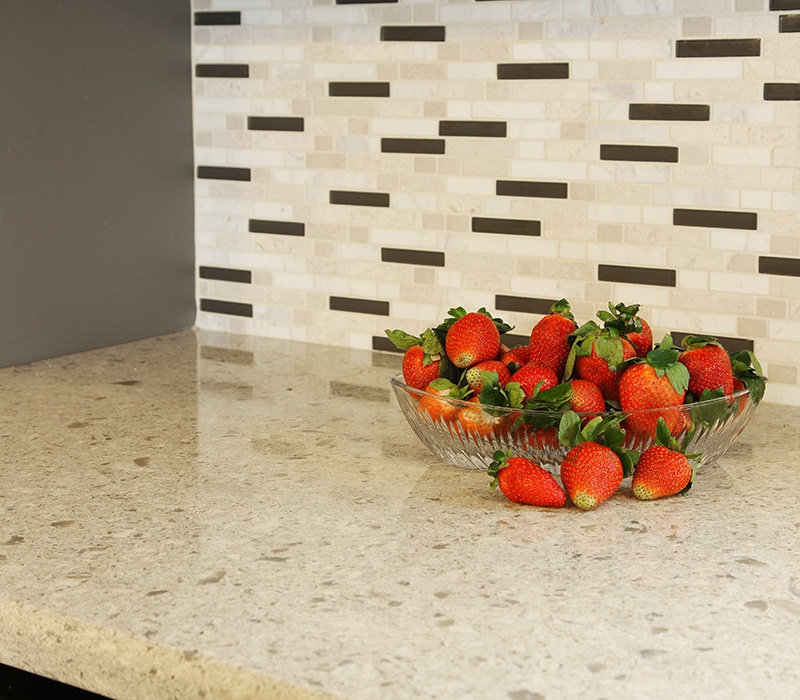 The Appliances
Black appliances provide bold accents and those are blended into the entire design with a gorgeous, glass tile backsplash in a subway pattern. Backsplashes are often used to transition countertops and cabinetry, and/or to add accent or pattern. In this case, the backsplash does all three: it pulls colors from both the countertop as well as the appliances and cabinetry, it integrates black accents and it weaves these together in a striking pattern that becomes a visual focal point for the new kitchen design.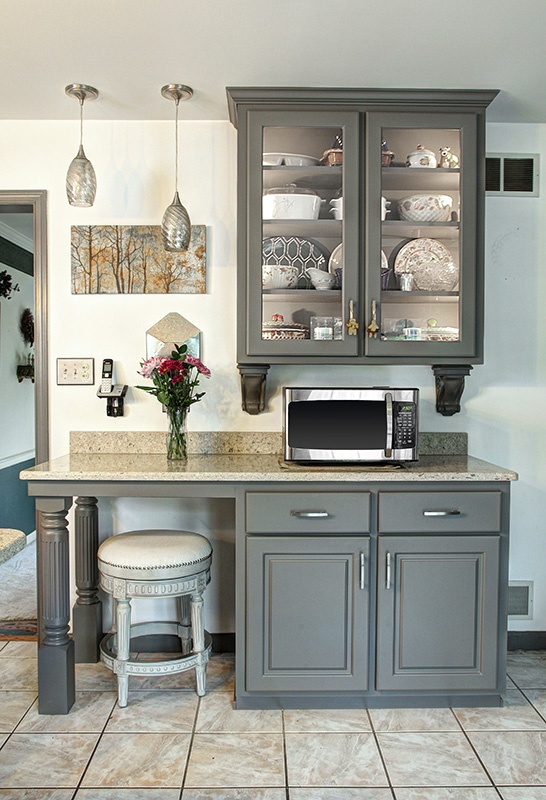 Other features to note: the addition of a new display cabinet with glass door inserts allowed the kitchen to accommodate a desk area, or message center, which is an increasingly popular feature these days. The pearlescent pendants above the island add luxurious shimmer - echoing the shimmer provided by the glass backsplash tiles. Finally, the plush, furniture-style bar seating adds a traditional element that completes the transitional design motif.