Have you ever seen a kitchen where the electrical outlet cover plates are cut crooked into the backsplash tile? In addition to being unsightly, it's a perfectionist's nightmare...like a crooked picture frame that can't be straightened. Not to mention it can be difficult to match plastic electric outlets and switch plates to specific tiles and colors. For those reasons, we recommend hiding electrical outlets whenever possible to streamline your kitchen design.
If you've exhausted all creative ways to hide electrical outlets in your new kitchen, turn to local kitchen remodeling specialists for expert advice on how to avoid ruining your design in your Lehigh Valley home.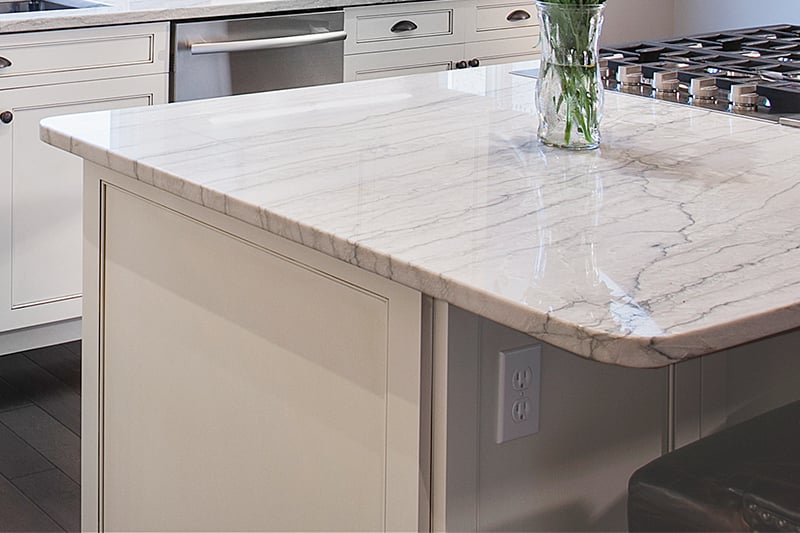 Why should you cover kitchen outlets?
"Leaving them out" simply isn't an option because building codes require them at mandated distances. Plus, building codes also require that certain outlets—those near sinks, for example—be GFCI (ground-fault circuit interrupter) outlets.
These specific outlets are designed to cut off the flow of electricity when they detect a stronger-than-normal current is passing through them - a sign that electricity may be trying to ground through a human, water, or nearby object rather than the wires. These kitchen counter updates have the "test" and "reset" buttons on their faces, which make them even more visible and less desirable on finished kitchen surfaces.
How can I hide my electrical outlets in the kitchen?
Here are a few tips and ideas to seamlessly integrate outlets into your kitchen design.
1. Install Some Pop-Up Outlets
If you love the idea of your outlets being out-of-sight when you don't need them, and readily available when you do, pop-up outlets are a great option for you. Have your electrician install pop-up devices like the one shown below, they can pop up or even pop out from the side of an island or base cabinetry. This is one of the most efficient ways to add a luxury flair to your kitchen, but it's best implemented during a kitchen remodel.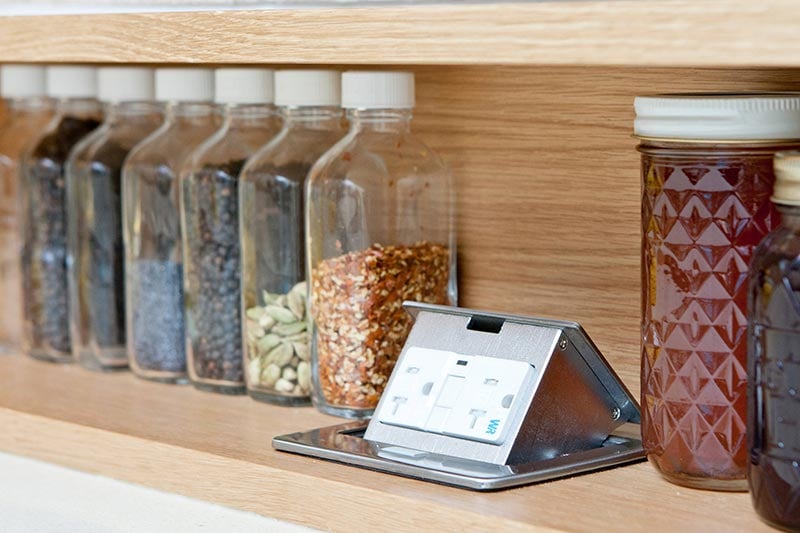 2. Add Outlet Strips Along the Upper-Cabinets
Perhaps one of the easiest and most popular options is to install strips of GFCI outlets along the upper edge of your cabinetry where it can't be seen at all unless you bend down and look up at it.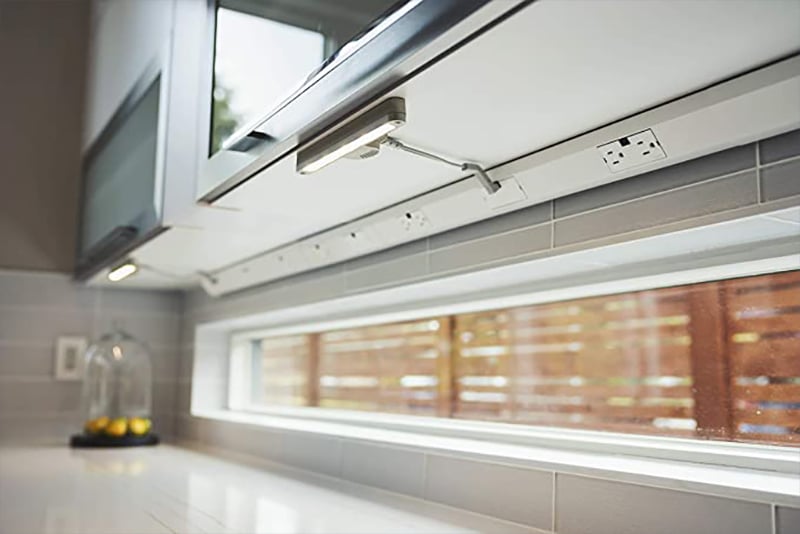 There are power strips that are designed to do just that - in a variety of finishes - and they can be mounted parallel to your under cabinet lighting so they aren't visible. Another advantage is your cords can run right up behind countertop appliances so they are out of the sight and less prone to getting tangled up or being splashed and splattered.

3. Consider Horizontal Outlets in Kitchen
If you have countertop space without an upper cabinet above it, consider placing outlets a little lower than normal, and even horizontally to suit the space, right at the start of the backsplash tile arrangement. This placement, combined with well-matched cover plates, will also help your outlets to disappear.
4. Use a Charging Station Drawer
"Often, it's the things plugged into the outlets that make the outlets stand out. For example, the outlet used by your coffee maker is often hidden by the coffee maker or the coffee grinder, whereas the outlet used by your smartphones and tablets resembles a small kitchen creature with multiple tentacles," says Lauren Webber of coffeeorbust.com.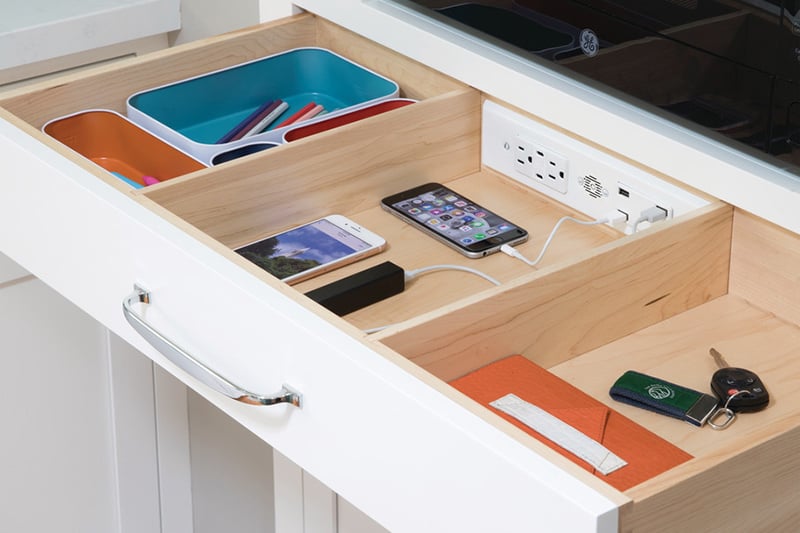 Get rid of a charging station eyesore by
converting a drawer or cabinet into a dedicated charging station
with outlets that are hidden at the drawer or cabinet back. This keeps the outlets - and all the "stuff" - from contributing to kitchen clutter. If you have the space for it, you may want to expand this idea a bit and
design a desk or bona-fide message center
in your kitchen space.
5. Place Outlets Under Counter Overhangs
Your island or peninsula are other spaces where building codes and convenience demand an electrical outlet or two. In case of occasional use of accessory appliances, consider placing power outlets with covers underneath the counter overhang.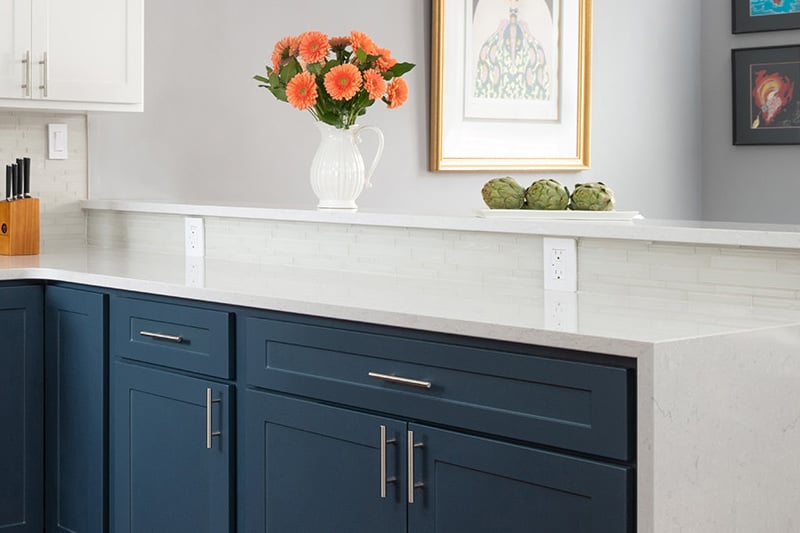 Where can I book kitchen remodeling experts in Lehigh Valley, PA?
Looking for creative solutions to common (and uncommon) kitchen design dilemmas? Our mission is to create sophisticated kitchen interiors, while remaining approachable and welcoming. Providing you and your family with the perfect space is always our top priority. Schedule a design consultation with Kitchen Magic and we'll brainstorm solutions with you. Whether your home is near Allentown Art Museum or elsewhere in the area, we're at your disposal. Get in touch with us and we promise to take every last detail into account.