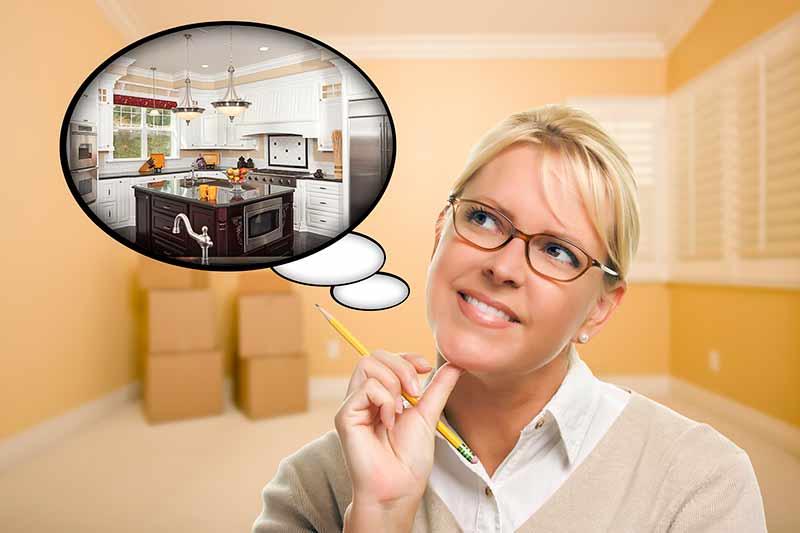 Contrary to what design language indicates, upgraded isn't synonymous with improved. For example, if you read a real estate ad stating, "charming home with updated kitchen..." your heart soars. Perhaps this is the turnkey home you've been waiting for. How nice to move in and not spend a single dime remodeling the kitchen.
Then, it turns out, the upgraded kitchen includes a red-hued granite slab, a green Corian backsplash and black cabinetry - ideal for anyone who loves red, black and green, but nobody else.
Avoid Upgrades that Detract From Your Kitchen's Value
That's why we recommend using kitchen upgrades that yield a timeless design. Timeless designs weather the ages gracefully, and they enhance your home's resale value. So, for this post, rather than giving you kitchen design pointers, we're going to focus on what not to do.
The following are 10 upgrades that diminish a kitchen's appeal and value.
1. Ceramic tile flooring
Tile flooring is in, and ceramic tiles are one of the most affordable tile types. They're also durable and can mimic natural stone. The problem is they're cold, ultra-hard (anything breakable that drops on ceramic flooring will, indeed, break) and hard on joints and backs. If you can't afford natural stone tiles, look into high-quality vinyl (which will shock you with how much it looks like real stone) or manufactured wood flooring products.
2. Poorly designed island
Island location, placement and design are integral to the function of your kitchen. Only install one if it benefits kitchen flow. Otherwise, consider a peninsula instead.
3. Fancy-schmancy appliances
If you're an amateur gourmet cook and/or your house is the hub of entertaining on a regular basis, then go ahead and blow the kitchen budget on ultra-high end appliances. Otherwise, high-quality, standard options will be just fine.
4. Cheap-O cabinets
You don't have to invest in high-end custom cabinetry, but you certainly don't want to sacrifice quality cabinetry for the sake of the budget. They will look cheap - plainly stated - not to mention they fall apart quickly. If you can't afford the custom kitchen options you want, get a quote for cabinet refacing. Check out these real-life, refaced examples. You'll be amazed by the results, and your cabinets will emerge stronger, more durable and more organized than ever.
5. Tiny cabinets
In most cases, there's no reason not to take cabinets up to the ceilings. It eliminates all that dust-collecting space and add storage space—win-win!
6. Everything stainless
Anything that becomes everything is too much—and that includes stainless steel. You'll wind up with a texture-less, sterile and smudge-happy environment. Always balance texture and finishes
7. Marble countertops
Marble countertops are lovely - but they're soft. If you're a baker, add a section of marble to a more sustainable, durable countertop for longevity's sake.
8. A new, single light fixture
For decades, kitchens have had one, big light fixture that straddles the bulk of the ceiling space. Ick. Today's kitchen lighting designs have a variety of lights—recessed, suspended and undercabinet, for example—so you benefit from both task and safety lighting as well as ambiance.
9. Built-in coffee station
Here's an example of a kitchen trend, rather than a timeless update. It sounds great in theory but becomes a cleaning/maintenance nightmare. Better to customize cabinet storage to accommodate a coffee station than to incorporate one that's built-in.
10. A complete kitchen remodel
If your kitchen hasn't been touched since 1960, perhaps a full-scale remodel is in order. In most cases, though, a few thoughtful updates are all it needs.
Visit Kitchen Magic and work with a team that will always steer you in the right, kitchen upgrade direction.