September is National Food Safety Education Month and according to the Center for Disease Control and Prevention (CDC), "an estimated 1 in 6 Americans get sick, 128,000 are hospitalized and 3,000 die from eating contaminated food." Don't be another number in the statistic! Practice preventative measures for safely handling food in your kitchen. Take care of your loved ones with these tips for preventing food poisoning at home.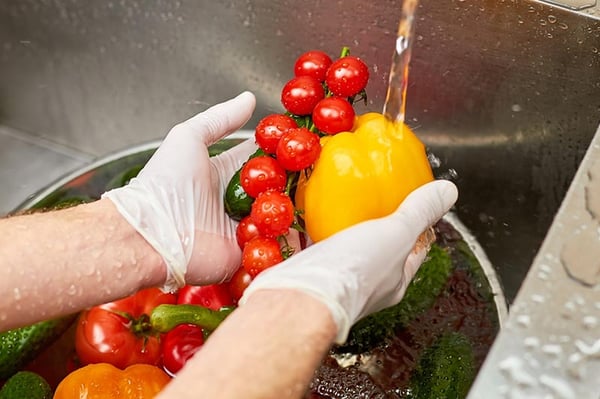 Prepare Your Kitchen For Safe Eating
We've all had that stomach bug, you know, the one that leaves you curled up in pain as you mentally go through the list of foods you ate just before it happened. It leaves you promising to never eat such food again! No matter how long it lasts no one wants to deal with a nasty stomachache—even if it's only 24 hours. There are many ways to prevent foodborne illnesses in your home. We'll give you some of the basics, because a hygienic home starts with food prep in the kitchen.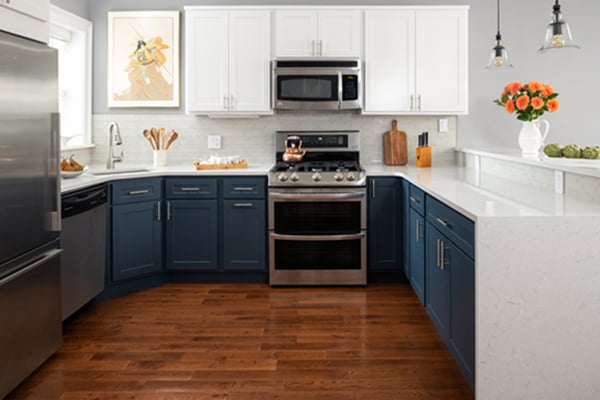 Kitchen materials to include
If you're undergoing a kitchen remodel, one thing to think about are the materials you choose to incorporate in your updates. Design choices can have a big impact on not just the look of your kitchen but the safety as well. Here are some options for the cleanliest products to include.
Quartz kitchen countertops
Words you'll get familiar with regarding countertop products are: "Porous" and "non-porous". These represent the difference between a germ sanctuary and a bacteria-free surface. Everyone loves granite in the kitchen but it's a porous product. This means there are tiny pours on the surface—places where germs and bacteria can get trapped and fester. It's not good for you or your family. Sure, we all clean and wipe our kitchens down but these extra pockets can make it more of a pain.
This is where quartz is a standout option! These products are engineered with the highest quality in mind. Quartz is non-porous making it the hyper hygienic choice. Not only is it a durable material that'll be less likely to crack and chip, it looks just as beautiful as granite too. Check out the HanStone collection for colors that'll surely fit in with any design you come up with.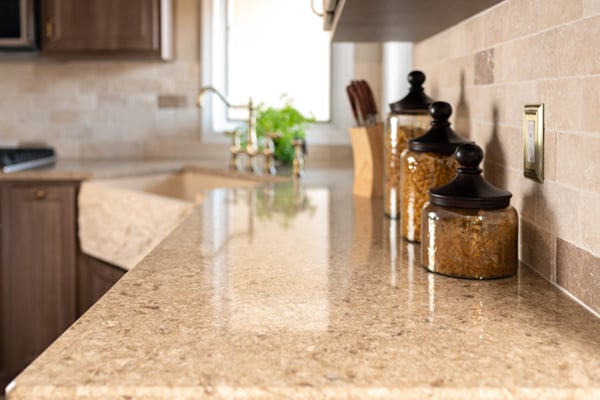 Kitchen cabinets for clean living
Messes overtake your food prep space at any given time—those splashes have a wide radius of impact! The best thing to do is find low-maintenance and easy to clean products. Laminate cabinets are your answer. Technology has come a long way and that includes extending to the kitchen. With progressive techniques, laminate cabinets are constructed to look exactly like their real-wood counterparts. With laminate cabinets you'll have a sturdy, lasting product that will be require little upkeep. A regular wipe down helps prevent the spread of bacteria and germs and keeps your cabinets looking stellar. If you've got little ones running around, you'll want something that's easy to maintain and disinfect.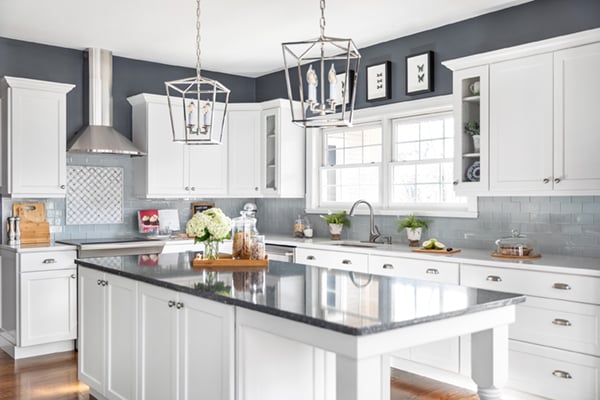 The kitchen backsplash contender
Since we mentioned quartz countertops it's only right to mention the very similar and clean-friendly option of a Corian backsplash. Corian is also a non-porous product and resistant to mold and mildew. It's another low maintenance product that'll look stunning in your updated kitchen design. Stop the spread of germs with a backsplash built to guard against all the messes of the kitchen.
Ways to prevent the spread of germs
Now that we've discussed materials to use in your space, there are things you could personally do to prevent the outbreak of a stomach bug in your home. These may seem like common sense ideas but follow these tips and you and your family won't ever have to worry about food poisoning—at least from home cooked meals prepared in your clean kitchen!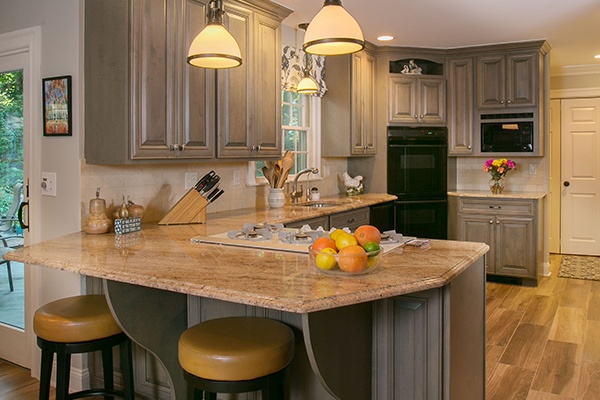 Kitchen sink protocol
The kitchen sink is a heavily utilized section of the kitchen—it's an integral part of the work triangle after all. Check out the below info graphic from the CDC. When you're standing at the sink, remember these tips for a cleanliness in your work space. Washing your hands not only prevents the spread of germs, especially during flu season, but proper cleaning of your food products helps keep things sanitary in your kitchen sanctuary.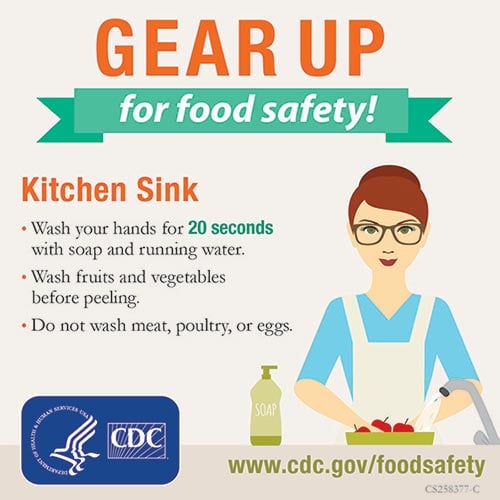 Kitchen Sink Food Safety from the CDC
Clean the kitchen cutting board
No one wants to damage their brand new, stunning kitchen countertop. This is where a cutting board helps to protect your valuable cabinet topper. But cutting boards can be a germaphobe's worst nightmare. Food safety is important when you're handling it on a cutting board. Follow these tips recommended by the CDC to stay stomach-issue free.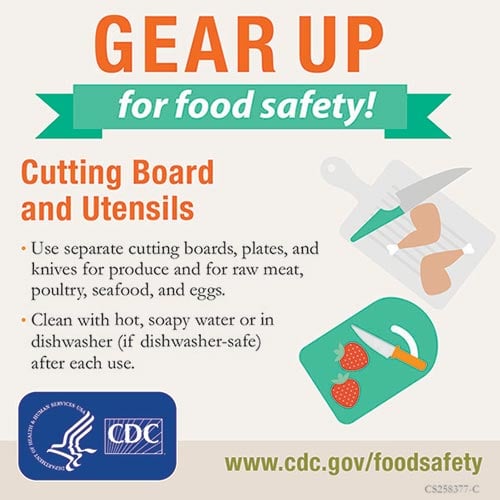 Kitchen Cutting Board Food Safety from the CDC
Proper refrigerator and microwave usage
Equally as important as food preparation is food storage. Be sure that you're storing food at the proper temperatures in your refrigerator. Did you know the temperature of your fridge should be between 32 and 40 degrees Fahrenheit? Your freezer should be at zero degrees or below for proper preservation. You can never be too careful when storing food at home so be sure you're refrigerating foods in a timely manner upon returning from the grocery store.
If you're using a microwave, make sure that your foods reach the proper internal temperature before consuming. It doesn't hurt to use a food thermometer to ensure that the temperatures reach 165 degrees. For more helpful hints on how to keep you happy and healthy in all your food prep, check out the below video from the CDC website.
If you're thinking about remodeling your kitchen and want to incorporate some of these germ resistant products, contact Kitchen Magic today for a free consultation. We'll help you design a germaphobe-friendly kitchen.
For more ways to be clean in the kitchen check out these articles: