Today's article will answer the popular cabinetry question: how can I best pair my cherry cabinets with a new countertop color?
The answer is not so simple; you have many options to choose from when pairing your newly remodeled or refaced cherry cabinets with a variety of countertop colors. Cherry cabinet colors come in a large variety, from a darker red-tinged brown, to a light cinnamon-shaded red. Even further, the cherry-colored wood can be stained to bring about a deeper brown or a more vibrant red with extra shine. When picking the right countertop to pair with your cherry cabinets, first, you must figure out what shade of cherry your cabinets are, then you can choose the countertop color that matches and creates the desired look and feel in your new kitchen.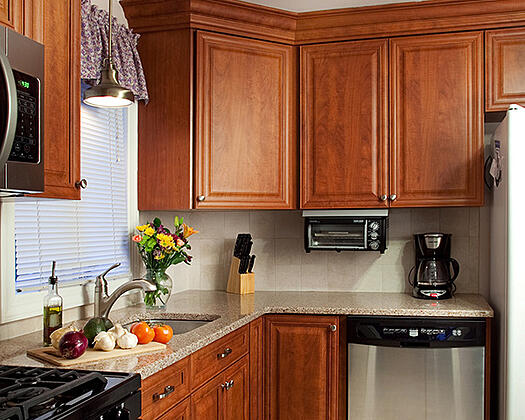 Red-Tinted Cherries
If your wood cabinets are a natural red-colored cherry, such as the color of a fresh cherry or a lighter, multi-tonal cinnamon, it's best to pair your cabinets with yellow or gold countertop colors. Whether you have a light or more bold shade of red in your cherry cabinets, neutral yellows are a wonderful compliment, and add just the right amount of contrast to open up your space Try pairing these red-tinted cherries with Bethany or Mojave Corian countertop colors.
If you don't like yellow, or these countertop color choices are too vibrant for your subtle and sophisticated kitchen, try a neutral shade with variant in the grain; gentle tones can compliment your cabinets without overpowering your senses. Try pairing your cabinets with Riviera, Tarragon or Sandstone Corian colors.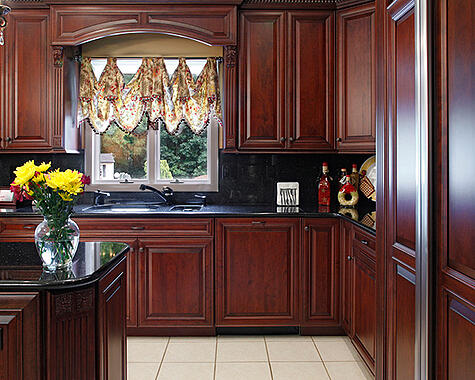 Dark Chocolate Cherries
Darker cherry cabinets, or even the chocolate or espresso-stained cherries add a dramatic backdrop for a variety of countertop color combinations. If you're looking for a modern vibe, stainless steel accessories and appliances offset dark cherry cabinets best. Keeping with this contemporary feel, countertops in bold primary colors compliment this minimalist approach. Aurora and Linen Corian countertop colors bring a cool contrast to a fresh kitchen.
If your cherry cabinets are meant to compliment your rustic country-style home, comfortable countertop colors are the best choice. To bring a rich, down-home feel to your kitchen, stick with warm neutrals, such as cream or beige, to offset the darker cherries and brighten up your space Great countertop colors for any country kitchen are Granola, Oat and Fossil Corian countertop colors.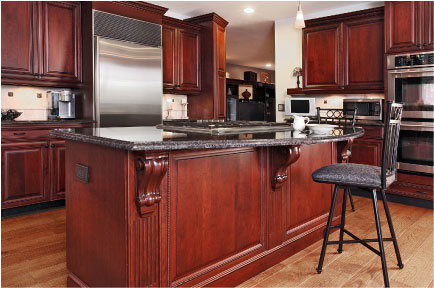 Mixing It Up
A helpful hint for any cabinet and countertop pairing: shy away from staying within the same color family, and opt for contrasting colors rather than complimentary. Don't be afraid to mix colors by picking a countertop color that truly contrasts with your cabinets. A deep, dark chocolate cherry pairs beautifully with the almost-white Savannah Corian, and a light cinnamon cabinet looks great with grainy Matterhorn Corian countertop, or even green Moss Corian countertop color. Sit with your craftsman, and ask for advice when pairing your countertop. He's a color expert, and will bring the samples right to your home!
To find out which Quartz colors work best with Cherry cabinets, read our blog article.