Planning on remodeling your kitchen? Even if you are just a few days away from the big day, it is most important that you know what to expect once installation begins.
We understand a kitchen remodel is a disruption to your normal routine. Suddenly, your appliances are in different rooms of your home, and you slowly become convinced there's been a glitch in the matrix. You're ordering takeout, and your overly curious dog is trying to figure out what's going on.
But, with professional kitchen remodeling services at your corner, you have nothing to worry about. Kitchen designers will spend time discussing your preferences and how you expect your cooking area to operate on a daily basis, taking into account your family's lifestyle and specific needs.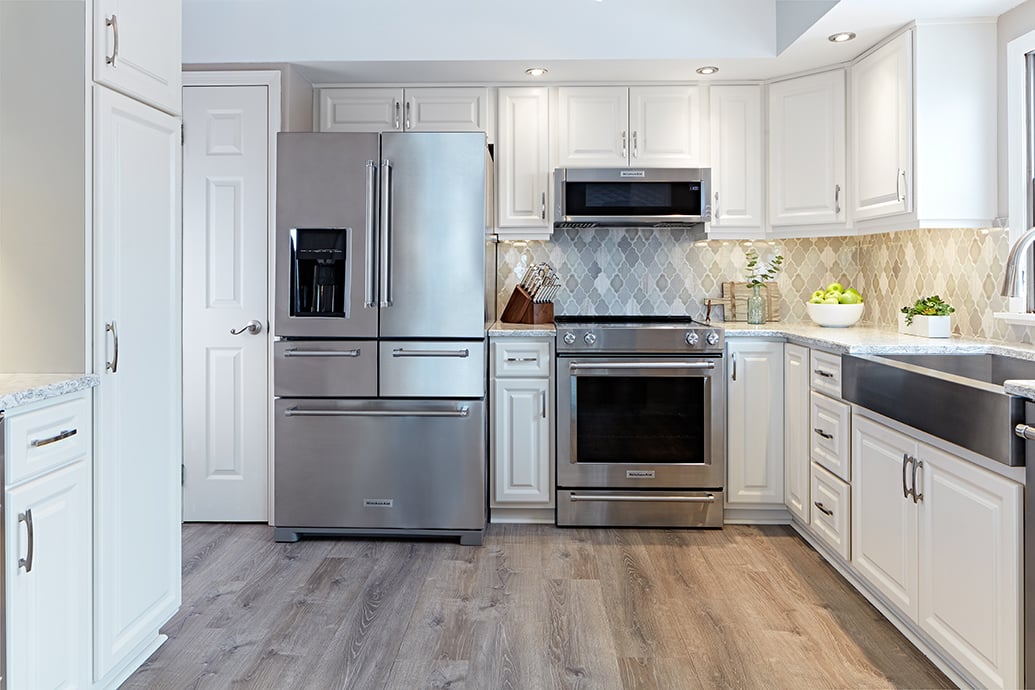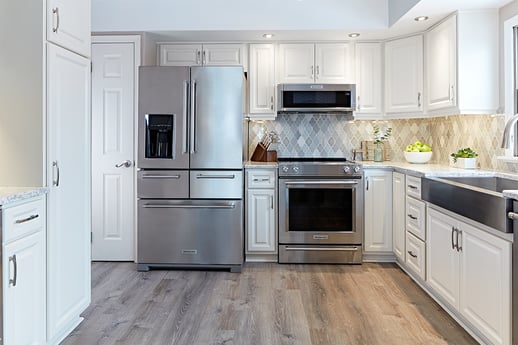 How does kitchen installation work?
So, what can you expect during your installation? To answer that, it's important to consider what your plans are. The overall plan for your dream kitchen will determine not only the pace of the installation, but also the type of disruption you can expect. If your cabinet boxes are in terrific shape, and you find yourself gravitating towards refacing, the process should be time-efficient and high-quality. Or maybe you're on the lookout for a complete renovation, which can be exciting but also daunting. That's exactly why we'll break down every aspect of the installation process today and give you a clear picture of the process.
Here we'll cover the two most common ways to renovate your kitchen: cabinet refacing and a full remodel; how these processes work, and how add-ons, such as new countertops, backsplashes, and accessories, are installed in your home, as well as how these choices affect a renovation timeline.
Start by considering the scope of the remodel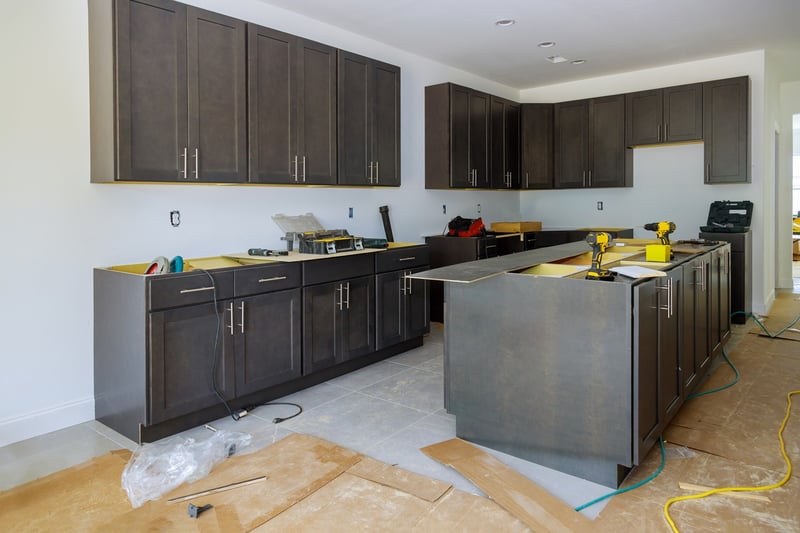 A full kitchen remodel, or a gut job, is when you are no longer happy with multiple parts of your kitchen space and want to replace them all or most of them with new ones. You're tired of the look, feel, and layout and want something new. Or perhaps your existing cabinets are in poor condition, making all-new cabinets the better choice.
It includes completely new cabinetry, countertops, backsplash, and in some cases, flooring. A new 'gut job' starts by preparing the site for demolition, which makes it more labor-intensive of the two. Your installer's first goal is to prevent dust and debris from spreading throughout your home. To do that, they will cover the entire room with plastic sheeting to keep excess debris from leaving the room.
Have you ever watched an HGTV show?
It's undoubtedly the slow-motion montage of a kitchen being stripped down to a blank canvas that's the most exciting. Demolition won't be slow-motion, but preparing the site for all new materials is essential. A demolition job will include removing your cabinetry, countertops, backsplashes, sinks, and flooring.
Once the room is ready, the installation of your new base cabinets begin whereas another member of the design team arrives to measure and calculate the new countertop. In a well-planned project, the installation of your cabinetry and the templating of your countertop will work in harmony to reduce downtime.
Once all of your cabinetry is installed, doors and drawers are connected, followed by any additional hardware, as well as any storage or decorative accessories.
Next comes one of the bigger and bolder parts of any remodel: replacing the countertop. Your sink, faucet, and (in some cases) garbage disposal are removed along with your old countertop. In the process of installing your new countertop, these items will be reattached. Last but not least, your backsplash will be installed after your countertop is complete.
Cabinet Refacing
Refacing is a great way to give your kitchen a facelift without the hassle of a full remodel. Those looking for a long-lasting alternative are increasingly turning to this option. Refacing involves four steps: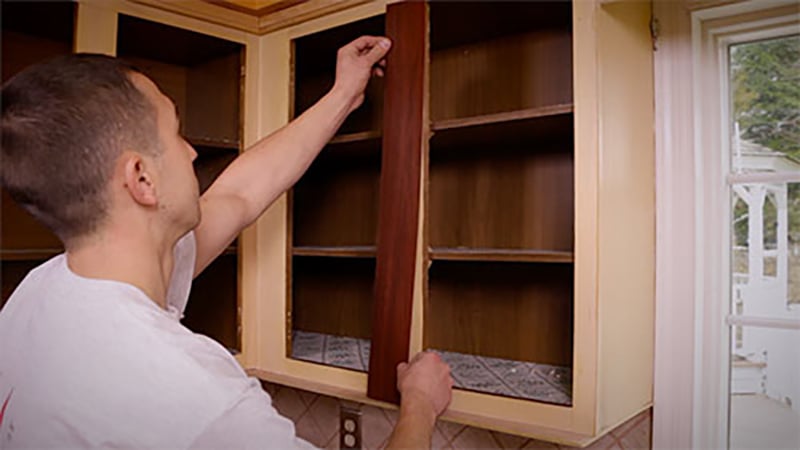 All doors and drawer fronts from your existing cabinet boxes are removed and discarded.

The cabinet frames are sanded down to a fresh wood surface.

In the next step, laminate is installed.

A complete set of new doors, door front accessories, and trim is the last step of the installation.
Refacing is an excellent choice for kitchens that have "good bones" or well-maintained cabinet boxes while their doors and drawer fronts have seen better days. Refacing allows installers to come in and give you brand-new cabinet doors, drawer fronts, and accessories that make your kitchen feel brand new, in just a few days.
Countertop & backsplash only
The cabinets in your kitchen may be in great shape, but if you're not thrilled with the counters and backsplash, replacing these elements is a great way to give your kitchen a new, fresh feel.

Some things you can expect:
Your countertop and backsplash will be removed, followed by a draftsman coming out to your home to take measurements for your new countertops.

With a proper template, the countertop material of your choice will be cut precisely to get the exact measurements to

custom-fit

your kitchen. It's important to keep in mind that with any kitchen project involving new countertops, you will be without running water for the duration of the remodel and as a result, you might find yourself ordering out or turning to alternative methods to cook and manage dishes.
Debris removal
Once your beautiful new kitchen is complete, there's one more step to take into consideration: debris removal. Here at Kitchen Magic, your debris can be picked up and properly disposed of within 5-7 days after your project is completed. If you choose not to have us remove the debris, this responsibility would be up to you to arrange with your sanitation company.
How long should a kitchen renovation take?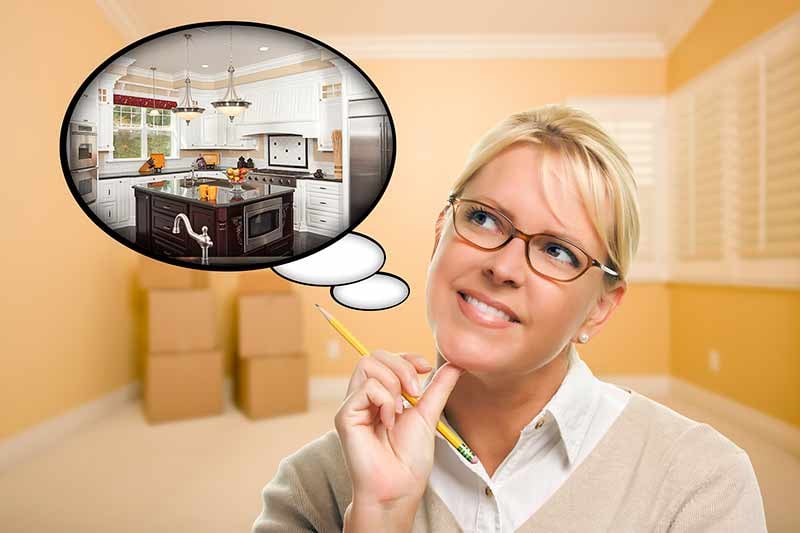 But the question that everyone is dying to know…how long will it take? While you might not want to hear the dreaded "it depends", it truly is determined by the scale of your project. With that in mind, let's return to our previous breakdowns to give you a better idea of how long you can expect to be without a kitchen. A full remodel requires a broader range, however, there may be some downtime while other materials are delivered.
A full gut renovation (between 2 and 4 weeks once installation begins)
The timeline for a remodel will always depend on your project's needs. While new cabinetry installation takes 3-5 days, the templating, arrival and installation for a new countertop can take anywhere from 7-10 days. Adding a backsplash can take anywhere from 2-3 days. Interested in flooring or cabinet accessories? These will also increase your timeline by an additional couple of days.
Refacing only (3-5 days starting from installation date)
Less disruptive than a gut job, refacing boasts a more time-efficient process than a full remodel. Two factors that have made this a popular choice among homeowners are not only the possibility of installers completing your project in less than a week but also the affordability compared to a full remodel.
Countertop & backsplash (About 2 weeks)
Strictly replacing your countertop and backsplash is a bit of a waiting game. Scheduling a draftsman to come out to your home might require some flexibility as they need to come out to your home to take measurements. Once measurements are taken, it will take 7-10 days for the custom-fabricated materials to arrive at your home and an additional day to install. A backsplash will add 2-3 days to the project and must be done after your countertops are in place.
Kitchen remodels will rack up debris, so it's important to communicate with your installers about removal. If contracted to do so, the arrangements should be clearly spelled out in your contract and any questions or concerns should go through your project coordinator.
Still, keep in mind that although it takes one day to handle debris, the cleanup team may not arrive until 5-7 days after your project has been completed.
Choose your installer wisely

With any home improvement project, it's completely normal for a homeowner to want to know who will be in your home completing your project. Here at Kitchen Magic, our certified contractors work exclusively with us on kitchen remodeling projects.
Our average installer has been with us for over 11 years and some installers have been here for more than 30 years. With a company that cherishes a sense of family, when working with us, you can trust us to take care of your home.
Where can I book expert kitchen remodel services?
As a homeowner, a kitchen remodel should be an exciting moment, not a stressful one. Here at Kitchen Magic, we work hard to make your journey seamless. What's best, our team will clean up debris and trash from the site so you don't have to.
Still, have some concerns? Taking these steps in advance can make a big difference. Also, don't hesitate to contact us at (866) 525-0012 for a free in-home design consultation with one of our specialists to enjoy a hassle-free remodeling experience!