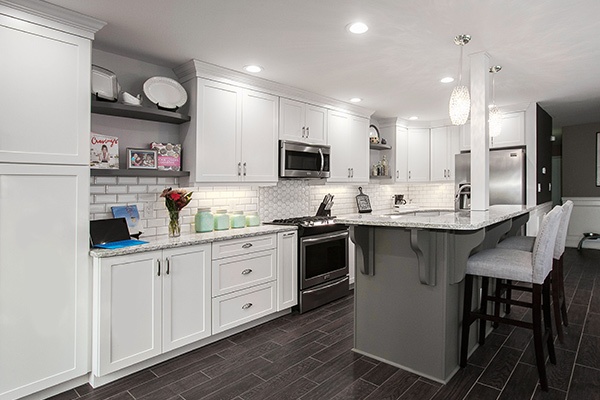 It's easy to forget about texture when selecting individual design components - the countertops you've always wanted, just-right color palettes, the double-oven you crave while preparing holiday meals or the simple desire to update a kitchen that flat-out doesn't work for your household.
However, when going from outdated to contemporary - homeowners can wind up with a whole lot of sleek and shiny, without enough textural depth or interest.
Texture Adds Panache to Contemporary Designs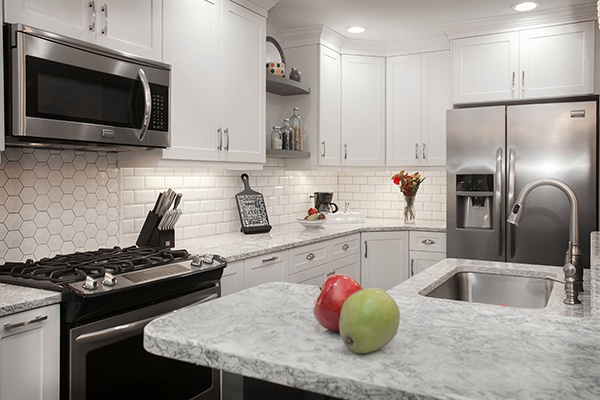 Right away, our sales rep and design pro, Jill, noticed two things; first, the kitchen needed a whole new layout and second, that layout needed to be blown wide open to the adjacent living space.
The client remarks:
"My sales rep Jill was extremely helpful in helping me create a new layout that fit my family's needs. She helped me select finishes and made great suggestions for small touches like floating shelves. My installer Andrew was AMAZING-he was professional, friendly and treated my home with respect... and he provided suggestions and feedback on my selections as we went along in the project. We worked extremely well together, and the end results are a gorgeous kitchen that my family has enjoyed every day since!"
Pro Design Tip: DO spend time with the design-builder, reviewing how you use your kitchen throughout the daily routine, to land on a kitchen layout and design that yields an optimized functional kitchen space.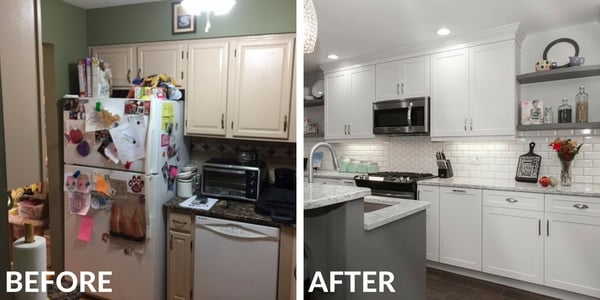 Balance Monochromatic Colors with Texture Galore
The client really loved the timeless and stately look of grays and whites. She selected a Suede Gray island and Satin White for the perimeter and base cabinets. The cabinets were all Statesman style from our Prestige collection.
Since the family is a busy one - and the kitchen is the preferred hang-out space - indestructible countertops were a must. We recommended quartz countertops since they are practically indestructible while looking every bit as luxurious as their more porous, higher-maintenance granite counterparts. It took her no time at all to decide on Cambria Quartz's Berwyn countertops, which are gray and white with a tight weave pattern - a perfect complement to her cabinet colors.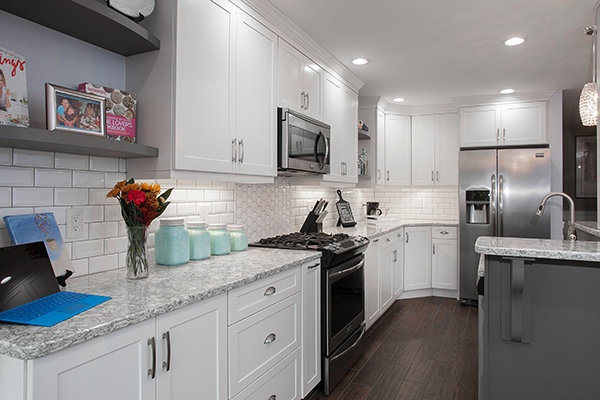 Nevertheless, all those upscale, luxury finishes - in a monochromatic scale - can wind up looking boring or flat if you're not careful. Texture is the key to creating depth and visual interest.
We created texture in this NJ kitchen by:
Using timeless subway tile patterns with 3-D effect, enhanced by a geometrical section of honeycomb-style, hexagonal accent tiles behind the stovetop.
Installing ceramic tile planks (7" x 20") in distressed Gray. These floor tiles are unbelievably similar to real wood planks, including textured "wood grain" patterns. A distressed finish always provides textural appeal.
Floating shelves, installed between upper cabinet banks and painted the same Suede Gray as the island - add textural change, as well as color contrast.
The beautiful light fixtures, suspended over the island, also have a very textured look that draws the eye.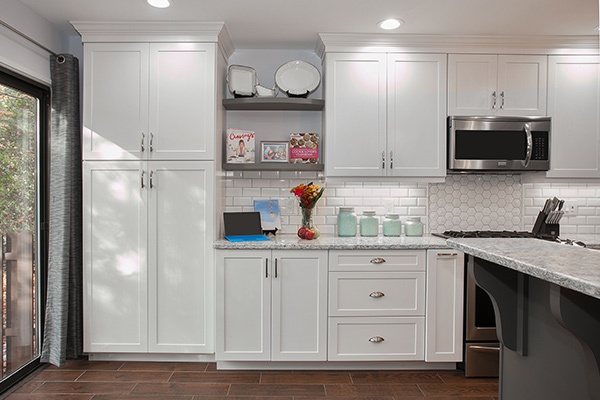 Upon completion of her dream kitchen, our client remarked:
"Before moving forward with my kitchen renovation, I was extremely nervous. You hear so many horror stories about unprofessional vendors, contractors who cut corners, extended timelines, etc. Plus, how well could someone else see the vision I had for the new open concept space? Kitchen Magic exceeded my expectations in every way!"