Have you seen the movie, "Blast From the Past," starring Brendan Fraser? If not, put it in the Netflix Queue because it's awesome. But, if we were making our own version of the flick, we'd title it "Brass From the Past," and the minute Fraser's character emerged from the bomb shelter, he would have taken one look at the post-80's brass cabinet hardware and gone screaming back underground - never mind the benefits of sunshine and sky, desegregation and the lovely Alicia Silverstone...
And, just so you know, that outdated brass hardware can be a major turnoff for future homebuyers, many of whom are looking for turnkey properties.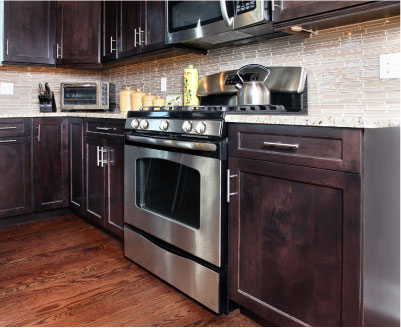 Don't Go Underground - Update Your Brass to Hardware With Class
Here's the thing, that shiny brass hardware (or the grimy, black-goo encrusted hardware) that you've ignored on your cabinetry for years has got to go. We have entered the 21st century and everything about those brass fixtures screams, "Soooo three decades ago!" So, ditch the brass and switch out your hardware for something a little more - well - stylish.
(Hint: If you still have brass hardware lurking around your kitchen and bathroom cabinets, there's a good chance old and outdated cabinetry is lurking beneath the hardware. This might be a great opportunity to reface or replace your cabinets. We're just sayin'...)
Here are some of your cabinet hardware options for when you're ready to join the rest of us here in 2014!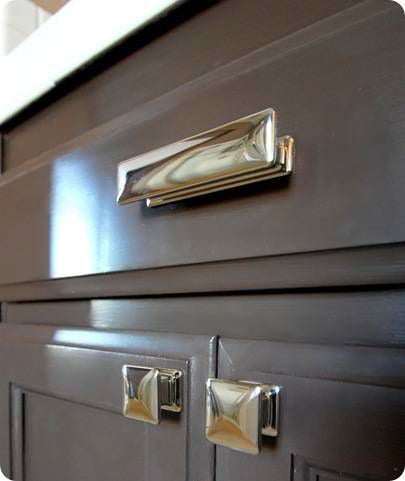 Sleek and Stylish
Right now, there's a distinct appeal to sleek and stylish hardware becausecontemporary kitchen designs are all the rage. Stainless steel bar pulls come to mind. Their long, sleek shape will complement the clean lines of modern cabinet styles.
Clever Contrasts
If you have a traditional or transitional kitchen, you may want your cabinet knobs and drawer pulls to contrast with some of your other design elements. For example, an oil rubbed bronze pull may play off of the darker flecks in your natural stone countertops, which helps to tie your design together.
Stick With a Theme
With so many hardware options to choose from, you can really get creative and let your hardware help to enhance your theme. An oil-rubbed bronze rope pull may complement wrought-iron and natural wood fixtures in a medieval kitchen design or colorfully decorated knobs can tie in some of the colors in your quartz countertops.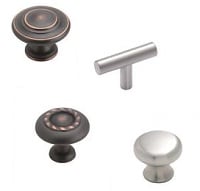 Go Traditionally Elegant
If a kitchen is all about tradition for you, we understand why it's been tough to ditch your original cabinets and hardware. However, you'll be amazed at what a difference a little updating can do. You can go understated elegant with simple, brushed nickel knobs, or you can add a little more visual interest using antique detailed knobs and pulls.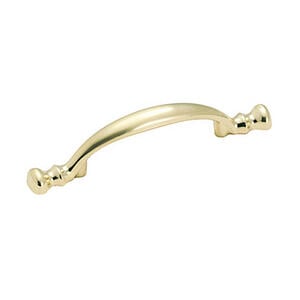 Think Universally
If you're an empty nester, and plan to age in place, there's a good chance your brass hardware isn't accessible. When you're ready to make some accessible design changes in your home, we recommend switching your cabinet and drawer hardware for longer bar pulls and/or D-shaped pulls, which don't require as much of a grip to work well.
Are you feeling a little guilty about your own Brass From the Past? No worries. We don't judge here at Kitchen Magic. Rather, we can't wait to sit down with you to see what's worth keeping and what's worth refacing or replacing to make your kitchen as stylish and functional as it can be.
Contact us to schedule an appointment or give us a call. (800) 237-0799.