It seems everyone has their own take on what it means to have some Southern design in a space, but one thing's for sure: a Southern kitchen is one that's filled with food, love and family.
This famous quote hits the nail right on the head,
A Southern kitchen. The place where…bacon's sizzlin', grits are simmerin', fried chicken's poppin', green beans are boilin', corbread's bakin', okra's steamin', collards are stewin', banana pudding's settin', and pecan pie's coolin' on the windowsill.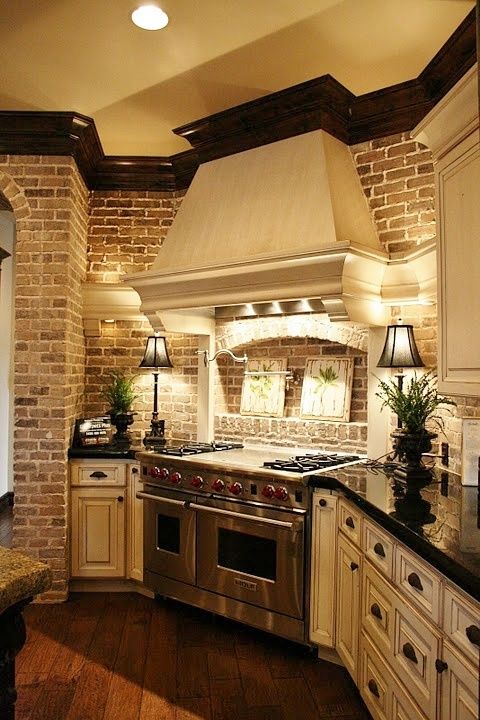 Photo from Pinterest.com
When you search the web for different kitchen styles however, you might notice that some styles use interchangeable adjectives. Southern style kitchens is no different. For example, several words you might come across include rustic, homey, vintage, farmhouse, etc.
From one image to the next, you notice how similar features and elements cross over. No matter which words you use, one thing's for sure: a Southern kitchen is one that's filled with food, love and family. Instead of worrying about taxonomy, we're going to focus on three different ways to bring warmth and comfort to your Southern style kitchen.
1. Vintage and distressed elements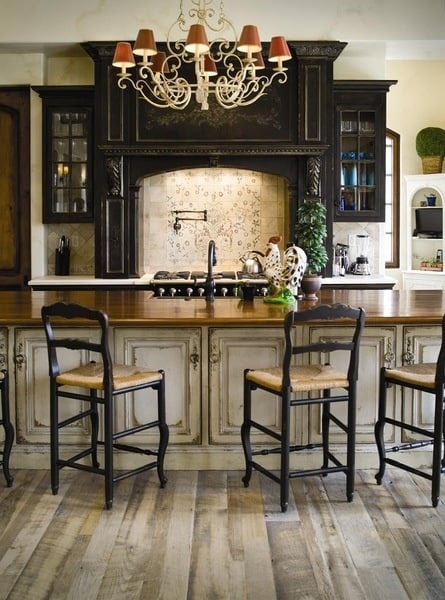 Photo from Pinterest.com
If you like to follow interior design trends, then you already know how popular colorful distressed furniture has become over this past year. While it's only become popular in the rest of the home recently, Southern kitchens have always had a bit of vintage style.
Whether it's a large, distressed kitchen table that you found and restored from an antique shop or some distressed white cabinets and flooring in the kitchen you see here, distressed pieces bring a country feel to any space.
Another easy way to bring some Southern feel to your kitchen is to install some decorative accessories like crown molding in warm light colors like Antique White with a Walnut Glaze. This will help give your kitchen a more traditional style and bring some vintage features into the space.
2. Farmhouse sink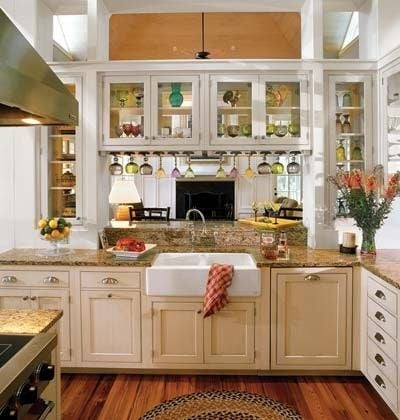 Photo from Pinterest.com
One of my favorite elements of many Southern kitchens is the farmhouse sink. Its oversized design with the overhanging lip just has a welcoming feel to it. In modern and even classic designs we see sinks that are integrated right into the countertop for a more streamlined style. But a farmhouse sink instantly becomes the focal point of any kitchen, drawing attention to something that can be both functional and beautiful.
3. Room for entertaining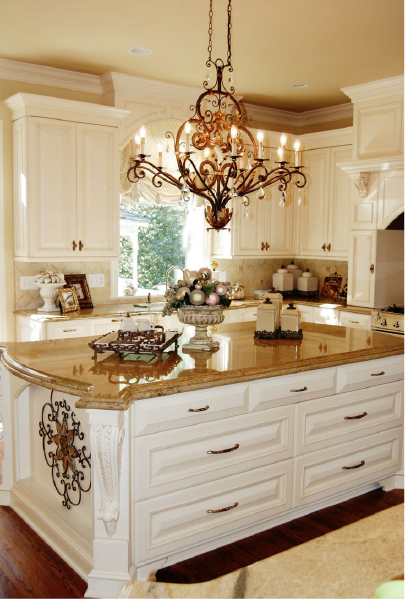 Photo from Pinterest.com
As I've already stated, the two main elements of a Southern kitchen are the family and the food. And when it comes to designing a Southern kitchen, plenty of space for the family to gather and adequate storage for the many meals to be cooked are very important considerations.
The kitchen is the meeting place for most families, and while some modern designs seem to have forgotten that this is the kitchen's main purpose, Southern styles have always kept ample room for full tummies. Think storage accessories that make room for all of your cooking materials and pantry items and a large island or peninsula where you can seat a crowd for dinner.