We love to trick people but, we promise, we're lovingly tricky. For example, have your heart set on beautiful, wood cabinetry? Take a look at these —and then, guess what? We reveal they're not wood at all but maintenance-free laminate instead.
Tricky, right? But tricky in a good way.
Hooked on Granite? These Corian Countertops Will Make you Think Twice
Today, the Kitchen Magic gnomes want to trick you again, only this time, they're demonstrating how much Corian can look like granite.
We understand our clients' fixation on granite countertops. From a kitchen design industry that has brainwashed us all into thinking it's all granite or bust, to the sheer beauty of natural stone, we get it. However, there's a lot you may not realize about granite:
First, it's not the most sustainable material in the kitchen design world. If sustainability or fair working conditions and wages are at all a concern for you, we recommend reading, Granite Secrets: The Lesser-Known Truth About Granite.
So, what are the alternatives to granite or marble when you love that natural stone look? Quartz and Corian, of course. We've compared the two in our post, Corian vs Cambria... so that's one place to start.
In the meantime, we want to show you two different Corian countertops that provide all the durable, sustainable and low-maintenance benefits of Corian but have the beautiful, natural stone look. You can also visit our Corian Private Collection page to see more examples of Corian slabs that mimic natural stone.
Check out Corian's Tumbleweed
Tumbleweed looks like a gorgeous sandstone slab got friendly with a durable granite slab and had a baby. The colors found in this Corian sample range from pale, creamy hues and rosy tones, and include dark flecks that mimic the look of natural mineral deposits too.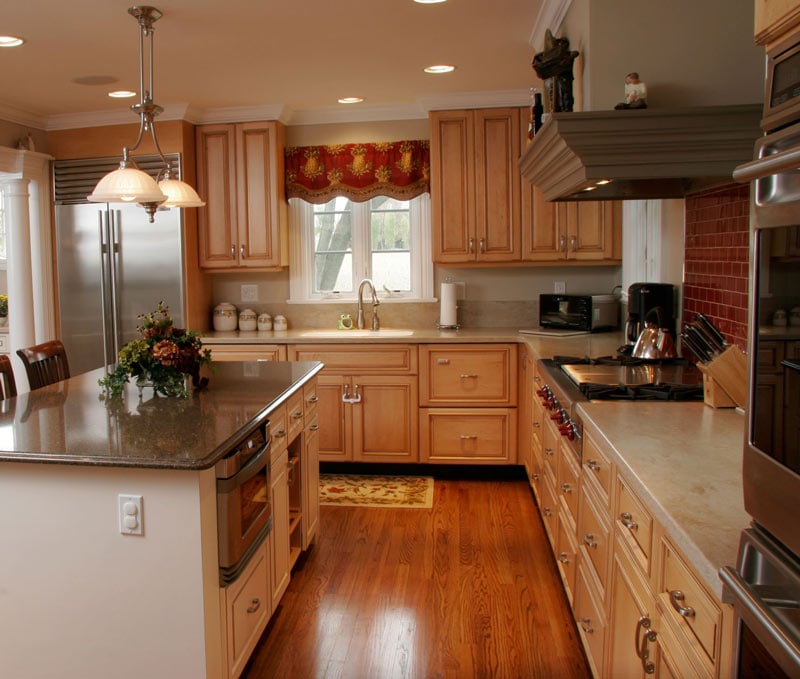 The result is a countertop that works with both light and dark accents. It will go just as well with traditional cabinets in Antique White as it will with Shaker or modern cabinet door styles in a dark finish or stain.
We recently remodeled a kitchen for clients who chose a medium, wood-stain for their cabinets and then washed them with a walnut glaze in order to pull out some of those aforementioned flecks. Notice how the homeowners also opted to add a contrasting paint color and darker Corian slab in Tumbleweed? That added visual contrast as well as a more dimensional color palette.
Choosing Corian in Tumbleweed is also a smart way to add some bright luster to a darker kitchen because it has a luminescent quality and the subtle, rosy tones add a cheerful energy as well.
Corian in Rain Cloud is Another Granite-Esque Option
Do you love the soft, graceful look of marble but know better than to install a soft stone countertop in the kitchen? Take a peek into this Kitchen Magic remodel, where homeowners fell in love with the subtle patterns and striations in Corian's Rain Cloud slab.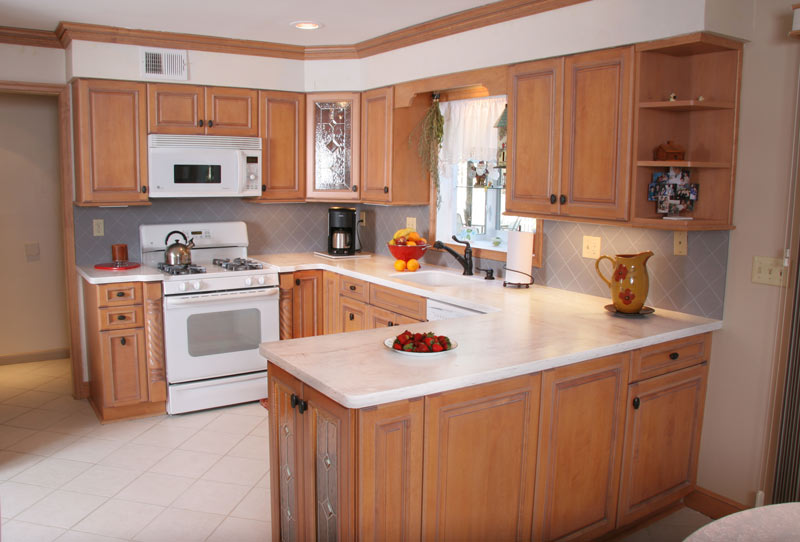 These homeowners wanted the look of natural wood cabinets, but worried their one-window, U-Shaped kitchen would look too dark or blocked in with a darker countertop selection. By choosing Rain Cloud, they could select a medium cabinet finish, a demure, dove-grey backsplash and darker, oil rubbed bronze finishes - without giving up the lighter, more open kitchen feel they desired.
Get the Natural Stone Look For Less - and More
With Corian's varied options, you get the natural stone look you're wanting, for a better price - and you gain more durability, sustainability and longevity. Visit Kitchen Magic to see it all in person.