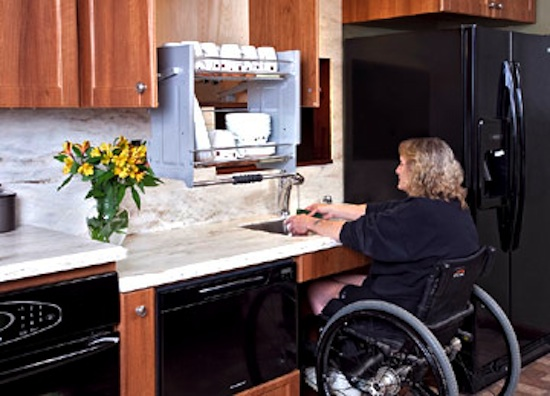 For people with mobility issues, an ordinary kitchen can be an impassible minefield. And as baby boomers age, more and more of us will want to stay in our homes even as our ability to get around declines.
The kitchen can be a better place to work for those with accessibility issues. Here are some easy ways to remodel your kitchen to make life easier, and kitchen chores safer, efficient and more pleasant.
1. Lower wall and floor cabinets.
The standard kitchen is designed for a person of average height while standing. Lower cabinets accommodate the wheelchair bound or those who have trouble standing for long periods.
2. Pull down shelves and lazy susans.
Make upper wall cabinets and corners of base cabinets usable, accessible storage.
3. Open space between a cooktop and sink.
This reduces the amount of reaching and stretching someone has to do and increases safety.
4. Easy-to-load dishwasher, refrigerator and oven.
By placing smaller units at a more convenient height, users can safely place and remove items for use.
5. Pull out cutting boards.
Make food preparation comfortable and easy.
Kitchen Magic works with homeowners to create completely functional, modified and stylish renovated kitchens. For more information you may also want to see our blog article entitled 3 Kitchen Remodeling Questions for Seniors or you may call Kitchen Magic at (855) 573-3223.