Don't believe a simple cabinet refacing upgrade can save your kitchen? Pshaw! We'll show you what's up!
These 10 miraculous kitchen updates, all designed and executed by Kitchen Magic, are living proof that an affordable kitchen refacing job is all you need to pull your kitchen out of a bygone era and into your contemporary reality.
Oooh and Aaaah: These Cabinet Refacing Jobs Will Make You Jealous!
Keep in mind that nothing was changed other than the cabinet faces. All we did was eliminate outdated or boring-to-them cabinet doors and replaced the cabinet faces with new ones. Easy-peasy!
1.Warm it up!
These white cabinets and sleek black countertops had a cool aesthetic but, alas, the mustard-hued paint didn't have the intended warming effect. In fact, it almost went to an unattractive puce! We refaced the cabinets with Classic Raised Panel doors in a Cordovan Cherry finish and now the kitchen is warm and inviting. Plus, the same paint finally looks as the owner originally intended.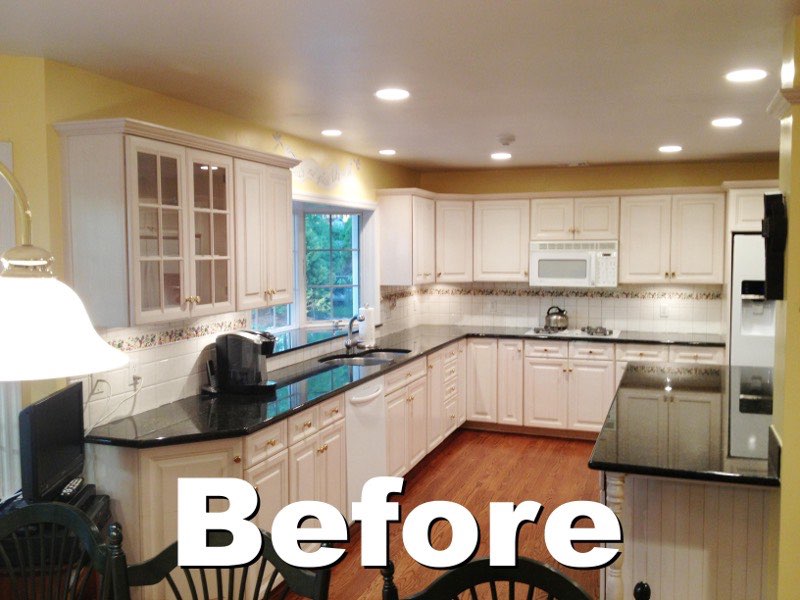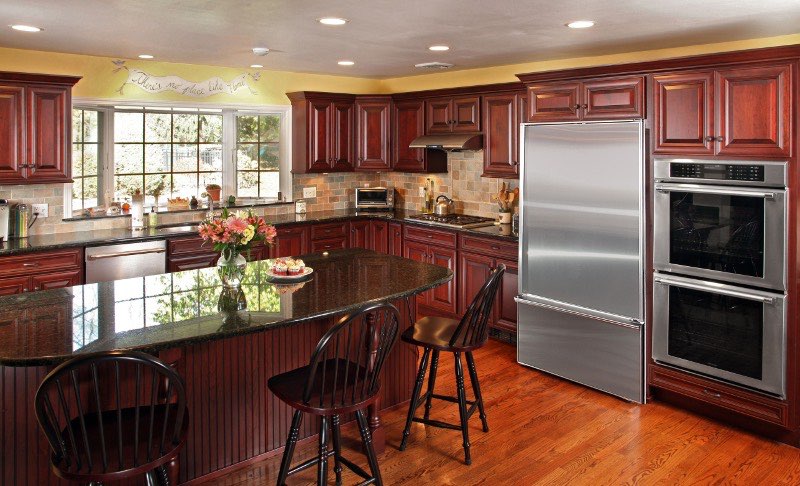 2. Luxury galore
The original oak, flat panel cabinet doors in this kitchen were decidedly modern, but they just didn't "work" with the beautiful tile work. The White-on-Warm look made the cabinets appear cheap. We switched them out for Euro Plain Doors in Maple, with modern bar-style pulls, and the effects are ultra-luxurious.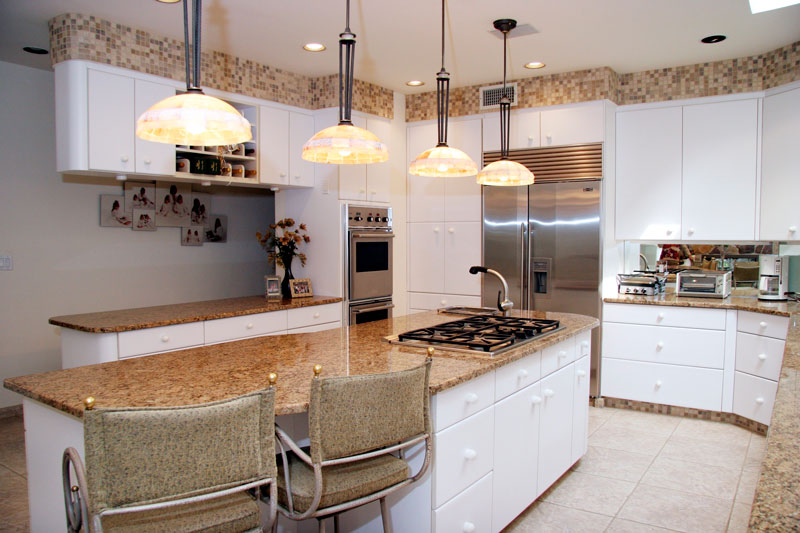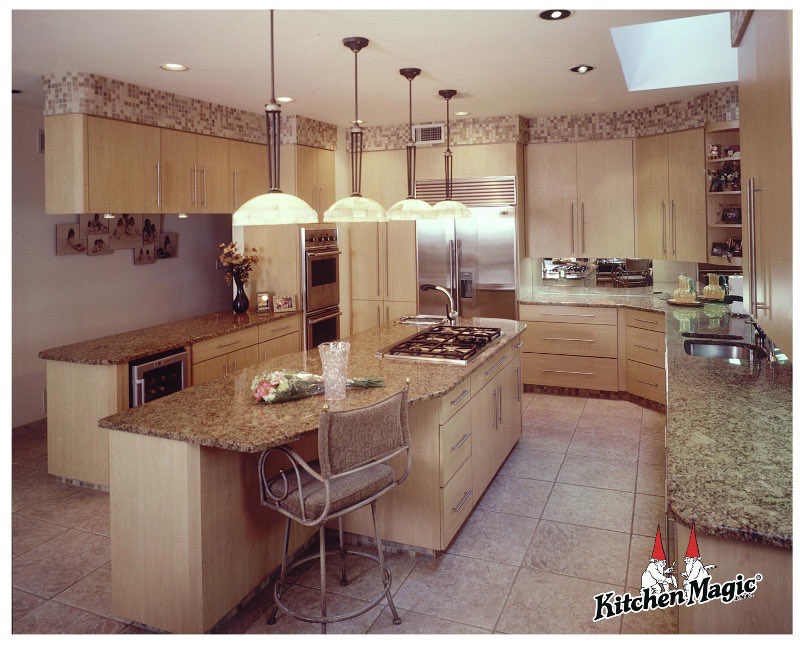 3. Earthbound anchors
This kitchen was lost in it's spacious all-white surroundings. We brought it back from oblivion by adding Classic Raised-Panel Doors in an After Washington Cherry glaze for a decidedly substantial and effect that provides a firm anchor for the open concept kitchen.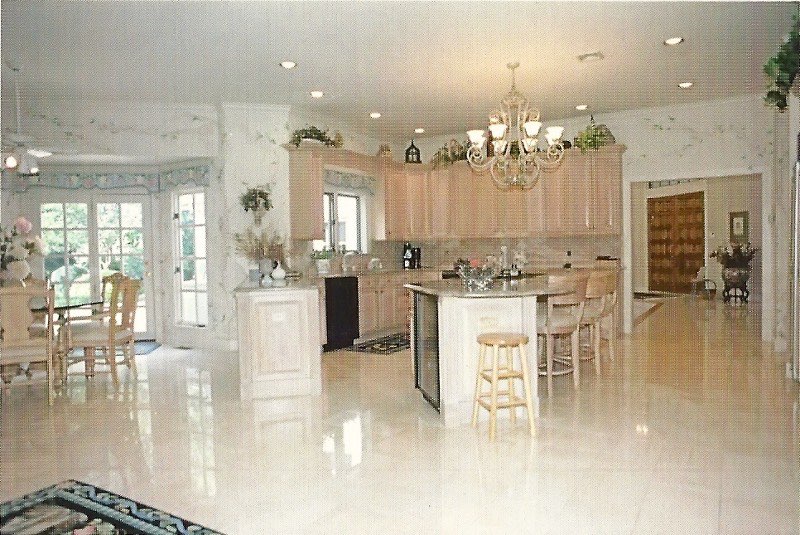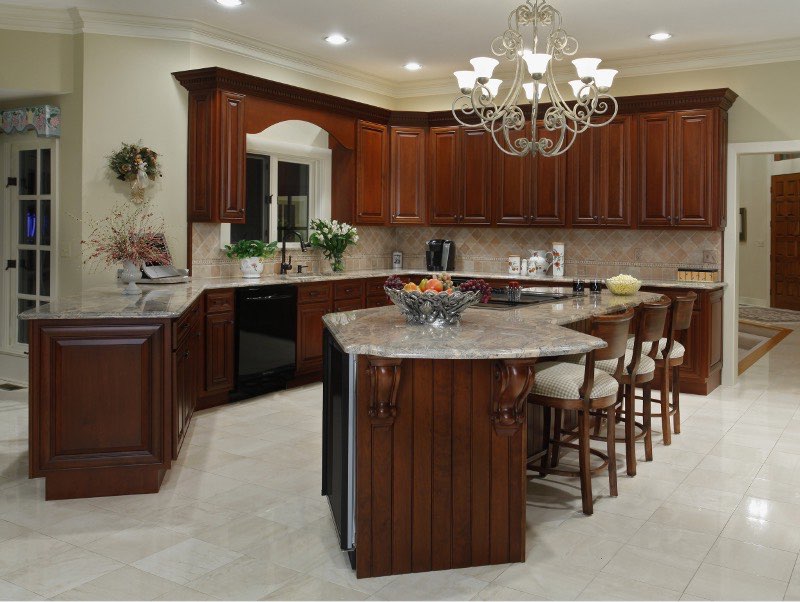 4. Slip into something transparent
Here is an example of how small changes can have a dramatic impact. For this refacing project, we switched out the truly vintage raised-panel doors, complete with knocker-style 70s door pulls - to a more sleek and modern version. The new cabinets are Vintage Raised Panel Doors with a Martin After Classic Cherry Dark Glaze. The pièces de résistance are the transparent etched glass door panels above the countertop, which give the entire installation a lighter and more elegant feel. Magnifique!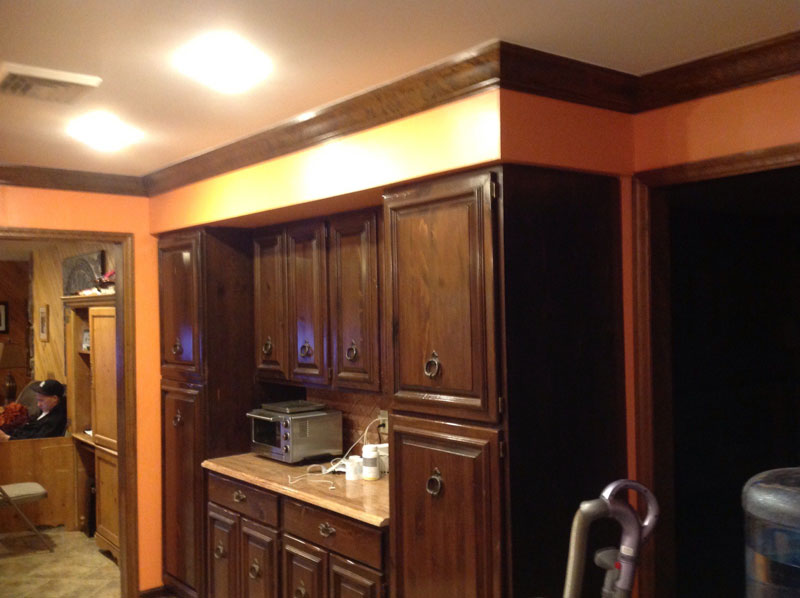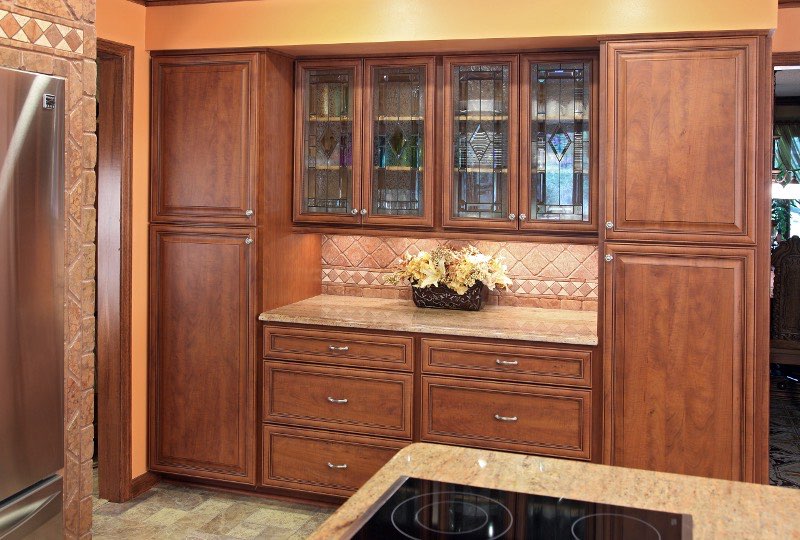 5. Contemporary to traditional
Yes! A singular cabinet refacing project can change the entire style of your kitchen, making your modern kitchen look traditional again. The addition of Breckenridge Cathedral Doors in Mucumeci After Antique White with a Walnut Glaze make this open kitchen space go from "Can't Touch This!" to "Come on in, get cozy and let's toast with a cuppa Chamomile tea!" Is that a fabulous transformation or what?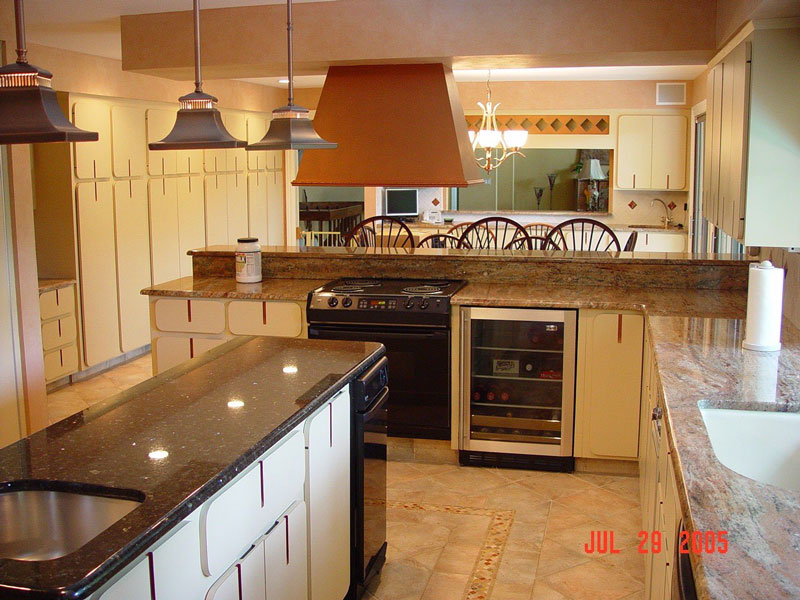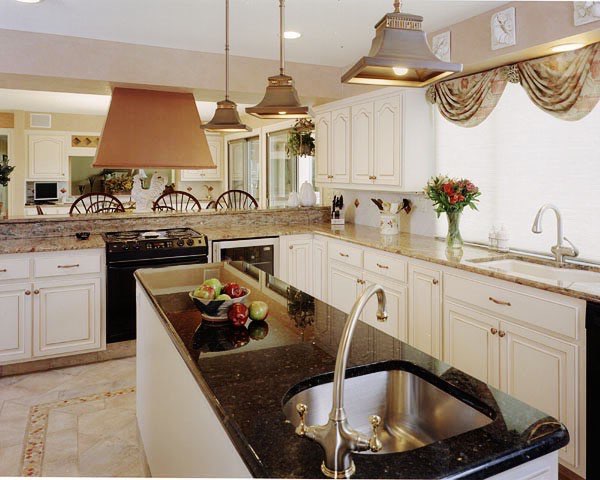 6. Cabinet refacing is like kitchen Botox
While we don't necessarily advocate the use of cosmetic enhancements, we feel this kitchen is sort of like the cabinet refacing equivalent of an anti-aging and energizing Botox injection. There was a drawer face missing and the finish on the otherwise attractive cabinets was just a little "blah." So, we updated the cabinets with real maple Prestige Square doors, a nice Harvest Gold finish with Caramal glaze and that kitchen shed a decade-and-a-half in no time flat.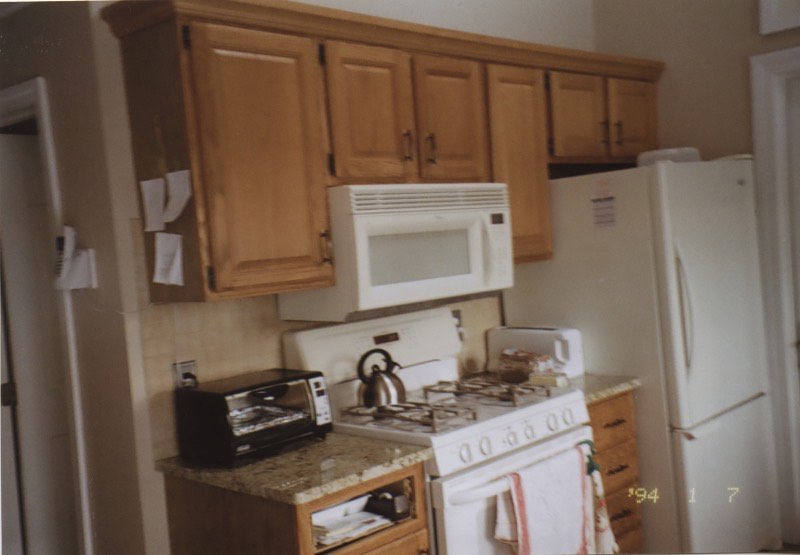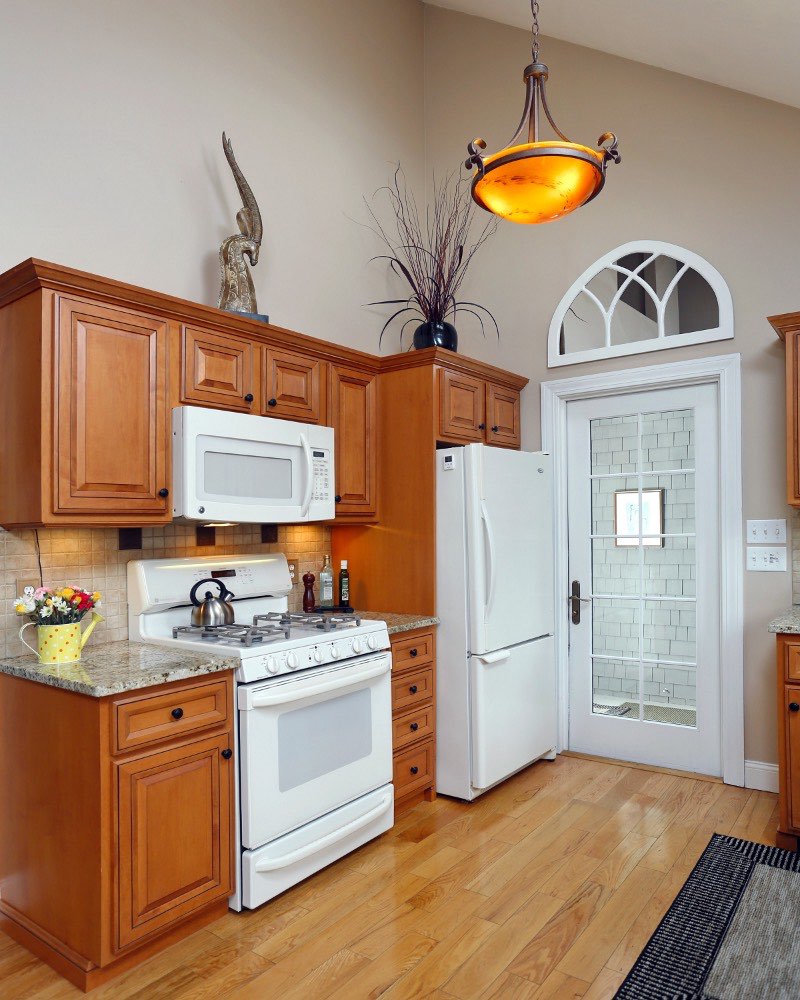 7. Make those 4.5 x 4.5 tiles relevant again
New tile work is expensive and unnecessary if you're smart about your kitchen remodeling choices. By replacing late 80's oak cabinets with Prestige Square cabinet doors in a warm and bright Cherry finish - all of a sudden outdated tile work becomes relevant again. The kitchen went from Family Ties to Modern Family in just a couple of days.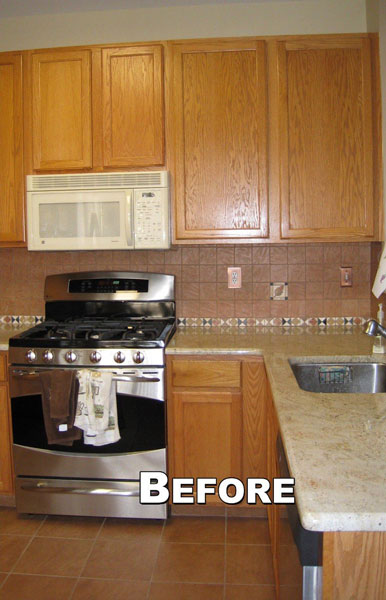 8. Lighten up!
Disclaimer: Oops! We admit it; we forgot to take a "Before" picture until the project was in progress. But, take our word for it when we tell you that the former cabinets, mixed with that earthy wall color, made the kitchen seem dimmer and dingier than it really was. Light is important in a kitchen. Well-lit spaces feel bigger, cleaner and more cheerful. While this kitchen had access to plenty of natural light, the overall effect was still gloomy. To fix that, we installed Prestige Square cabinet doors and Prestige Plain drawer fronts in Fashin Grey. The mix of cabinet door and drawer styles is perfect for this contemporary transitional kitchen. Another bonus: the cabinet color brought out the warmer, rosy tones in the wall color. As you can see, the overall effect is much brighter.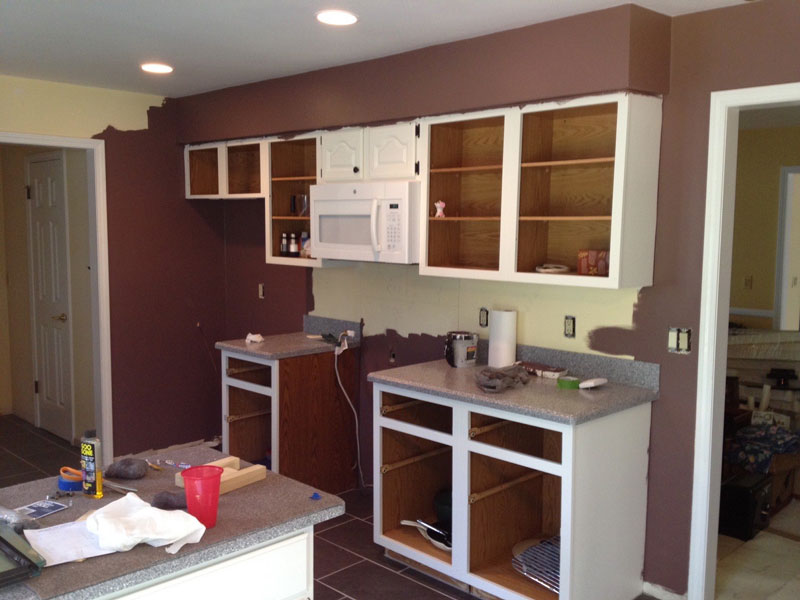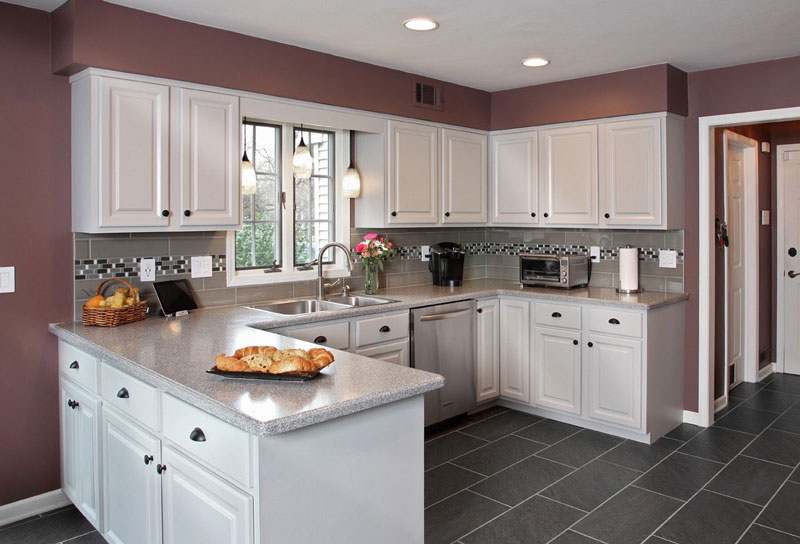 9. Get rid of those empty calories
Black-and-White kitchen motifs are classic, but when combined with a mish-mash of accents, it results in a big fat style mess, laden with empty calories. Blech! We decided to pare things down using Classic Raised Panel doors, which provide plenty of visual interest in Cordovan Cherry. Then we finished them with a Sable glaze for added richness and depth. Now you have the eye candy you're looking for without any empty calories.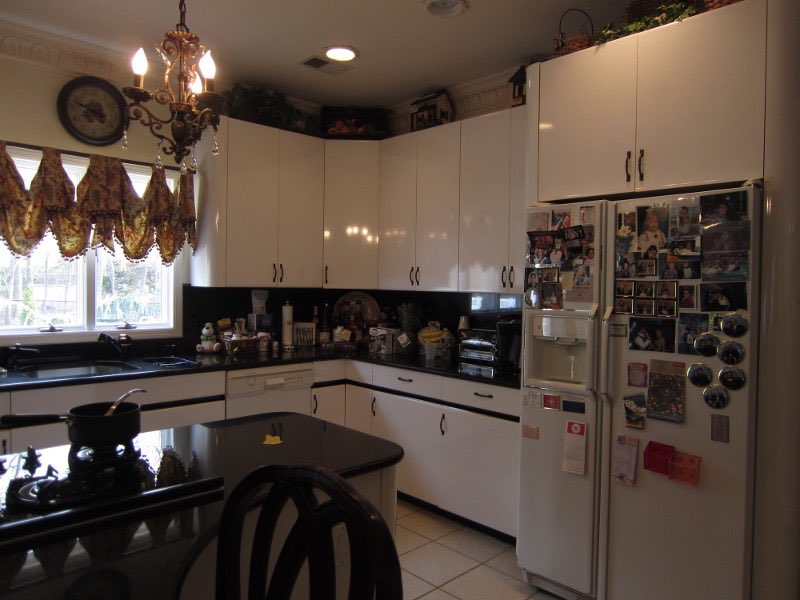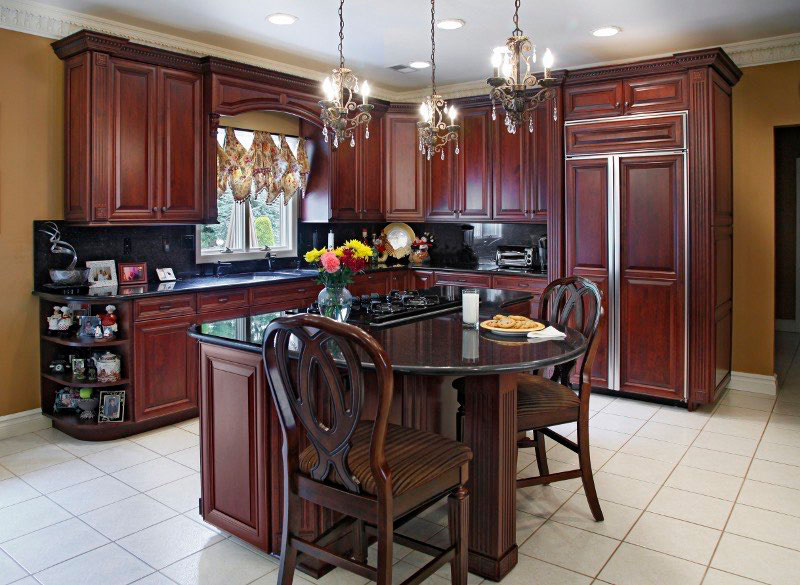 10. Ultra-stylized to Rockin' Neutral
A stylized kitchen can be great, but often ends up overstaying its welcome. That's why these owners were ready to ditch the green and slip into something a little more comfortable and neutral, like Breckenridge Square cabinets in Santangelo After Antique White with a Walnut Glaze.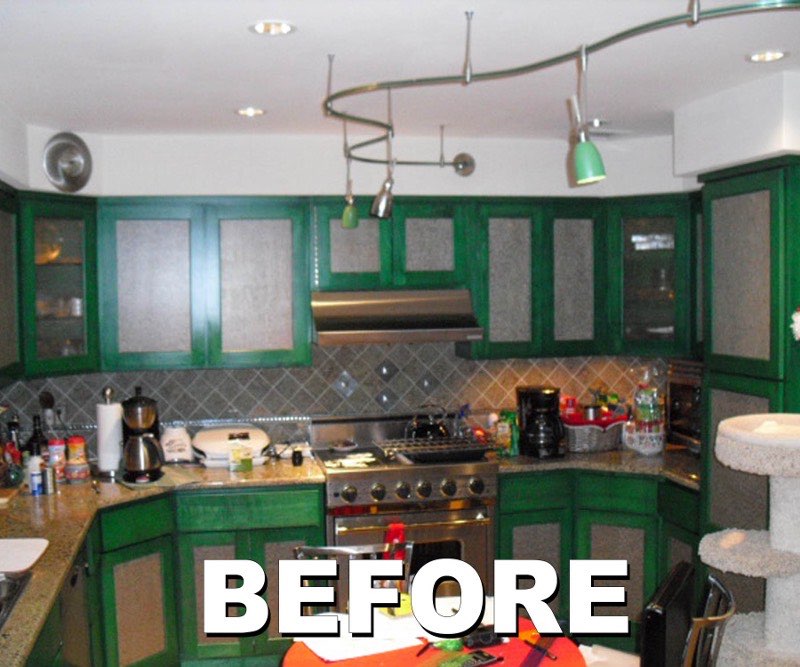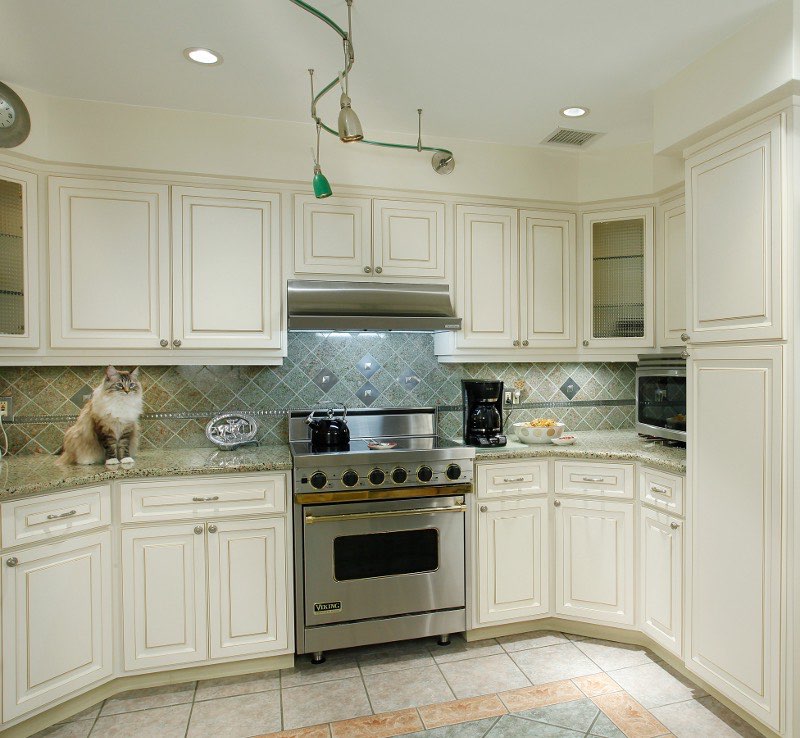 Did these 10 miraculous kitchen transformations make you green with envy? Then contact Kitchen Magic so we can come over for an on-site consultation and cabinet refacing estimate.