Homeowners are often caught off guard when they learn just how many moving parts and decisions there are when it comes to kitchen remodeling. It can feel endlessly overwhelming, and the process of making all those choices isn't always fun, especially when it comes to how and where to allocate money to different parts of your investment.
You're probably wondering, where can I save money on my remodel? Which parts should I spend more on? These nuances can make or break a kitchen remodel, because at the end of the day, the highest priority is ensuring you get the kitchen you've been dreaming up.
Still, these can be tough questions to answer. Don't worry, you don't have to figure all of this out on your own. We're here to guide you, so that the decisions you make for your kitchen remodel reflect exactly what you want within the budget you've created for your unique situation. So, the answer to the question "Where should I splurge v. save in my kitchen remodel?" can best be answered like this: it depends on what's important to you. Let's jump right in!
How do I know where to spend more?
Deciding where to invest a higher dollar amount in certain aspects of your remodel depends on what's most important to you and your family. A common misconception is that you must spend a lot more to get the longevity and high quality you desire. This may be true in certain scenarios when purchasing a product, but your kitchen renovation doesn't necessarily follow the same rules.
First, think about how you use your kitchen on a day-to-day basis. Which aspects of your current kitchen are the most frustrating for you? What has been on your wish list since you began thinking about remodeling your space? Let's take a look at a few examples of where you might spend more (or less) in different areas of your kitchen remodel.
Countertops
Countertops have some of the widest ranging costs, as it is dependent on the type of surface you choose. For example, in some cases quartz might be several times the cost of a beautiful, durable laminate option.
If you desire the look of a high-end stone countertop but are not comfortable with the price tag that goes along with it, be sure to ask about other options that will still give you what you want aesthetically without sacrificing the quality.
HPL (High Pressure Laminate) countertops are now, like most composite materials, state of the art from both an aesthetic and durability standpoint. These surfaces have evolved over the years and are often indistinguishable in appearance from real stone. This type of countertop, with proper care, can last for decades and for a fraction of the cost of stone. And the good news is, if you ultimately still want granite or quartz down the road, but you don't have it in the budget right now, laminate or solid surface (Corian) countertops will provide you with a reliable, designer look until you're ready for stone.
Whether or not to splurge on countertops, like every decision, is simply a matter of personal preference and budget. If you are unwavering in your desire for a stone countertop, that, of course is completely up to you and it is simply a matter of planning that into your budget!
Cabinetry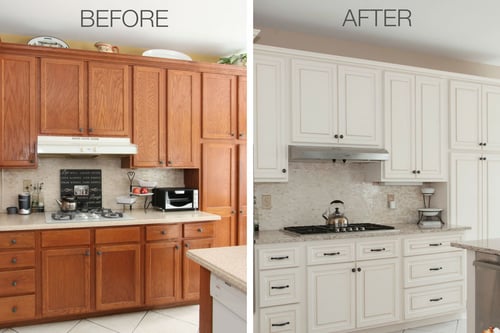 There are multiple solutions for this essential part of your renovation, too. You can opt to reface, completely replace, paint them, refinish them, or replace only the doors and drawer fronts.
Bear in mind, if you choose any option other than cabinet replacement, the footprint of your kitchen will not be changeable. Give some thought to whether or not you are satisfied with the current layout of your space when you choose one of the less disruptive, more budget friendly options. With any of these options, there are thousands of styles, colors, designs and accessories to choose from to make your kitchen remodel feel fresh and new.
Another potential aspect of a project that could affect your budget is this: say you planned your budget for custom built cabinets and stone countertops that you really wanted. You may decide that although you didn't have a backsplash before, you fell in love with a beautiful white tile backsplash. Now, you want the same thing in your space. You still have some of your investment to spare, but not a ton. Backsplash options range in price by the type of material, the intricacy of the design, and the amount of real estate up your wall that you want to cover with the material. There are many ways to get a high end look at a reasonable price.
If you are looking to save some money on backsplash, you'd probably opt more toward a simple ceramic subway tile and get a beautiful look. If you want to add some flair and character in your space, you might elect to go with an "exposed brick" look. If you decide to splurge a bit more, glass or marble will be a higher price but may give you the extra sparkle you really want.
So, what's next for my kitchen renovation?
Here's what we recommend to make the process of budgeting and planning easy: Start with creating a reasonable budget range. How much are you willing and able to spend on your remodel? An exact dollar amount is impossible to pin down until you have consulted with an expert, so think in terms of the range you are comfortable with.
Next, choose the part of your remodel that is most important and that you are completely firm on.
Then, discuss your must-haves with your design consultant, look at options and costs that are still in line with the design and feel you want for your space.
Don't worry, there are always ways to get a higher end look without going over budget. You might be pleasantly surprised at how many choices you have! One thing is certain-you don't have to sacrifice design and style just because you may have a more modest budget.
For decades, Kitchen Magic has brought designer looks to over 60,000 kitchens with budget and lifestyle in mind. Our design focused consultants prioritize your unique style and desires when helping you choose the right products for your kitchen remodel. Call Kitchen Magic today at (866) 525-0012 to begin the journey toward your beautiful, affordable dream kitchen.
.