We've all been there... you open your drawer (or try to), and it's stuck on something; a set of tongs, a serving spoon, a pack of batteries, you know the deal. You're frustrated, and you spend the next half hour reorganizing the drawer and throwing things out, just for the same thing to happen again in a month or two.
Luckily, your kitchen doesn't have to be frustratingly disorganized, and getting overwhelmed when you think about what's inside your cabinets should not be a daily problem. With an expert kitchen remodel, you can add a few clever storage solutions that will simplify mess-fighting and end this frustration.
How can you solve your problem?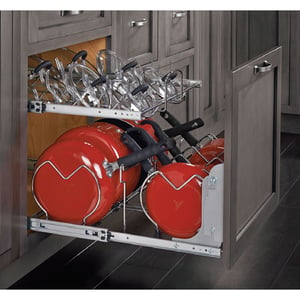 There's no such thing as too much storage space. Kitchen Magic offers a multitude of storage solutions to make your busy life less stressful and better organized. When our things are in order, we always feel better. So, as you think about your kitchen remodel, consider these life-improving items to give yourself back some time and peace of mind.
Storage solutions: The Goal
Get rid of unwanted cabinet clutter
Prevent potential injuries
Facilitate your food preparation

Make your kitchen a cooking oasis with easy-to-find organizational solutions and spend less time preparing meals. Working all day, running errands, picking the kids up from school, and running them around town for extracurricular activities are not exactly motivators for that meal you wanted to make for dinner. And coming home to a cluttered, disorganized space likely will not improve your already chaotic day.
How can I make more storage space in my home?
We have a variety of storage solutions that will make your life easier, more organized, and more convenient:
1. Cabinet organizers
Whether it is a hidden Lazy Susan, adjustable shelving, or blind corner space optimizers, you can make the inside of your cabinets functional and potentially conserve space for more items.
2. Pull-out cabinet organizers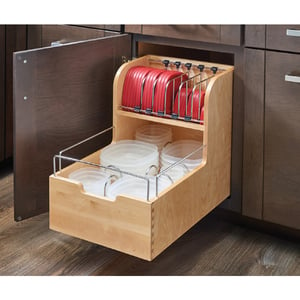 Tupperware and storage containers are a necessity... no one wants to throw out leftovers, and that beef stew was way too delicious to go to waste. But the truth of the matter is, there's really no effective way to arrange your containers.
With these types of organizational systems, problems like these are nonexistent. Roll-out drawers will give you easy access to your containers, pots, and pans, and your cooking utensils can come off the counter. And you can hide the look and smell that comes from your trash can with a soft-close waste bin.
3. Drawer organization
Many of us struggle to find ways to sort and organize our drawer space in this room of our home. There are two types of people: those who have junk drawers, and those who say they "don't."
If you are anything like us, you would love ways to make these spaces feel less overwhelming. Some of those options are:
Drawer peg systems to make plate and bowl storage sturdy and easy to access

Soft closing drawer systems for a gentle, slam-free close

Cutlery/utility inserts to declutter your silverware and/or tool drawers
Spice organizers (this one's for all you alphabetizers, you know who you are)
K-cup tray inserts to get those metal spinning K-cup holders off your countertops
Tip-out trays beneath your sink to store dish sponges, gloves, etc.
Other benefits of kitchen storage solutions
While the organization is great and easily accessing your utensils, pots, pans, and spices is also important, there are quite a few benefits to adding these items to your kitchen remodel.
Getting as many items off the countertop as possible has become a priority for many of our customers, giving more space in the kitchen to prep meals, wash dishes, etc. This is especially important in smaller kitchens with less counter space, as selecting the right element can make a big difference.
These items can also make putting groceries away less of a hassle, saving time and energy. Believe it or not, having your kitchen items in more convenient locations can reduce frustration, and make navigating your space much simpler.


LEAN is a huge resource here at our Kitchen Magic facility, and storage solutions allow us to bring that same ideology to your home. This principle is defined as "a set of practices to improve efficiency and effectiveness by eliminating waste." The idea behind this is that you maximize value and minimize different types of waste, making daily activities safer and easier.
Let's look at this in reference to a home kitchen: If you're cooking dinner, and your pots and pans, cooking utensils, or measuring cups are a few cabinets away from your stove, you end up spending your time and energy going back and forth between various parts of your space to get what you need. While this may seem like no big deal, you would be surprised at how much less frustrating and more efficient cooking a meal is with kitchen storage accessories, especially during a time like the holidays. Giving your kitchen space a flow that makes sense will make it a more peaceful room in your home.
Enjoy your kitchen remodel even more with a range of Kitchen Magic's storage solutions!

While these items are optional parts of a kitchen renovation, consider the ease that could be part of your daily life when choosing your storage accessories. Feel free to give us a call and discuss what storage options would most effectively fit your home with our kitchen design consultant. Using their expertise, they will recommend ways to improve functionality in areas of frustration throughout your cooking area.
Reach our expert team at (866) 525-0012 for a Free Design Consult with one of our specialists and begin your journey toward a beautiful, magical new kitchen!