Waiting for a few kitchen decor trends to return? Don't hold your breath. Design research shows that fads always reveal age. When a home trend reemerges, it appears different and unique to its era. So, if your kitchen has been frozen in time since you were rocking out to pop songs, here are seven solutions to seven outdated kitchen looks.
The 80's called, they want their kitchen back
It's hard to believe the neon age was a generation ago. Busy textures and fun-loving, colorful styles of the past are being superseded by neutral hues and simpler designs. This may be a matter of maturing tastes and a desire for simplicity in our homes, surroundings, and life.
1. Quirky appliances no more

If your kitchen is equipped with almond, avocado or textured appliances still in good working condition (thus, you disdain the idea of tossing it into a landfill), read on.

Instead, bring your kitchen into the future with gorgeous cabinet refacing and coordinating front panels to conceal dated appliances while transforming your home. Fully integrated appliances help to create a seamless look that blends in with your cabinetry.
2. Walls and borders that snore
Nothing screams the 80s more than sponge-painted walls and borders. Ditto for outdated wallpaper trims. Instead, update the look of any space with fresh, new painted color palettes such as the 2022 color of the year Green Fog from Sherwin Williams.

3. Oak and pine cabinets galore
Pining for a less busy species of wood for your cabinets? That must mean your kitchen is cloaked in heavy oak cabinets, knotty pine or clunky cathedral looks. Fret no more, you can free yourself from the 80s with cabinet refacing.

Refacing is a transformational solution that works with your existing cabinet boxes. Eighty percent of the materials in a kitchen are cabinet doors and drawers. So, homeowners are elated to see brighter hues when dark, foreboding cabinets are given new life. Laminating cabinet boxes and replacing doors and drawers can significantly update a room.
4. Antiquated hardware of yore
If your kitchen cabinetry is still sporting brass, antiqued, or exposed hinge hardware, it's time to seek sleek new hardware options.

At Kitchen Magic, our knob & pull gallery is stocked with stylish hardware solutions, from stainless steel and brushed nickel to our signature new hardware collection, compiled through collaboration by Kitchen Magic's in-house designer and Amerock. Also in vogue are gunmetal or black pulls and knobs making their way onto the kitchen scene. The current gold-toned finishes are seen as the jewelry to your new kitchen design.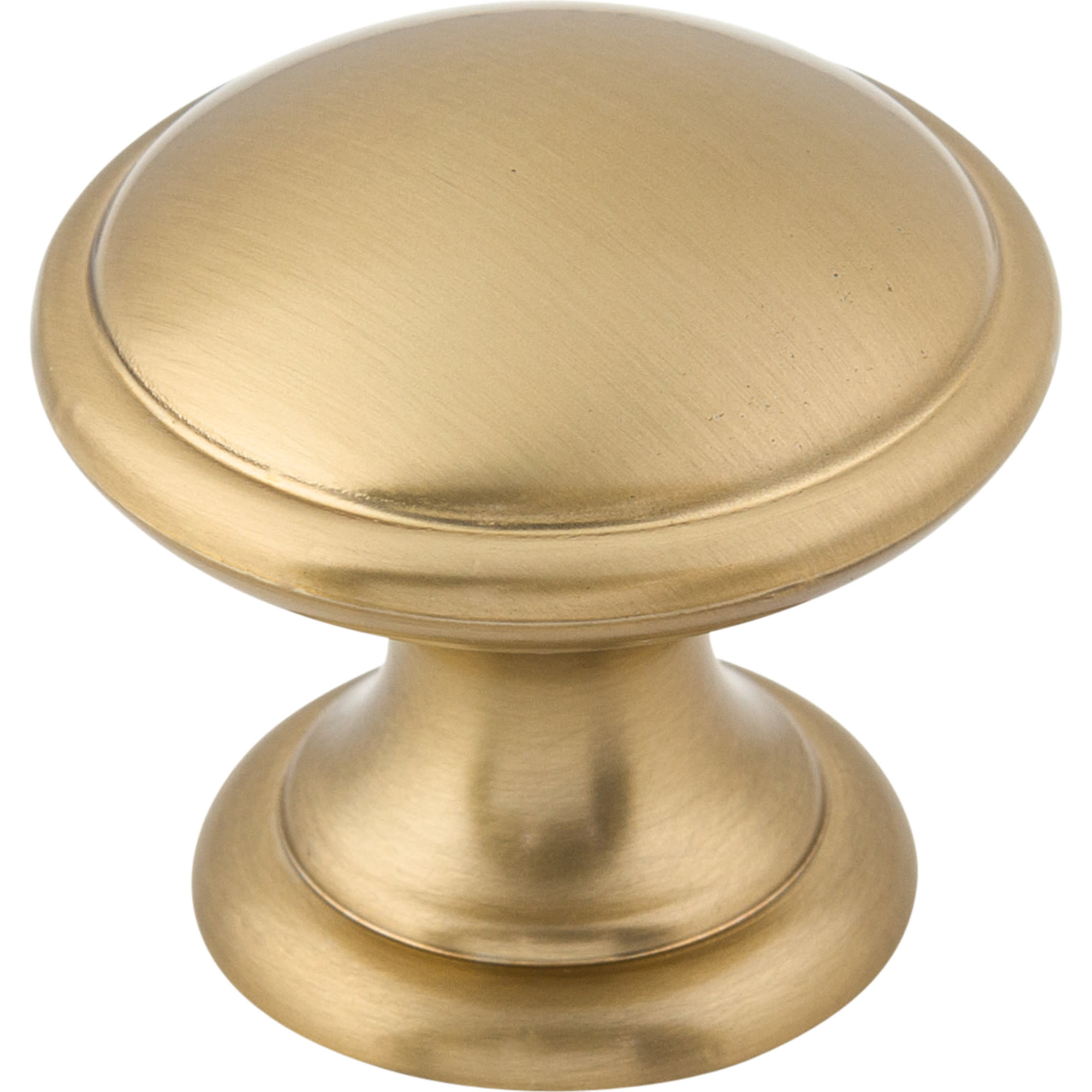 5. Fussy geometric floors to abhor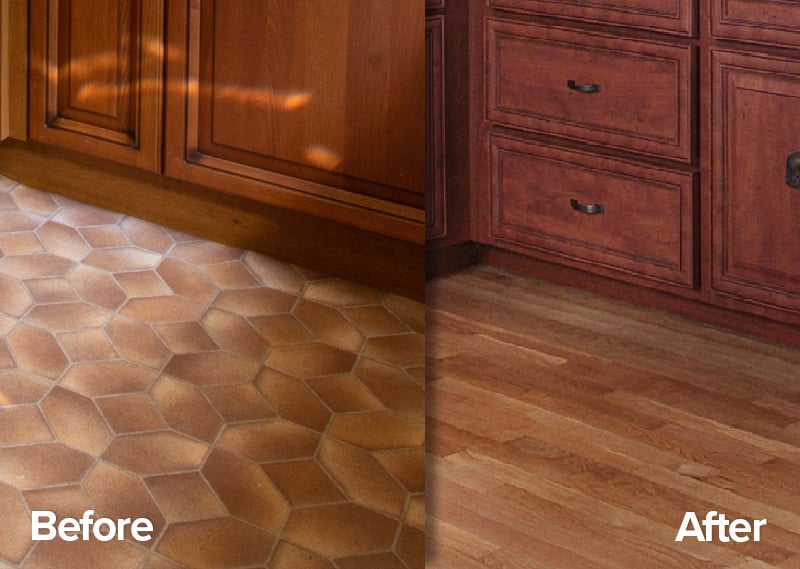 Does your floor sport geometric patterns, faux brick or other complicated designs from the past. While linoleum was the groundbreaking material of its day, flooring materials are much more advanced today.

Instead, replace complex flooring with gorgeous new wide vinyl plank flooring. Plank flooring comes in a plethora of finishes, but remember the less complicated the flooring, the larger your kitchen will look.
6. Don't pout over grout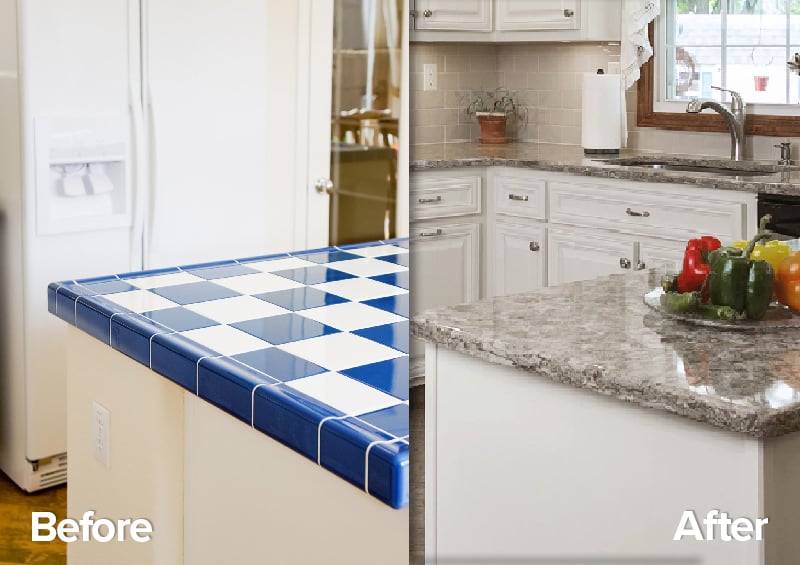 Replace tile with quartz to help your kitchen shine. Your kitchen may truly stuck in the eighties (sorry) if you still have hard-to-clean tile and grout countertops. It doesn't have to take a pandemic to tell us that a food prep area and grout do not make a hygienic marriage. Daily cleaning will break down the sealant, leaving grout to absorb stains and germs. Instead consider durable and anti-microbial quartz countertops.
7. Not a fan of fans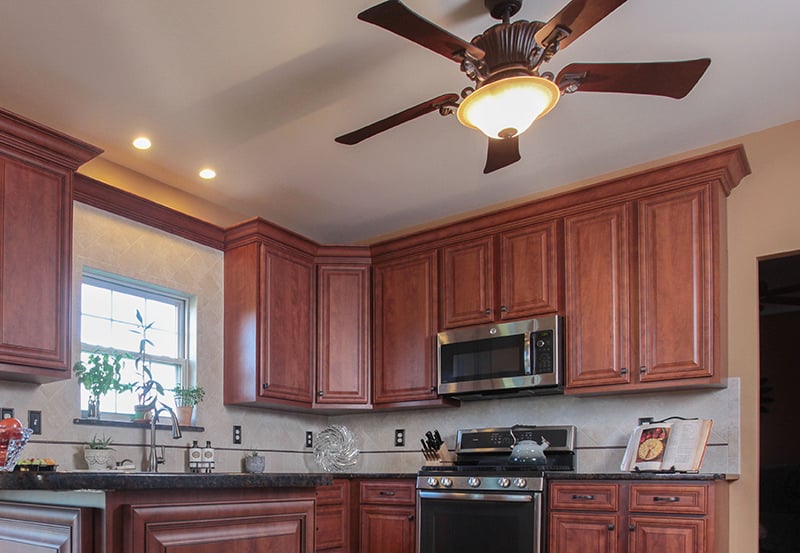 Try swapping out large, bulky old ceiling fans with sleek pendant designs. Pendant lights, lanterns, and clear glass bring so much more to the kitchen in terms of design. While a fan serves as a functional item, lowering the temperature in a heated kitchen, it can sometimes seem intrusive to the design. We say, give some thought to other options to bring fresh air in, like exhaust fans and windows.
While you're up there, popcorn ceilings, also known as acoustic or stipple ceilings, were popular in the 1980s to cover the damage. Today, homeowners prefer to cover popcorn ceilings with sheetrock versus tedious, dusty removal.
Bring your kitchen into the 21st century
We'd love to hear your 80s design dilemmas and our team is here to help you transform your current kitchen into a sleek, modern design that matches your current lifestyle and needs. Schedule a free in-home design consultation and quote with Kitchen Magic today!