From the start of the 20th century, kitchen design has celebrated a highly diverse palette. A glimpse through the decades reveals a multitude of hues that were once vogue in cabinetry, décor and appliances. Kitchens in the '30s and '40s often featured a bold and expressive use of color including black, red and green. The '50s were dominated by softer shades of blue, pink and yellow, including candy-colored cabinets, punctuated by matching appliances. In addition, during this time, cabinets were more likely composed of steel rather than wood.
Kitchen Design Celebrates a Colorful Past, Present and Future
Fast forward to the 1960s, when wood cabinetry, wood trim, and rustic textures reflected the migration to the suburbs. Remember the I Love Lucy episodes when Lucy and Ricky moved to the Connecticut countryside? Then, it was an era of knotty pine kitchens, exposed brick, stone, and cherry red accents in gingham.
From all-out 'retro' to the '80s and '90s, a time when dark walnut or piney wood grain cabinets had dark hammered knobs or pulls; some trends may never reemerge, while other looks remain ready to resurface with a fresh new take. The kitchen design experts at Kitchen Magic continue to see a resurgence of classic traditional blues, including colonial blue - is not a once in a blue moon choice, but now considered a kitchen remodeling staple.
Below, we've gathered some of our favorite remodeling projects where blue is incorporated into the design transformation and you can view more kitchen remodeling projects on our Inspiration Gallery.
A New Blue Tradition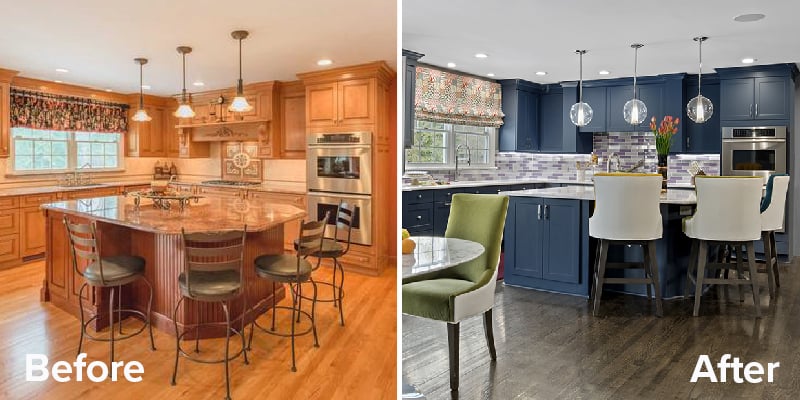 Featuring Statesman doors in Colonial Blue offset with gleaming bright countertops, this kitchen remodel features accents of lilac in the backsplash and multi-colored chairs chosen by the children of the home. The designer leveraged Kitchen Magic's signature refacing to breathe new life into a once monochromatic wood kitchen. Classic wood bar stools complement blue cabinets for a farmhouse motif.

Bicentennial Blue
PHOTO CREDIT: Christian Giannelli Photography, 202
This historic Philadelphia brownstone got a fresh lift when the homeowners sought a new take on a bicentennial look. Colonial Blue was selected for the lower cabinets, while Satin White was used for refacing the upper cabinetry. Weybourne countertops and a glass backsplash further the effect to visually expand the space.
Statement Blue
Adding blue was mandatory for this hybrid kitchen as it's the homeowner's favorite color. A custom kitchen island was created to replace the peninsula while existing cabinetry was refaced in Satin White Shaker style doors. Colonial Blue infuses the island with a classic, statement-worthy look.
Blue is the Jeans of Kitchen Design
Just like your favorite pair of blue jeans, blue fits almost every design style. If your kitchen is feeling blah, consider a few classic kitchen hues, including blue - a color that continues to rise on the popularity list. From light and gray blues to rich, dark navy hues, color certainly brings new life to kitchen remodeling projects.
When You're Ready to Infuse Blue
If you're ready to change how your kitchen looks and functions, our free design consultation is fun, informative and completely free! Just give us a call at 866-525-7999, or click here to schedule your free design consultation with Kitchen Magic today!