In our line of work, we get to see everything from the simplest most affordable kitchen renovations to grandiose designer kitchens with no-holds-barred. Usually our favorites fall somewhere in between.
We were recently asked about the best cherry kitchen renovation ever and we thought we would share it with you. Please take a moment to click into our Photo Gallery, select, "Click for Kitchen Selection" and we would like to direct your attention to Kitchen 9. We also included a single angle view of this kitchen below, just in case you are not ready to leave this page yet.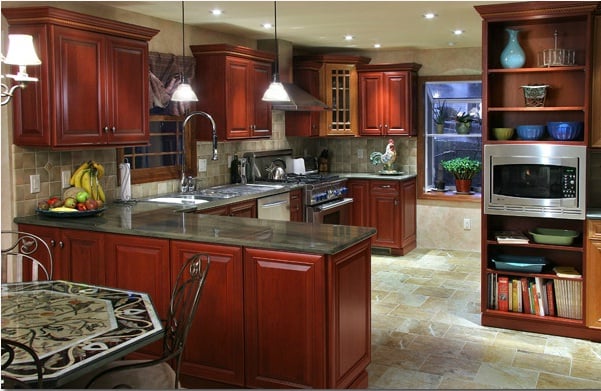 This kitchen - which is one of our bona fide Kitchen Magic Renovations - is one of our pride and joys. Plus, it's one of the best cherry kitchen renovations ever.
What makes it so, you might ask?
The Cherry Finish. We know. That's sort of like defining a vocabulary word by using the word in the definition. However - the bottom line is these sleek cherry cabinets look classy - and that in itself makes for a great remodel. Plus, we often recommend that our customers consider their kitchen size when selecting the best cabinet color for the job. Kitchen Number 9 is spacious - which made cherry an excellent finish selection, showing off the dark cabinets, and the dark granite countertops, without contributing to a "cave-like" feel.

Custom Square Raised Panel Door. These wood kitchen cabinet doors, with custom square raised panels, help the cherry finish to "pop." Various surface depths give the light more angles to reflect off of, which makes cherry tones more rich - highlighting golds and reds. These doors also match the cabinet frame so the look is very uniform.

Kitchen Renovation Design Accents. These owners had a great eye, and were open to our suggestions. Scroll through the pictures to examine the kitchen renovation design accents that add to the attraction of their cherry kitchen renovation:

Interspersed glass panel doors to break up the wood continuum and display curios, as well as attractive glass and plate ware

Adding book shelves and storage nooks for functionality

Installing cabinet doors with a different, but complimentary, finish

Making cabinet space for the wine fridge

Carrying the design accents into the living space for continuity

Whether you choose a wine fridge, or custom over-sized cabinets to house your extensive cast-iron pan collection, these special accents help your kitchen to be more functional and to display more of who you are.
Make an appointment for a free consultation and let us bring our showroom to you! We will share plenty of Before and After pictures, and help you with your kitchen renovation decisions.